Ivanka Trump May Finally Have to Testify in the Russia Investigation
President Donald Trump's eldest son, Donald Trump Jr., and son-in-law, Jared Kushner, have come under scrutiny as part of the ongoing Russia investigation, and this week a member of Congress reportedly said House Democrats may seek testimony from first daughter Ivanka Trump.
Democrats have "made no decision as to Ivanka Trump," the anonymous lawmaker said at a roundtable with reporters, according to an Axios report published Thursday. The congressperson added, "Obviously, there are a number of public reports about her involvement in the Trump Tower Moscow deal, and she may very well have relevant information."
Ivanka Trump was not present at a June 2016 Trump Tower meeting that Trump Jr. and Kushner attended with Russians who had promised damaging information on her father's presidential election opponent Hillary Clinton.
However, Ivanka Trump talked briefly with a Russian lawyer and a lobbyist who participated in the meeting, and the details of that conversation are not known. The meeting has been a focal point of special counsel Robert Mueller's probe into Russian interference and possible collusion with the Trump campaign in the 2016 election.
According to Axios, the lawmaker said Democrats will "sequence the interviews that we do with an eye towards knowing as much as we can before we bring in potential witnesses."
Ivanka Trump is known to have strategized about how to deal with scrutiny around the Trump Tower meeting on a return flight to the U.S. after the G20 conference in Germany in June 2017. The previous month, she was with her father in Bedminster, New Jersey, when he fired FBI Director James Comey, a move that Mueller is looking into as potential obstruction of justice.
House Democrats are planning a new probe into President Trump and Russia focused on money laundering, with several committees and public hearings that could extend into next year.
A lawyer for Ivanka Trump did not immediately respond to a request for comment from Newsweek on Thursday.
Donald Trump Jr. testified for hours before the House Intelligence Committee in December 2017 over his Russian contacts. The first son told members of the committee that he did not tell his father about the Trump Tower meeting. Later, the president's ex-lawyer Michael Cohen, who since has been indicted by Mueller, claimed otherwise, prompting speculation Trump Jr. may have lied.
Last year, Kushner was accused of failing to turn over emails to Senate investigators relating to his contacts with WikiLeaks, which released emails stolen from the Clinton campaign during the 2016 election.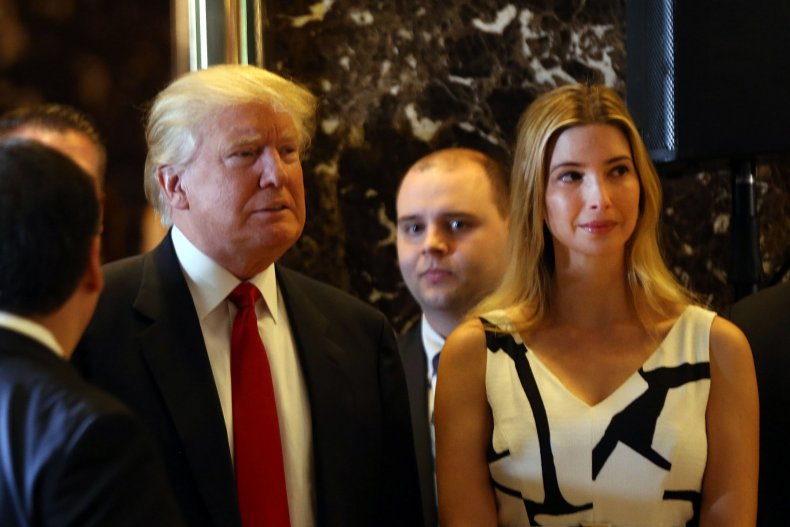 In a November interview on ABC News's Good Morning America, Ivanka Trump did not express the same level of urgency for Mueller's probe to end that her father has. "I think it should reach its conclusion," she said. "It's been a long time that this has been ongoing, but I want it to be done in a way in which nobody could question that it was hurried or rushed."