Ivanka Trump, Not Rex Tillerson, Will Meet South Korea's Foreign Minister Amid North Korea Negotiations
While Rex Tillerson has been ousted as secretary of state, Ivanka Trump will meet with South Korea's foreign minister on her upcoming visit to the United States.
Related: Turkish Broadcaster Calls Ivanka Trump and Moon Jae-in a 'Killer Couple,' South Korea Demands Apology
South Korean Foreign Minister Kang Kyung-wha will sit down with Ivanka Trump, ministry spokesman Noh Kyu-duk said Thursday according to KBS World Radio, but did not specify when.
The White House later confirmed to Newsweek that the talks were arranged when the pair met during the Winter Olympics in Pyeongchang last month.
"Ivanka and members of the NSC are meeting with the foreign minister, as they developed a close relationship during the Olympic Games," a White House official said. "The foreign minister asked for the meeting while they were at the Olympics together."
Though Noh did not disclose what would be discussed at the meeting, reports suggested it wiould involve planning for summits between the U.S. and North Korea, and between North and South Korea. Last week, President Donald Trump said he would meet with North Korea leader Kim Jong Un for talks, potentially becoming the first U.S. president to do so.
Before Tillerson was abruptly let go on Tuesday, South Korean news agency Yonhap reported that Kang would meet with him on Friday regarding North Korea and other issues.
Kang is also scheduled to meet with Deputy Secretary of State John Sullivan to talk about North Korea's nuclear weapons development in addition to other matters concerning Washington and Seoul, Noh said. The report did not state whether Kang would also speak with former CIA Director Mike Pompeo, whom President Trump has tapped to replace Tillerson.
The president said he and Pompeo "are always on the same wavelength," whereas he and Tillerson "were not really thinking the same."
Tillerson often callws for diplomacy with North Korea, while Trump engaged in a war of words with Kim that sparked growing fears of nuclear warfare.
If Kang and Ivanka Trump, who holds the title of senior adviser and assistant to the president, do meet, it would not be the first time the first daughter has engaged in diplomacy over North Korea.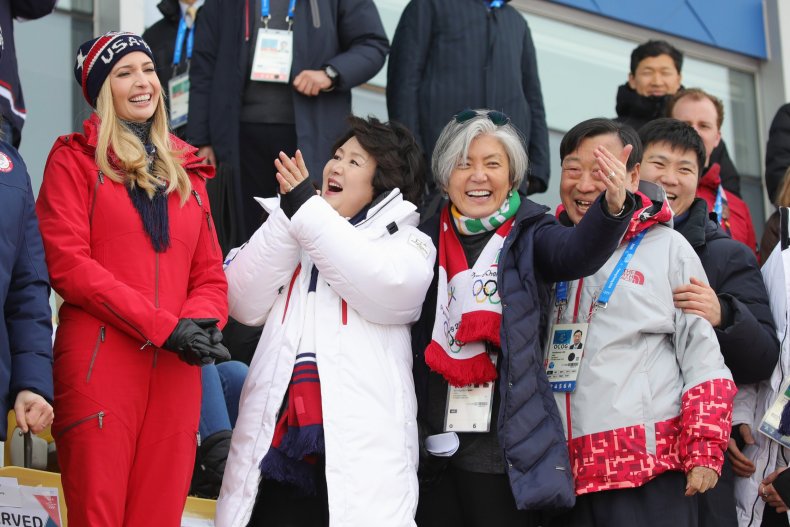 Before leading the U.S. delegation to the closing ceremony at the PyeongChang Winter Olympics last month, she had dinner with South Korean President Moon Jae-in and briefed him on her father's new North Korea sanctions. Ivanka Trump had "the appropriate access to the president," Treasury Secretary Steven Mnuchin said at the time when asked if she had appropriate security clearance.
According to reports, the president's eldest daughter remains on a temporary security clearance. Her husband, Jared Kushner, recently had his top-secret clearance downgraded.
Before becoming a senior White House adviser, Ivanka Trump had no foreign policy or government experience.