Ivanka Trump Supports LGBT People, Unless She Has to Challenge Her Father, the President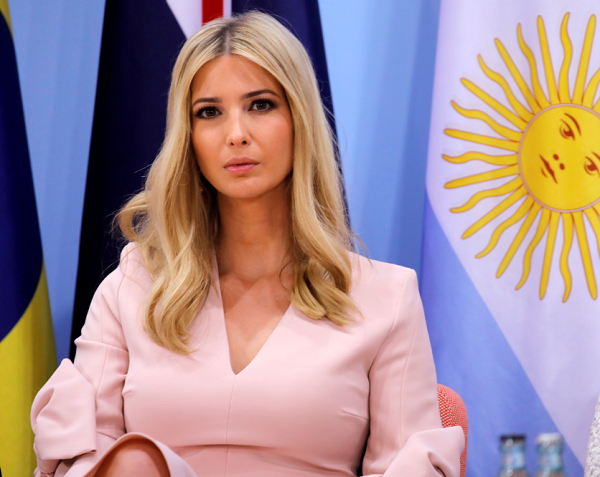 In June, Ivanka Trump, the president's daughter and one of his most trusted advisers, tweeted her support for the LGBT community in recognition of LGBT Pride Month.
The 35-year-old, who traded in her corporate life to become an official White House employee in March, said that she was "proud to support" her LGBT friends and fellow Americans "who have made immense contributions to our society and economy." She even wished everyone a "joyful #Pride 2017" on Twitter, proclaiming the month of June as a time to "celebrate and honor the #LGBTQ community."
However, on Wednesday, the oldest Trump daughter undermined her previous claims of support for LGBT folk when she remained silent following President Donald Trump's ban on transgender people in the military.
In a series of tweets, the president announced the "United States government will not accept or allow transgender individuals to serve in any capacity in the U.S. Military." He said the government could not be "burdened with the tremendous medical costs and disruption that transgender in the military would entail," sparking immediate outrage from members of Congress, LGBT advocates and people across the nation.
Not long after the president announced the ban, the backlash trickled over onto Ivanka Trump, and many people questioned the first daughter's apparent inability to influence any decisions made in the White House.
Along with pegging herself as a champion for LGBT rights and equality, Ivanka Trump strongly advocated for gender equality and climate change research when her father was campaigning. But since landing her White House role, she has been unable to convince her father to stick with the Paris Climate Agreement—a climate change accord within the United Nations Framework Convention on Climate Change that deals with ways to combat global warming—nor has she been able to influence decisions surrounding Planned Parenthood, which was cut from the Trump administration's budget proposal.
Ivanka Trump has also pushed for equal pay and better family leave options for working parents. However, none of her proposals have panned out since she became a member of her father's staff.
As for Donald Trump's treatment of women, of whom he claimed to be a real "friend" along with LGBT people during his 2016 campaign, Ivanka Trump has stayed quiet on that too. She said nothing in response to her father's personal attacks on women, including his recent comments toward MSNBC Morning-Joe co-host Mika Brzezinski.
Ivanka Trump did, however, describe her father's infamous "grab them by the p***y" remark "clearly inappropriate and offensive."
Despite a lack of public comments concerning her father's latest controversy, there is a chance that she could be keeping any frustrations she may have with his recent transgender military ban in private.
In an April interview with CBS This Morning co-host Gayle King, Ivanka Trump suggested Americans shouldn't "conflate lack of public denouncement with silence."
She said: "I think there are multiple ways to have your voice heard. In some cases it's through protest and it's through going on the nightly news and talking about or denouncing every issue in which you disagree with. Other times it is quietly and directly and candidly. So where I disagree with my father, he knows it, and I express myself with total candor. Where I agree, I fully lean in and support the agenda and hope that I can be an asset to him and make a positive impact. But I respect the fact that he always listens. It's how he was in business. It's how he is as president."
Check out a few reactions to Ivanka Trump's silence on the transgender military ban below: