Ivanka Trump Tweets, Then Deletes, Photo with 'National Security Strategy' Document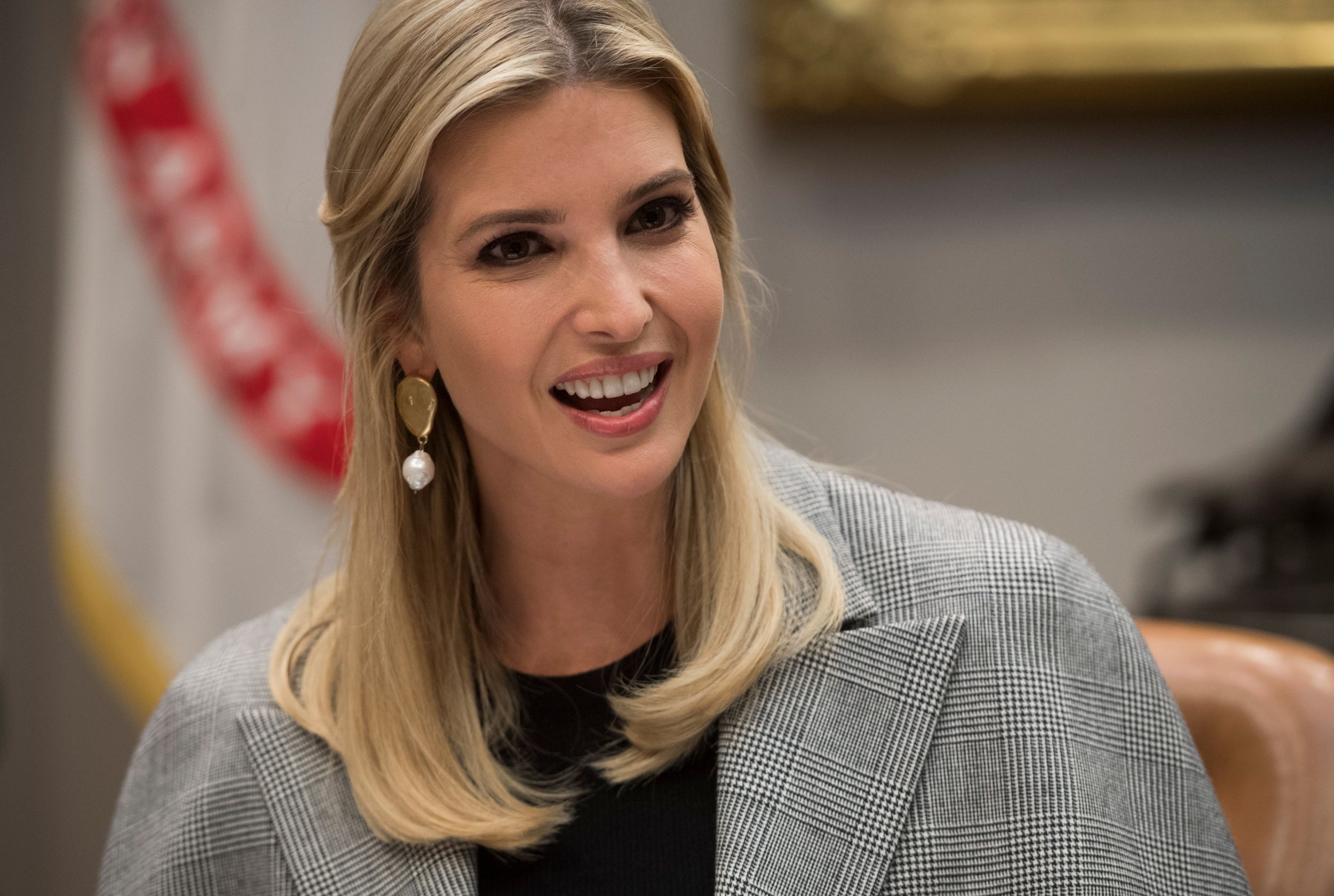 First daughter and White House adviser Ivanka Trump tweeted a photo of herself with World Bank President David Malpass, with the cover of a document titled "National Security Strategy" visible in the image. She subsequently deleted and then reposted the photograph with that document cropped out, raising questions about why she did that.
Trump on Sunday night tweeted the photo showing her and Malpass, full body, with the cover of the national security strategy document on a small table in the foreground.
"Great catching up with my friend @WorldBank President David Malpass and discussing the Women Entrepreneurs Finance Initiative (We-Fi)," she wrote in the tweet.
On Thursday afternoon, journalist Luke O'Neil noted on Twitter that Trump had since deleted the post. O'Neil shared screenshots of the post before the first daughter deleted it, including one zoomed in on the national security strategy document.
"Hmm Ivanka posted this then deleted this any reason why?" O'Neil tweeted.
"I literally do not know for sure if that is bad but it seems like it?" O'Neil continued to tweet. "As I said I don't know if it's bad or not fact she deleted it just made me think so. It's not top secret material or anything just weird that she's talking about it with the world bank unless it isn't."
O'Neil then included a screenshot of the same image still live on Trump's Instagram story and concluded, "Anyway not my problem."
Hours later on Thursday, Trump reposted the photo with the same caption but cropped it to remove everything below her waist, thus cutting out the national security strategy document from the image.
The White House did not immediately respond to a request for comment from Newsweek on Friday.
Journalist Vicky Ward, author of the recently released Kushner Inc., which is about Trump and her husband, Jared Kushner, told Newsweek on Friday that such "impulsiveness" by Trump "is exactly what drove General Kelly to distraction," she said, referring to former White House Chief of Staff General John Kelly.
Kelly, who stepped down from that position at the beginning of 2019, was asked during an interview Tuesday at the SALT Conference in Las Vegas if it was complicated to have President Donald Trump's family working in the government.
"They were an influence that has to be dealt with," replied Kelly, without naming Ivanka Trump or Jared Kushner, the only members of the president's family working in the West Wing.
Ward said that Ivanka Trump "can't be bothered with rules—which is why Kelly—and former White House counsel Don McGahn wrote a note to the file about the Ivanka's and Jared's security clearances, because normal vetting procedures showed they should not have them.
"What's more important to the White House senior adviser? Reading a manual on U.S. national security strategy and carefully following its guidelines (which might suggest/demand you rid yourself of business conflicts)—or putting it on a coffee table to impress visitors?" asked Ward.
Ward acknowledged that Ivanka Trump was not giving away any secrets by revealing the cover of the national security strategy, but slammed her self-promotion on social media and said "all of this is toxic for David Malpass and the World Bank."