Ivanka Trump Unfollowed Steve Bannon on Twitter After He Trashed Her Family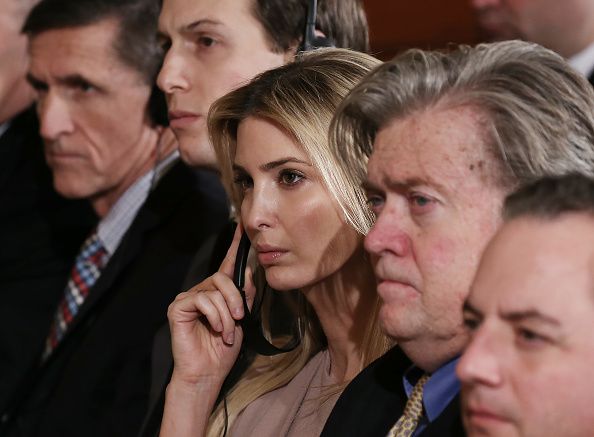 Ivanka Trump no longer follows former White House Chief Strategist Steve Bannon on Twitter, as of Thursday afternoon. She either unfollowed or blocked Bannon, according to the bot account @TrumpsAlert, which tracks changes to the Trump family's Twitter accounts. The change comes one day after dozens of salacious details disparaging the Trumps were revealed in excerpts from journalist Michael Wolff's upcoming book Fire and Fury: Inside the Trump White House.
In the book, Bannon launched several sharp critiques of the president, of Ivanka and of the administration as a whole. Bannon is quoted as describing Ivanka as "dumb as a brick," and was previously reported to have called her the "queen of leaks," to which she responded by calling him a "fucking liar."
Most notably in the new book, Bannon was quoted as saying that Donald Trump Jr.'s meeting with a Kremlin-linked Russian lawyer during the 2016 campaign was "treasonous" and "unpatriotic," and that the president was likely involved in the meeting, as well.
"The three senior guys in the campaign thought it was a good idea to meet with a foreign government inside Trump Tower in the conference room on the 25th floor—with no lawyers. They didn't have any lawyers," Bannon reportedly said. "Even if you thought that this was not treasonous, or unpatriotic, or bad shit, and I happen to think it's all of that, you should have called the FBI immediately."
"The chance that Don Jr. did not walk [the meeting's participants] up to his father's office on the twenty-sixth floor is zero," Wolff reports Bannon saying, which could put the Trump family in legal peril if true.
White House Press Secretary Sarah Huckabee Sanders denied the reported statements, and said that Breitbart News should consider firing Bannon from his position as executive chairman. When asked whether Bannon should be fired for the comments that are included in the book, Sanders replied, "I certainly think it's something they should consider and look at."
Ivanka's unfollowing of Bannon could also be related to perceived personal slight that was reported by Wolff. In the published excerpt, Bannon scoffed at the notion that Ivanka could have ambitions of becoming the first female president.
"They didn't say that?" said Bannon upon learning about her alleged plan with husband Jared Kushner to give her a shot at running for office. "Stop. Oh, come on. They didn't actually say that? Please don't tell me that. Oh my God."
President Donald Trump has given a sharp rebuke to Bannon's reported comments, not only characterizing his former right-hand man as unstable, but threatening to sue both Bannon and Wolff over the published details.
"When he was fired, he not only lost his job, he lost his mind," Trump said in a statement.