Trump Lashes out at CNN over Ivanka VP Claims: 'These People Are Sick'
President Donald Trump has hit out at claims that he had once considered his eldest daughter as a potential running mate for the 2016 election.
The possibility of an all-Trump ticket in the last election was described by his former deputy campaign manager Rick Gates in his book Wicked Game: An Insider's Story on How Trump Won, Mueller Failed and America Lost.
Gates wrote that the then presidential candidate told his aides during a meeting discussing vice-presidential candidates, "I think it should be Ivanka. What about Ivanka as my VP?" adding, "She's bright, she's smart, she's beautiful, and the people would love her!"
"All heads turned toward her, and she just looked surprised. We all knew Trump well enough to keep our mouths shut and not laugh," according to an excerpt of the book first published by Bloomberg News.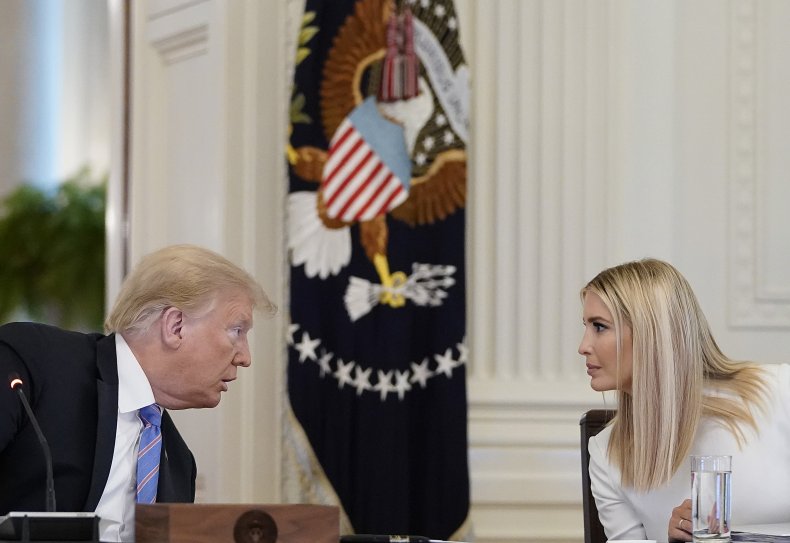 The book described how Trump was apparently "cool to other options" of vice president, including the then Indiana Governor Mike Pence, whom he eventually chose, after his daughter told him it would not be a good idea for her to run.
The book said that Trump was so keen on the idea of running with his daughter that his team polled the idea twice.
The claims made in Gates' book, which were reported on Monday, have been dismissed by the White House and by Trump himself. Trump 2020 communications director Tim Murtaugh told CNN: "This is not true and there was never any such poll."
Meanwhile, Trump tweeted: "Now Fake News @CNN is actually reporting that I wanted my daughter, Ivanka, to run with me as my Vice President in 2016 Election. Wrong and totally ridiculous. These people are sick!"
Unlike the White House memoirs that have emerged during the president's tenure, Gates' book praises Trump and the author told the Washington Post that he was the "most decisive president" the U.S. has had "probably since Eisenhower," and backs his re-election campaign.
Gates was indicted in October 2017 in the probe into Russian interference in the previous year's election. In December 2019 he was sentenced to three years' probation and 45 days in jail for tax and lobbying crimes committed with Trump's former campaign chairman, Paul Manafort, who was also convicted. Gates' sentence was suspended due to the coronavirus pandemic in April.
His book, which is due out on October 13 three weeks before the election, describes Trump as having a short temper and attention span. But Gates portrays these traits as positives and those of an unorthodox politician.
Newsweek has contacted the Trump campaign for comment.