Ivanka Trump was Meghan Markle's Idol Before Donald Trump Ran for President, Book Claims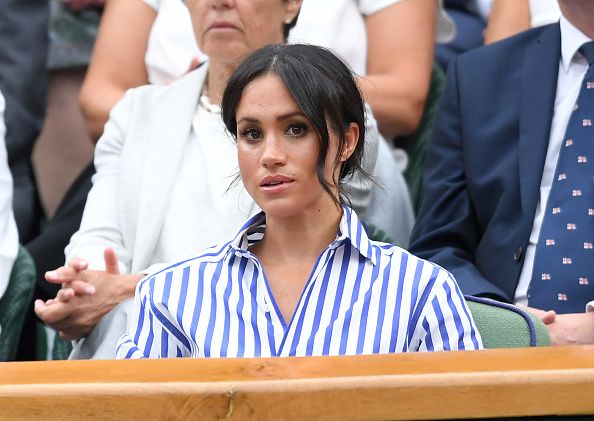 The Duchess of Sussex, Meghan Markle saw Ivanka Trump as one of her female idols in fashion before Donald Trump ran for president, according to a royal author.
"Before Donald Trump had entered the race for the presidency, one of [Meghan's] female idols was businesswoman Ivanka Trump, who had her own jewellery and clothing line," author Andrew Morton wrote in his book Meghan: A Hollywood Princess, The Daily Express reported on Saturday.
"She was thrilled when Ivanka agreed to fill in her simple questionnaire for Tig Talk," Morton wrote of Markle's now defunct lifestyle blog. "More thrilled when she accepted her invitation to meet for drinks and dinner the next time Meghan was in New York."
Morton in his book published earlier this year included an excerpt from Markle's blog illustrating her love for Ivanka Trump's fashion sense and lifestyle.
"Don't get me started on her jewellery collection: the late-night 'window shopping' I have done on my computer, snuggled up in my bed with a glass of wine, staring longingly at the beautiful designs," wrote the actress who married Prince Harry in May.
"And there are the shoes, the home collection, the clothing and the natural extension of her brand with a kids' collection — a smart choice given that she is now a proud mama," she continued in her blog. "When we have drinks, I will make sure I order whatever she does - because this woman seems to have the formula for success [and happiness] down pat."
Ivanka Trump shuttered her clothing brand in July, a decision she reportedly considered for months beforehand out of frustration over the restrictions that she had to put it under to avoid potential conflicts of interest with her senior White House adviser position.
"After 17 months in Washington, I do not know when or if I will ever return to the business, but I do know that my focus for the foreseeable future will be the work I am doing here in Washington," the first daughter said. "So making this decision now is the only fair outcome for my team and partners."
Since Donald Trump was elected president, Markle's opinions of Ivanka Trump may have changed.
Markle and Prince Harry did not invite the Trumps to their royal wedding. Prince Harry has publicly shown his preference toward former President Barack Obama.
Ivanka Trump was Meghan Markle's Idol Before Donald Trump Ran for President, Book Claims | U.S.