Ivanka Trump Reveals How She Survives 'Daily Chaos' in White House
Ivanka Trump said Monday morning that unlike some of her coworkers, she withstaood the "daily chaos" of the White House by simply ignoring it.
"It's been a work in progress, but I'm getting better at ignoring the noise," she explained at the Concordia Summit in New York City. "I tend not to respond, I tend not to debunk criticism or say when things are inaccurate."
The senior adviser to, and daughter of, President Donald Trump noted that some White House staff do ultimately give in to the noise.
"I have seen people care so much and want to do good work, but then they start getting Google alerts," she said. "Then it starts to take more of their time, and they get defensive and suspicious of those around them, they start to ask who circulated certain things. It's pointless, drains energy and causes their internal compass to go awry. Getting too engaged in the daily chaos is distracting, I don't pay too much attention because it would be unhealthy."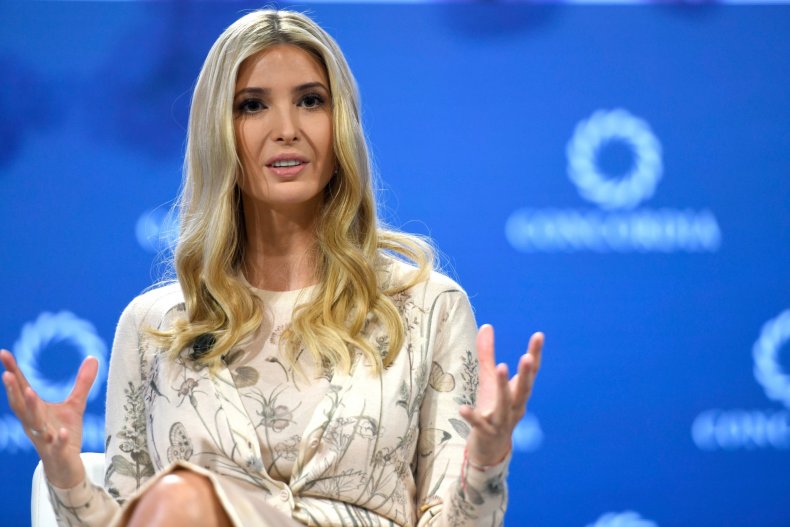 While Trump did not specify any particular member of White House staff, there have been a number of reports about suspicion and inner turmoil taking their toll on productivity within the Trump administration.
After Omarosa Manigault Newman taped and released secret recordings from White House meetings, several senior administration officials expressed their belief that she was not the only staffer doing so. When someone leaked staffer Kelly Sadler's joke about the late Senator John McCain's opinions on Gina Haspel not being relevant because "he's dying anyway," communications staff meetings were canceled.
Sean Spicer described the paranoid atmosphere in the White House in his book, The Briefing. After discovering that someone on the communications team was leaking information to the press, Spicer brought 20 staff members into his office and asked them to let him look at their phones. "Whatever they were carrying on them, from personal phones to the iPhones issued by the White House," he wrote.
News of the incident itself was then leaked. "Within days, stories about me confiscating phones and snooping on employees were reported by Politico and became talk-fodder for cable news," he wrote. "I sometimes felt like a scuba diver, abandoned in the middle of the ocean, treading water."
President Donald Trump himself takes the time to tweet and speak out against leaks and "fake news," efforts his daughter called an "energy drain" that caused internal compasses "to go awry." The president has tweeted about fake news 284 times, and about leaks at least 90 times.
The president in August called the media "the enemy of the people," and more recently decried accusations of sexual harassment and abuse against his Supreme Court nominee as fake news. "Judge Brett Kavanaugh is a fine man, with an impeccable reputation, who is under assault by radical left-wing politicians who don't want to know the answers, they just want to destroy and delay," he said. "Facts don't matter. I go through this with them every single day in D.C."