Ivanka Trump Suggested as Possible World Bank President With Her Father to Decide Next Head of International Institution: Report
President Donald Trump's daughter Ivanka Trump is one of a small handful of Trump administration officials being considered for the head of the World Bank after its Obama-appointed head Jim Yong Kim resigned suddenly this week, shocking staffers, the Financial Times reported Friday.
The president has already been accused of nepotism for appointing his daughter to the role of special adviser, and her White House role is unpaid in order to avoid accusations of ethics breaches. Since taking up this official role, Ivanka Trump has met with numerous heads of government and even appeared to replace her father at a G20 world leaders meeting, where she sat next to British Prime Minister Theresa May and Chinese President Xi Jinping. Many at the time noted that this move was unprecedented.
She was also reportedly considered for the role of United Nations ambassador after Nikki Haley announced that she would resign. Trump dismissed the rumors, noting that he would be accused of nepotism if his daughter were appointed.
"So nice, everyone wants Ivanka Trump to be the new United Nations Ambassador. She would be incredible, but I can already hear the chants of Nepotism! We have great people that want the job," Trump tweeted in October.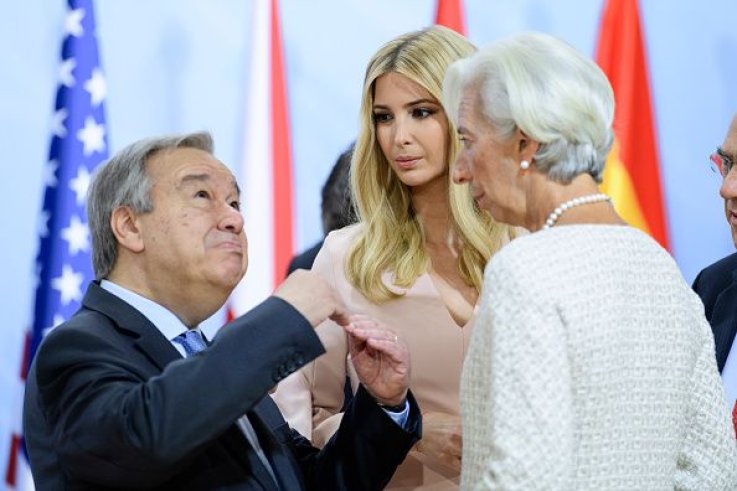 The president's eldest daughter does have some experience with the World Bank, however. In 2017 she worked with the World Bank to develop a fund for women's entrepreneurship.
The news of Kim's departure left staff at the World Bank confused and uncertain about the future. Kim had been unpopular among some staffers for his previous criticism of the institution he eventually led and his desire to use the bank as an instrument to promote global development. But it was still rare and unexpected for a World Bank president to leave the institutions three and a half years before his term is up.
Kim was appointed by former President Barack Obama, and his sudden departure means that Trump will be able to appoint his successor.
The World Bank president is chosen by the bank's board, with the voting shares distributed based on how much money each country has given to the bank. A deal between the U.S. and European shareholders has ensured that the U.S. candidate is selected to run the World Bank while the Europeans lead the International Monetary Fund. This arrangement has been increasingly criticized by countries like China, however.
For now, Kristalina Georgieva, a Bulgarian politician and former European Union commissioner who has been working as the World Bank's chief executive, will act as interim president until Kim is replaced.
Ivanka Trump Suggested as Possible World Bank President With Her Father to Decide Next Head of International Institution: Report | World