Like father, like daughter? First daughter Ivanka Trump on Tuesday morning seemed to take a page from President Donald Trump's frequent Twitter misspellings, tweeting "United Kingston" instead of United Kingdom.
"Congratulations @BorisJohnson on becoming the next Prime Minister of the United Kingston," Ivanka Trump tweeted after he won the Conservative Party's leadership race.
Twitter users quickly took note of the first daughter and senior White House adviser's spelling error.
"Congratulates indeed to the United 'Kingston,'" Associated Press Global Media Services reporter Philip Crowther commented.
"Saving before it gets deleted: 'United Kingston,'" MSNBC producer Kyle Griffin tweeted.
Greek author Gerry Stergiopoulos noted the similarity in the first daughter and her father's errors.
"Apparently United 'Kingston' has a new prime minister! A month ago her dad praised the Prince of 'Whales,'" Stergiopoulos tweeted. "It runs in the family..."
University of Alberta Professor W. Andy Knight added to that thread by referencing a remark the president apparently made calling African nations "shithole" countries.
"Is United Kingston next to Whales? I'm a bit lost when it comes to Trumpian geography," Knight tweeted. "My guess is that it must be one of those shithole countries that Ivanka's dad keeps talking about."
The first daughter indeed noticed her misspelling and within 26 minutes deleted the tweet and posted an identical one ending with "Kingdom."
Ivanka Trump mirrored her father not only in misspelling a word on Twitter but in doing so in regards to the U.K.
Last month, President Trump was ridiculed by Twitter users for referring to the Prince of Wales, Prince Charles, as "Prince of Whales."
"I just met with the Queen of England (U.K.), the Prince of Whales, the P.M. of the United Kingdom, the P.M. of Ireland, the President of France and the President of Poland," the president tweeted on June 13.
Twitter users jabbed at Donald Trump with mock-ups of what a royal whale might look like.
The president deleted the tweet and posted again with "Wales."
Donald Trump frequently makes spelling mistakes on Twitter. He has misspelled Robert Mueller's title special counsel as "councel," and in May 2018 misspelled his own wife Melania Trump's name as "Melanie."

On Monday, however, the president did better than his daughter by not making any spelling errors in his tweet: "Congratulations to Boris Johnson on becoming the new Prime Minister of the United Kingdom. He will be great!"
The U.K. took a hit in January 2017 when the White House misspelled then-British Prime Minister Theresa May three times in her visit schedule, as "Teresa May," the name of a British porn star.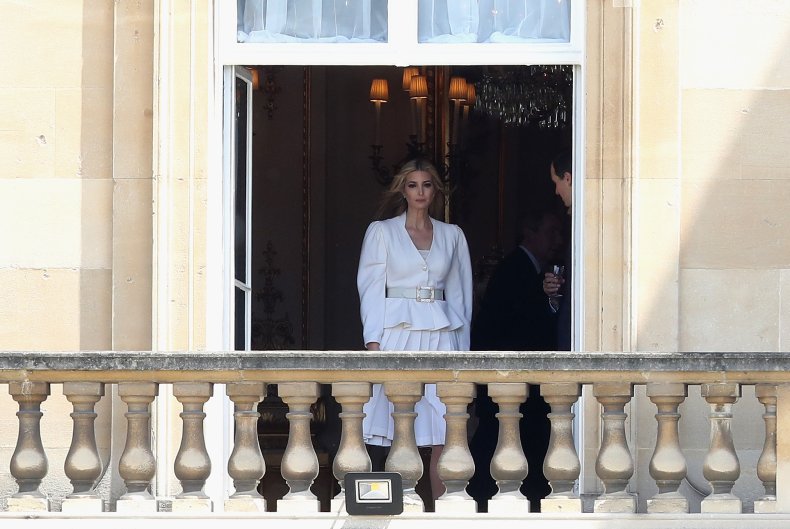 Ivanka Trump, along with her siblings, joined her father on an official trip to the U.K. in early June, met numerous British officials and attended the state dinner. Earlier this month, British trade minister Liam Fox promised to apologize to the first daughter in a meeting in Washington, D.C., for leaked memos calling the Trump administration "inept" and "dysfunctional."