As #IvankaResign Trends on Twitter, Conservatives Respond with #AOCResign
#IvankaResign—a hashtag which called on the first daughter and senior White House adviser Ivanka Trump to step down from her role—trended on Twitter Tuesday morning. By evening time, conservatives had responded with their own: #AOCResign.
Ivanka Trump faced sharp criticism for her role in the G20 summit and an investigation into her email use. Meanwhile, freshman Rep. Alexandria Ocasio-Cortez was lambasted for her comments about America evolving into a fascist country after touring facilities where migrants are being kept in the custody of U.S. Customs and Border Protection.
A debate ensued on Twitter as both conservatives and liberals took offense to the other's hashtag.
Author Peter Daou pointed out that liberals are "pushing #AOCresign to counter #IVANKAresign," but added that "@AOC has more moral courage in her pinky toe than the entire Trump family combined."
Ryan Fournier, who is the chairman for the grassroots group Students For Trump, said: "It's a shame that the youngest person elected to Congress is also setting the record for being the least intelligent person ever elected to Congress. #AOCResign."
Trump faced backlash after a video went viral of her appearing to interject herself into a conversation with a number of world leaders. (They looked less pleased with her than she did with them.) The video gave life to #IvankaResign and was apparently orchestrated by The Democratic Coalition—the group that got #LindseyGrahamResign trending in May after the South Carolina Republican told first son Donald Trump Jr. to ignore a congressional subpoena.
"The fact remains that Ivanka shouldn't be working in the White House," Scott Dworkin, co-founder of The Democratic Coalition, told Newsweek. "And the list of reasons why is endless."
Dworkin on Sunday shared the viral video from the summit in which Trump lingered around French President Emmanuel Macron, British Prime Minister Theresa May, Canadian Prime Minister Justin Trudeau and International Monetary Fund Director Christine Lagarde.
But it was also on Tuesday morning that Ocasio-Cortez fired back at Fox News host Brian Kilmeade for likening migrant detention facilities to overcrowded house and hotel parties. She tweeted, saying: "Hey, @kilmeade: What was the last 'party' you went to where you: Were locked in a cage under armed guard, drank out of a toilet, [and] given food of such poor nutritional value, for so long, that it gave you mouth sores?"
Ocasio-Cortez also told Yahoo News this week that the United States is headed towards fascism.
"If you actually take the time to study, and to look at the steps, and to see how government transforms under authoritarian regimes, and look at the political decisions and patterns of this president, the answer is yes," Ocasio-Cortez told Yahoo.
By afternoon, conservatives appeared to be using her comments to fuel a counterattack on those who supported #IvankaResign.
Comedian Terrence K. Williams, who ostensibly started #AOCResign, said: "I see #IvankaResign trending on twitter all because of AOC! Let's start a new trending hashtag if you think AOC is the one that need to resign. I think she use [sic] to be a bartender at the Trump hotel until she got caught drinking on the job! RT #AOCResign."
To which another Twitter user responded that Ocasio-Cortez, an elected official, is "a million times more competent" than Trump, "who was placed in a position from Daddy [Donald] Trump."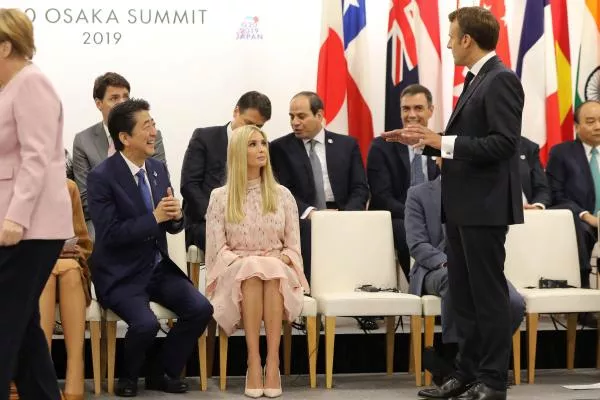 {{#isDisplay}} {{/isDisplay}}