I've Been a Fast Food Worker Since I Was 15. It's Time for a Living Wage | Opinion
Over the last year while working in fast-food and taking care of my family, I've been exposed to COVID-19 four times. Thankfully, I tested negative each time. But all four of my quarantines were unpaid, including the time I was taking care of my daughter, who got sick with Covid.
Four unpaid quarantines means four lost paychecks. Do you know what that means for a working family like mine? Our stimulus check kept us from getting evicted, but we have had to go to food banks to keep food on the table, and I've had to rely on assistance to keep the lights on.
$15 an hour is the bare minimum my family needs to survive. It's not going to solve all our problems. But it would allow us to live more comfortably, without the looming fear of a giant medical bill or eviction notice that could sink us deeper into poverty. Along with other workers in the Fight for $15 and a Union, I've been calling on McDonald's to raise our pay to $15 an hour, which we urgently need to recover from the COVID-19 pandemic and support our families.
McDonald's made over $4 billion in profits even during the pandemic, so it's clear it can afford to pay workers $15 an hour. It could take action tomorrow to do what's right for workers who have kept its business running through a deadly pandemic and made McDonald's all of that money. Big companies like Target, Disney, and even Amazon have raised pay to $15. What's stopping McDonald's?
Workers like me can't afford to wait. Yes, we're in a pandemic; but low-wage workers were deep in the pandemic of poverty well before COVID-19 arrived. The pandemic didn't create these conditions; just like before, I'm working all the time, I have no benefits, no healthcare. But now on top of that, I have this drowning fear that I could die just from going to work.
I've got diabetes and asthma. Thankfully, I've been able to dodge this virus so far, but I understand how serious it will be for me if I catch the virus and I have no healthcare while being paid poverty wages.
My story is all too common. We are in crisis, and we need real, transformative solutions to recover, starting with $15 an hour for all workers and the right to join a union so we can win healthcare, paid leave and other basic protections.
That's why my fellow fast-food workers and I are also calling on President Biden and Congress to raise the federal minimum wage to $15 an hour as part of the first COVID relief package. The federal wage floor has been stuck at just $7.25 an hour for over 10 years.
For all the lawmakers arguing the minimum wage doesn't belong in a relief package, I'm here to tell you: $15 is COVID relief! Poverty wages have no place in any kind of "recovery." Another stimulus check will help, but it will disappear. A $15 minimum wage is a 365-day per year stimulus that will help my family survive, and it will be a boost to our economy as tens of millions of underpaid workers have more money to spend.
I'm tired of excuses, of elected leaders playing politics with my family's ability to scrape by. We need relief—now.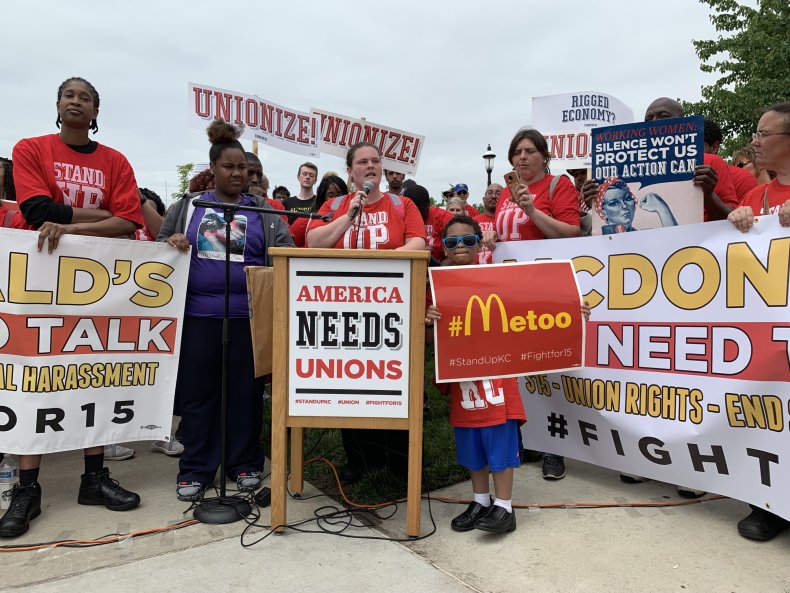 I've been working in fast-food since I was 15 years old. As someone who has dealt with homelessness, instability and hunger in my childhood and who struggles to support my own family now, I know this much: We cannot and will not return to normal after the pandemic is over, because the status quo wasn't working for working people.
For a long time, I felt like I had absolutely no control over my life or my future. I just put my head down and went to work. I felt alone. Then I got involved with the Fight for $15 and a Union in Kansas City almost six years ago and I realized how much power workers can have when we get organized. We have gone on strike, marched, and changed the political tides. Together, along with our allies, we have won $15 in cities and states across the country.
Now it's time for $15 nationwide.
Eight years after this movement started, we've seen how much we can change— and there's no way we're stopping now. We won't stop fighting, marching, and raising our voices until we win.
Bridget Hughes is a McDonald's worker from Kansas City, Missouri and a leader in the Fight for $15 and a Union.
The views in this article are the author's own.