I've Been Fighting Alongside Eric Garner's Family for Five Years—and I Won't Stop Now | Opinion
Five years ago today, Daniel Pantaleo killed Eric Garner. I did not think that would need to be declared, but the Department of Justice is now denying that someone should be held accountable for what we saw: a man placed in a chokehold that led to his death. What we heard: 11 cries of "I can't breathe." And what we know: Garner lost his life because Pantaleo took it from him.
Over the past five years, we have seen not only Pantaleo but officers across the country escape consequence in the deaths of young black men. In police departments, in courts, decisions have been made to shield anyone from accountability for these deaths.
On Tuesday, a new decision echoed old refrains. The Justice Department announced that it wouldn't bring federal civil rights charges against Pantaleo.
I am neither surprised by this decision nor resigned to stop fighting for some semblance of justice still to be delivered. I've spent too many hours with Garner's mother, Gwen Carr, and the Garner family, continuing to fight as she continues to grieve not only for her own family but also for all the other families who have lost loved ones and been denied justice. Her strength in the face of unimaginable loss—first her son, then her granddaughter Erica—and her resolve despite endless barriers to justice have been an inspiration and a call to action. It has been an honor to stand alongside her in the fight for justice.
Newsweek subscription offers >
That fight continues. And it goes beyond that block on Staten Island, beyond New York Police Department headquarters, beyond City Hall. It is a fight against a system of white men—many of them Democrats—who proclaim themselves to be for progress while undercutting that declaration with words and inaction.
It's a system where Manhattan District Attorney Cy Vance can declare that an injustice was wrought against the Exonerated Five but refuse to investigate whether that misconduct extends to other cases. Where former Commissioner Bill Bratton—who led the NYPD when Garner was killed—can declare himself a reformer but call true reform advocates a "posse" of vigilantes.
Where New York City Mayor Bill de Blasio can run for president on a criminal justice reform platform but can't answer to a grieving mother who stood on his steps for five years.
The city medical examiner's office ruled Garner's death a homicide. Yet the Justice Department, and before it the state grand jury, which declined to indict Pantaleo five years ago, would like us to believe Garner died without anyone being responsible—or worse, that he himself was responsible.
Newsweek subscription offers >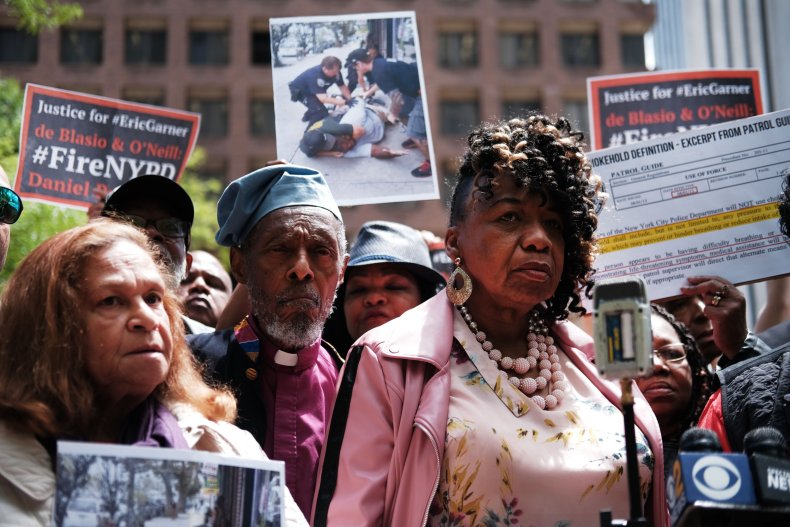 But we all saw it.
The world saw Pantaleo kill Garner, and now we see him making more money at the NYPD than the day he did. Any progress made in policing in recent years is undercut if there is no transparency and accountability. And the actions being taken to shield Pantaleo from being held accountable are blatantly transparent.
Termination, prosecution, conviction—these actions cannot undo the loss of five years ago. But they can sheric ow that there are consequences for taking a life: Garner's, those who came before, or those who have or will come after. They can provide some small measure of comfort, of justice to a family that has seen none since we first heard the words "I can't breathe."
The last hope for justice lies with the NYPD commissioner and the mayor. They are among the people who seemingly agree that a tragic injustice occurred—but refuse to do anything to seek justice now. They are out of excuses. I hope they will do the right thing and fire Pantaleo. But frankly, I'm not sure we should hold our breath.
Jumaane Williams is the public advocate for the city of New York.
The views expressed in this article are the writer's own. Daniel Pantaleo has denied using any inappropriate force on Eric Garner.
I've Been Fighting Alongside Eric Garner's Family for Five Years—and I Won't Stop Now | Opinion | Opinion