'I Have Created a Squad of Digital Supermodels'
I am a fashion designer and earlier this year, a friend introduced me to a digital model named Shudu. I was impressed with how lifelike Shudu was and learned that she was the first digital supermodel, designed by a fashion photographer called Cameron-James Wilson. I was intrigued by how digital models and the underlying technology could be used to advance the world of fashion.
I have been around fashion for all of my life. My mother started a small company cutting and sewing clothing for different Italian brands, so growing up in Italy I spent a lot of time as a child in her company and observed the employees' skills and their ability to create beautiful embroidery by hand. My father had a separate company that produced fashion accessories, which he then sold wholesale to factories that produced clothing. After graduating from high school, I went on to study art and design and started my first job in the fashion industry when I was 18 years old as an assistant in a design studio.
But after COVID-19 hit the U.S., where I now live, I made the decision to take advantage of the changes in the fashion industry. I have been working from home and was able to shift my career to focus on developing digital fashion and models.
After researching virtual models and seeing the growing interest in the use of this technology, I dove headfirst into learning the technology needed to both produce models and design digital clothing—even buying a CyberPowerPC gaming computer to help with my work.
I now have a "digital squad" of three supermodels, but Bella was the first digital model I created. I decided not to create the models with any existing person or look in mind. Instead, as I learned more about the software and the options to create digital humans that were available, I experimented and Bella began to come to virtual-life.
Even though they are digital, I thought it was important for each of the models to have an identity and something of a back story, so I see Bella as the most creative of the three models—she is passionate about art, design and fashion. She is a keen observer of the world, online and in real life. One of her favorite sources of research and inspiration is Japanese fashion magazines.
Bella is both model, muse and "designer" as I also draw inspiration from her for my Unhueman brand and fashion collection. That is why I say that she is the designer. But the clothes in the Unhueman collection that Bella "designed" only exist in digital form; they are not available to purchase and they were not designed to be produced or worn in the real world. My aim was that they would stimulate the imagination of other designers and fashion brands.
Mia was the second model I created, she is younger than Bella and speaks to younger audiences and aesthetic. Mia's identity is centered around her desire to be an actor and perform—she plays with the color of her hair and her style choices are the most playful of the models.
Jada was created after Mia, but she is the same age as Bella. I consider her to be a strong, independent fashionista who knows who she is. Jada is smart and creative, and uses fashion as a tool to express her personality, passions and energy. Her fashion choices often push the boundaries, so in that sense she is the least traditional, style-wise, of the models.
Though Bella, Mia, and Jada are new to the virtual-fashion industry, Bella presented the first Unhueman collection during the Mercedes-Benz Fashion Week Russia and Harper's Bazaar Vietnam has featured the models.
While I started Unhueman with Bella and grew to include Mia and Jada, I would like to include models that reflect different ethnicities, body types, self expressions, and gender identities. The Unhueman brand is still young and growing, but my goal is to produce models that reflect the diversity of the real world. I hope to collaborate with designers and creators who have different body types, self expressions, backgrounds and identities to do this. I believe fashion, art, and design are all enhanced by understanding different perspectives and needs.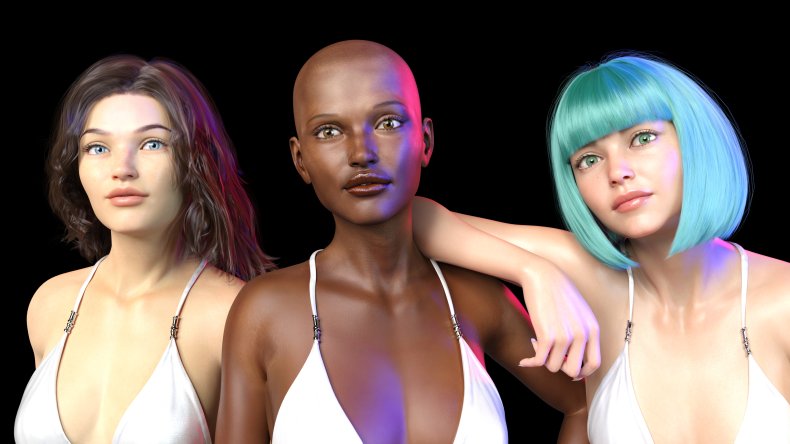 The reaction to the models and collection has been positive overall, but there have been a small number of criticisms. Most people on social media compliment the beauty and look of the models, and sometimes even virtually flirt with them. People have questioned whether the models are truly computer-generated or if they are real, which I interpret as a huge compliment. However, I have seen some negativity. There are people who are concerned that virtual models will take the jobs of real models, for example. But I see virtual and real models providing different roles within the industry.
I also think many people don't realize that, behind the virtual models, there is a person or a team of people who have worked to bring the model to virtual-life. We also need jobs, especially during these difficult times. Virtual fashion and models have actually provided new job opportunities for me and other creators. And I don't think they will be taking over from real-life models anytime soon. I suspect the fashion industry is big enough for both. Real-life models, like Gigi Hadid, Kendall Jenner and Kaia Gerber will keep going to work and walking in fashion shows. But I think virtual models will be an extra tool that can help designers and brands create something new.
My vision is that digital designs and models will enable a new way to create clothing and improve the ability for designers to communicate their designs more quickly and clearly to buyers and customers. Digital models could help brands share their designs with consumers in a way that is effective and safe while our communities shelter at home during the COVID-19 pandemic. I have been contacted by several companies recently who are exploring ways my virtual models can help them show their products to customers in new, safe ways.
But I also see digital models being a strong tool for brands in a post-pandemic world, too.
Traditionally, clients and fashion buyers choose clothing designs based on two-dimensional sketches, but it can be difficult for a designer to fully convey how the clothing will look before it is produced or worn by a customer. If digital models wear the virtual designs, clients and buyers can immediately see how the designs will be worn by their customers.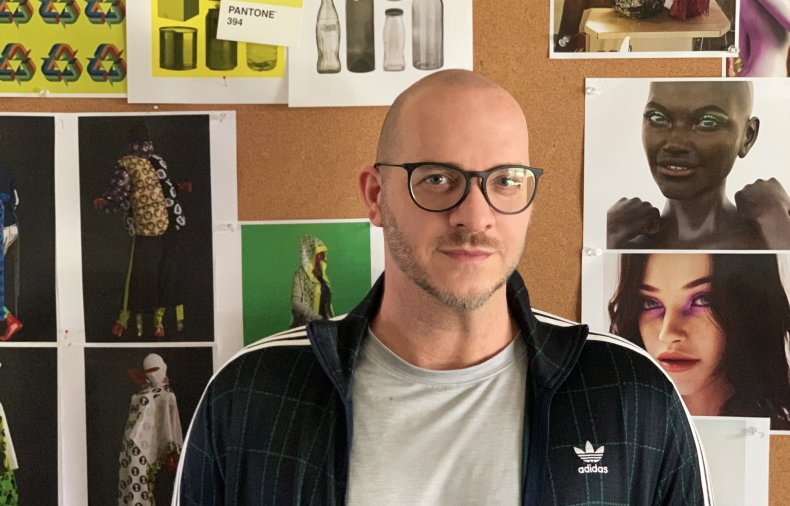 Buyers may also be able to immediately place orders without having to wait to receive physical prototypes, so there is the possibility of removing the cost of producing samples. It creates a quicker process and reduces the impact on natural resources and the environment.
My plan is for Bella, Mia and Jada to model for big fashion brands, and there are a few that I would particularly love to collaborate with, including Jacquemus and MSGM. Both are creative, contemporary brands that I believe are in a great position to take advantage of these changes in technology and the industry.
It would also be a dream come true to see one of the models on any magazine cover. But, if I had to choose three, the models and I would be thrilled to work with Vogue, L'Officiel and W.
There are so many amazing, inspirational fashion magazines and brands that I would be honored to work with. I am excited to see what the future holds for my digital supermodels.
Christian Guernelli is a fashion designer living in Culver City, California. He is the founder and creator of Unhueman, a brand that includes digital supermodels Bella, Mia and Jada. You can follow the brand and find out more about the models on Instagram at @unhueman.
All views expressed in this article are the author's own.