'I've Gone Without Meals So My Daughter Can Eat'
Becka Kellaway feels she is constantly deciding which basic essential she will be forced to give up each month. Will I feed my daughter? Or turn on the heating?
A single-mother to Skye, 8, one of 1.3 million disadvantaged children entitled to free school meals in the UK, Becka was issued food vouchers as schools closed during the pandemic. This continued through the summer break when a "COVID food fund" was set up by the government in a dramatic U-turn forced with the help of Premier League footballer Marcus Rashford.
The England and Manchester United striker campaigned for meal vouchers to be given to children receiving school meals over the summer holiday. Now he is calling for a repeat of the support through the half-term and Christmas breaks in order to tackle food poverty among English children.
So far Boris Johnson has ruled it out, despite a petition launched by the footballer gaining almost 300,000 signatures in support. The opposition Labour party tabled a motion hoping to force backbench Tories into pressuring Johnson to agree to the move. This was voted down by 322 votes to 261 in a vote on Wednesday evening.
Conservative backbenchers faced the choice of backing Rashford's plan or either abstaining or voting against it. Becka would argue she - alongside millions of parents across the country - has faced tougher choices, like whether she should skip dinner so that her daughter can eat a proper meal.
"I've gone without so that she can have food," Becka tells Newsweek. "We rely so much on the school meals that the kids get at school - I know a number of parents who will say that's the only good meal they get.
"Sometimes it's really sad to go out shopping when you can't just get good nutritious food. I want to give my daughter the best quality stuff and I have a choice, I can get a very small quantity of something nutritious. Or I can get a larger amount of s**t quality food. It's a really difficult choice to make."
Becka works part-time and receives Universal Credit payments from the government. She is originally from Australia and therefore has no family nearby to help with childcare.
"Life is already stressful when you're poor and a single mother," she says. "I'm not frivolous with money. Recently my daughter just suddenly grew, I had to buy her new clothes, new underwear. And I thought 'right, we've spent £30 there so she has knickers. What have we got to give up this month?'. I am juggling for essentials. That's the reality."
Vicky Lewis, 37, is mum to Annabelle, 7, Kensi, 6, and Sophia, 3. She tells Newsweek that she is "constantly" stressed and worried about having enough money to pay for her children's meals. "We get by with the bare minimum," Vicky says. "But you do what you have to do - ultimately my children are most important. So of course I'll go without so that they can eat."
Vicky is supported by local charity Home Start Slough which supports vulnerable young families suffering from mental illness, poverty, or physical or mental disability. The charity provided Vicky's children with books and educational videos during the pandemic so they didn't fall behind their classmates when lockdown hit. She says she would not have made it through without that support.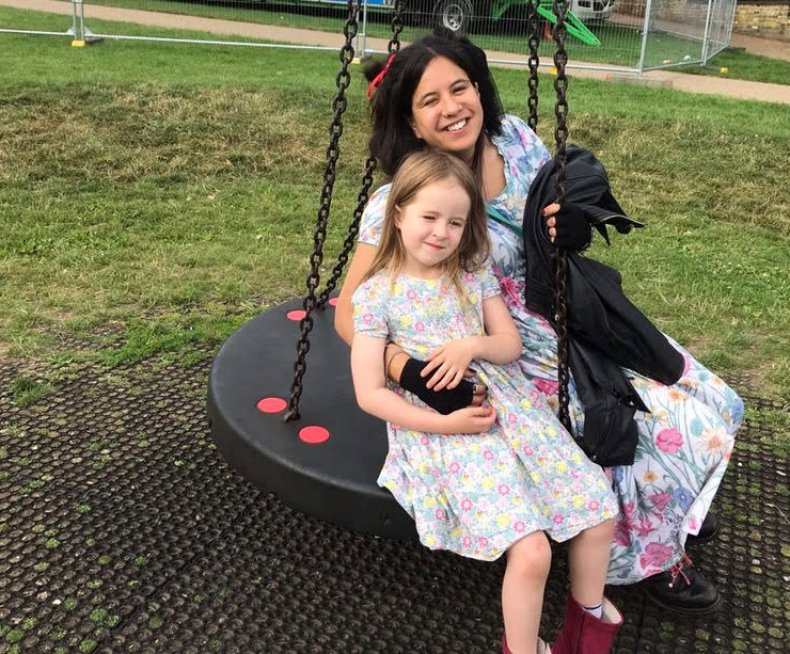 "I feel like a rubbish mum when I can't give them what they want," she says. "My children are my whole world and not being able to say 'let's go and get an ice-cream, let's go to the shop and get some sweets' makes you feel like you are failing. They've just never had that luxury. There have been times when I think 'where's the money going to come from?'. Having vouchers for free meals throughout the holidays would be a godsend."
The mother-of-three said she is "dreading" half term, and was forced to borrow money from her mother-in-law to stock-up on food to keep her kids going over the holiday. It's money she will have to pay back - and money that many families won't have the "luxury" of borrowing.
"I think I am one of the lucky ones to have my mother-in-law. There are parents who don't have that support. If I had to survive another lockdown without it, I honestly don't think I could."
Like Becka, Vicky has found the cost of food in shops is far higher than any financial support provided in government benefits. Often, parents are faced with entering mounting debt or going hungry.
"When my daughter went back to school in September she was asked whether she wanted to continue with school meals or take in a packed lunch," she says. "She wanted a packed lunch as that is what all her friends were having. But it's just impossible, with rules on what they are allowed to bring in to be healthy, it could be £10 a day. I had to tell her I couldn't afford it."
Johnson's government sparked anger when it flatly rejected the campaign to extend school meals during term breaks. "It's not for schools to regularly provide food to pupils during the school holidays," a Downing Street spokesman said. Business minister Nadhim Zahawi this week hinted the government would not be changing its stance. He told the BBC that parents prefer to pay a "modest amount" for children's food at a holiday club, rather than have the "label of a free school meal" placed on them.
'We've put over £9 billion ($6.9 bn) into Universal Credit to help exactly those families that need that help, and we continue with the policy of holiday clubs," the minister said.
He claimed that research from a holiday club pilot scheme "demonstrates that families didn't just want the meals, although they valued the meals, they didn't like the labeling of them being free, they actually prefer to pay a modest amount, £1 or £2 ($1.30 or $2.60), but they valued the additional focus on exercise and on reading fun books and so on through the holiday."
The opposition Labour Party tabled its motion calling on the government to continue directly funding free school meals over the holidays until Easter 2021 to "prevent over a million children going hungry during the coronavirus crisis". The party hoped that the parliamentary threat would force the prime minister into changing his mind.
Barny Haughton, 69, has worked as a chef in restaurants and in educating others about food for over three decades. He set up cookery school the Square Food Foundation in 2011. It took on a new role, supporting children and families at risk of hunger as a result of COVID-19. He believes agreeing to extend the free school meals scheme into the holidays is vital - but that efforts to properly support disadvantaged families need to go far further.
"We were providing around 300 meals a day for 60 families at the start of the pandemic," Haughton tells Newsweek. "What it revealed really is that this wasn't really about lockdown. It was not necessarily that the children don't have any food, it was that they don't have any good food."
The charity spent £4,500 a week feeding families during lockdown. Haughton believes the government should be stepping in more.
"We know that there are hundreds of thousands of children in this country who rely on free school meals," he says. "Too often it is up to charities to step in but charities like us can only do so much and we have to fundraise for it. What we found is that it is not necessarily that these children don't have food - it is that these children don't have access to any good food.
"Then there is the shame attached to asking for help. Some mums were frightened to ask for meals because they were frightened of being reported to social services. What we hadn't predicted before lockdown is that there is a whole section of society missing the knowledge and confidence to cook. Food education needs to be the backbone of the curriculum from the early years right up to A-level [qualifications predominantly for 17/18-year-old school leavers]. If free school meals aren't extended, the reality is that these children will go straight back to fish and chips, ready meals and takeaways."
The October half-term school break begins on October 26 in most places in England. The Labour government in Wales has already pledged to spend £11million on free meals over holidays up to and including next Easter.
Becka was initially horrified that it took a Premier League footballer speaking out to make leaders listen. Now she is glad Marcus Rashford is lending his voice. She said: "He is showing that people who are poor are not 'slackers'. We are not 'lazy' or 'there's obviously something you are doing wrong'. He is saying 'I'm a successful normal human being who happened to come from a really poor background'."
Rashford has challenged Johnson to honor his election pledge to 'level up' the UK by introducing a comprehensive package to end child poverty and hunger. He called for major changes to the welfare system, including an end to the Tories' two-child cap on Universal Credit and an increase in the value of healthy eating vouchers for pregnant mothers.
His campaign is even catching the eye of senior Conservatives, including Education Select Committee chairman Rob Halfon who has reportedly called on the prime minister to reconsider his stance. Registered nutritionist Laura Matthews works closely with councils in England to improve food quality in schools. She regularly visits primary schools and nurseries in severely deprived areas and has seen firsthand the difference that free school meals make.
"For many children, the food provided by a school is the only hot and nutritious meal they will receive each day. It really is a lifeline to children and families living in poverty."