'I've Made a Million Dollars Traveling The World'
In 2015, two friends left me stranded while I was on vacation in Amsterdam. After disagreeing with one of the two about her boyfriend, I woke up the following morning and discovered that both of my friends were gone. At first, I thought they were having breakfast, but I soon realized after calling one of them that they had left altogether. I was devastated and crushed. I called my mom, crying hysterically as I sat in a hotel room alone on my birthday. I booked my flight to go home the next day.
The following day I arrived home in New Jersey and wrote down what I was afraid of; what were all the things that could go wrong if I had traveled solo. I was concerned about my safety, not being able to enjoy the trip by myself and the idea of getting sick in a foreign country. Then, I started putting together a plan to travel on my own, and eight months later, I took my first solo trip to Paris. I chose the French capital because I had always dreamed of spending time there.
When I started the planning process, I told myself that I would use this trip as an experiment to see if I liked solo travel. I researched hotels and booked excursions; I was determined not spend my vacation scared in a hotel room.
Despite all this, I was still nervous about traveling alone for the first time, so I printed out a picture of the Eiffel Tower and took it with me on the plane to calm myself down. My adrenaline was pumping, but as soon as the plane landed in Paris, my fear turned into excitement. I was ready to spend an entire week exploring the city I had dreamed of visiting. It was so liberating.
I see that first solo trip as where I earned my "travel wings", so Paris will always have a special place in my heart. I went there as a woman who wasn't very sure of herself, but during my trip I visited museums, walked the streets of Montmartre, and discovered the 16th arrondissement. I felt so proud of myself for traveling to Paris independently and knew immediately that moving forward, this would be my new lifestyle. I left having made the discovery that I could be a fearless woman.
By 2017, I had been to about 20 countries on vacations, including South Africa, The Seychelles, Singapore, and Australia and I would share my travels on Instagram. Another favorite destination of mine is South Africa. I visited Johannesburg and my favorite memory is when I toured Nelson Mandela's house. Seeing the bullet holes through the home's infrastructure, and the tree he planted for his daughter, was so powerful.
Women would always reach out to me on social media, asking how they could start traveling solo themselves. So, I decided to create a course and start coaching to show people everything that I've learned since I began traveling the world alone. That turned into my company, Travel Like a Bawse.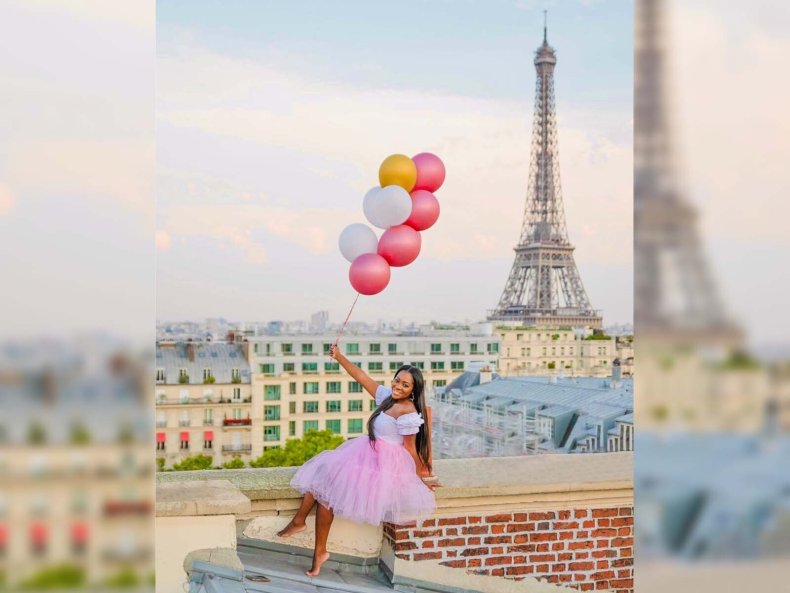 I would meet with people to share tips on solo travel each week on video calls; then I decided to create a course on Teachable. The courses I offer now cover topics like how to travel on a budget without compromising quality, how to build the confidence to solo travel and safety tips for solo travelers.
The first month in 2017, I made about $500 in course sales. It was one of my proudest moments. Knowing that people trusted me to help them with their personal transformation was a feeling words can't describe. Then I posted a video about my travels that got a lot of views, and I was suddenly booked for coaching calls for five months. From there, I started to take my side hustle more seriously! It was bringing in as much money as my day job as a social worker, from which I was earning close to six-figures a year already.
So in 2020, I decided that it was time to quit my day job of 14 years to focus on my business. At that point, my company had consistently earned me the equivalent of my day job for around nine months. After I started my business full time, it really took off by word of mouth and as a result of using Facebook ads.
At the same time as I was discovering more of the world, I also knew I didn't feel safe in the U.S. because of what had happened to Breonna Taylor. Killed by police in her home while she was sleeping in March 2020, her death let me know that even if I were in my house, not doing anything wrong, I wasn't necessarily safe. Before she was killed, I would think that if I left my house, was speeding or doing something to provoke the police to come to talk to me, then I could be in danger. But when I learned that I could be in my house, sleeping, and still be killed by police; it traumatized me.
Spending time in Antigua over the past two years has been good for my mental health. I have now traveled extensively, but when I landed in Antigua in June 2020, there was a little voice in my mind that told me I was home. The people were so warm and made me feel like I belonged there. The island has 365 beaches and everywhere I went people treated me with kindness; I felt accepted. Each morning I woke up to the sound of the ocean, which was pure bliss. So, I went home to New Jersey, and within 60 days, had found a place in Antigua near the beach. By August of 2020 I had relocated there to run my business remotely.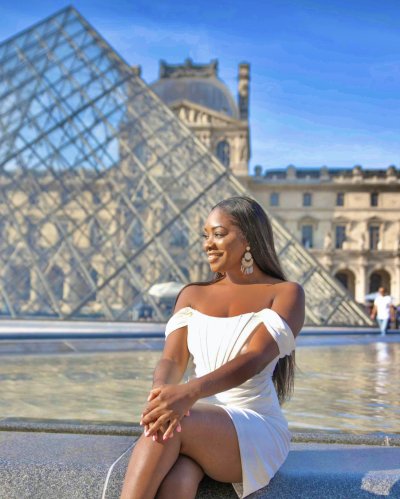 At first, my palms would get sweaty when I saw the police in Antigua, but I had to unlearn that as I slowly observed differences between the U.S. and Antigua. It's going to take some time to get over some of the systemic racism, verbal racism, police brutality, and everything I've been exposed to directly and through others, but I'm working on it.
Now, my Travel Like a Bawse courses have had close to 7,000 students and since that first trip to Paris, I have traveled solo to 57 countries and earned more than a million dollars in revenue. Taking that first solo trip and building my business have ultimately afforded me peace of mind. I have more time to enjoy my life.
I now travel to Paris four times a year because when you visit during the different seasons, it feels like you're in a different city each time. My summers in Paris are usually during Bastille Day on July 14th when the Avenue des Champs-Élysées is filled with people, and incredible firework displays take place. I also love to visit in the winter and take in the Christmas displays across the city.
When I started my solo travel journey, I just wanted to prove to myself that I could do it. Then, as I launched my own business, my intention became to help other women travel more confidently.
For the most part, my audience is made of millennial women and I often receive pictures from them telling me they're on a solo trip because of me or that they completed my course and have traveled solo to multiple countries as a result. Women also share photos with their families saying that I helped them travel affordably. Waking up every day and being able to impact other people and help change the trajectory of their lives is how I measure my success.
When I'm not traveling, I spend most of my days on the beach in Antigua, I have a great team of customer service support and I do coaching calls once a week in group sessions.
In the future, I would like to travel to Mauritius and Bora Bora, but traveling during the pandemic has been hectic because rules and regulations change so quickly. In one place, the entry requirement might be that you need a PCR COVID test and a second test upon arrival, elsewhere it's different. I've learned that it's important to do your research before traveling.
As Americans, we want everything to happen like a microwave: immediately. I've seen that many other cultures do not work like that. I think the attitude towards us can be: "What's your problem America? Calm down!"
Traveling to other countries has helped me understand that and has made me more humble. I'm able to have more gratitude because I see that my worst day might be someone else's best day. Travel teaches you a lot about gratitude. I have learned to be a lot more grateful and more giving, and I have learned to slow down.
Shakeemah Smith a.k.a. The Passport Abuser has traveled to more than 50 countries solo and is the founder of Travel Like a Bawse, equipping women with the tools that she's learned to help them start their travel journey around the world. You can follow her on Instagram at @thepassportabuser.
All views expressed in this article are the author's own.