From a very early age I was inspired by the Golden Age of Hollywood. I'm originally from a town on the east coast of the U.S. and when I was perhaps nine years old, I saw a Shirley Temple movie. I read a biography about her and began to watch old Hollywood movies. Marilyn Monroe, Mae West and Zsa Zsa Gabor became inspirations and I developed a vintage Hollywood style that led to me becoming a vintage pinup model.
In 2002, I opened an online fan club and within six months many of my fans were telling me that they wanted to serve as my slave, which was something I had never heard of. After a while, one contacted me and said he wanted to be a money slave for me. He told me that there are men who want to give their money away to an unattainable, beautiful woman who they put on a pedestal, and who will give them nothing in return.
It sounded great, but I had to ask him if these men thought there were any strings attached, because I wasn't interested in that. He told me that if I was to to give a money slave something in return, it would ruin the dynamic.
I started as a financial dominatrix the next day and I quickly received my first tribute. The person simply sent me $100 through a payment platform, with a note attached that said it was "for being b****y and beautiful." I became popular very quickly and my client list just kept growing. I was receiving more financial tributes and acquiring more money slaves, or "paypigs" as they are also known.
In 2004, I decided to make another fan club, called "Money Slaves for Diamond Diva Princess." I would post there and my money slaves would send financial tributes. As well as money, they could send me gifts. At that time, I had a wish list, with items like gold, jewelry, diamonds, rare collectible Barbies, clothes and shoes.
A really significant moment early on was when one of my pay pigs spent $5,000 on me within just a few hours. I sent him emails on the platform I was using and he would have to pay to open them. But inside the email, I would just type a period, or write "pay more." That was when I realized this was serious. It was such a rush. I liked the money, but also the power, the self expression and the fun of it.
That art of financial domination and the paypigs who serve
Many of my paypigs are wealthy men in positions of power; I attract a lot of "white whales." Their financial submission to me seems to create a balance in their lives. I have had paypigs in their 20s and some in their 70s, but typically, they are men between the ages of 40 to 60, though often I don't even ask their age. They have different personalities of course, but they are all submissive.
I now have a client list of more than 7,000 paypigs. That includes regular paypigs who tribute all the time, ones that come every once in a while and others who may appear once to make a large tribute and then disappear.
For instance, they might receive a windfall that they will spend on me. One paypig received a $10,000 inheritance and he spent it all on me within a few days. When it was gone, he left because he did not have the lifestyle to sustain being my paypig. But for a few days, he was able to live his dream life, and it made him really happy.
Sometimes I have what are called "wallet draining sessions"; where a paypig will spend a lot of money on me, and sometimes really quickly. The paypig who spent the most on me in one day was "Gift Puppet" who spent $30,000; including money, electronics, and furniture.
I have one paypig I call my "Handbag Zombie." I talked about him during a TV interview saying he had spent $100,000 on me. Then he read an article about me where I said, "he keeps spending faster and faster," and it just really drove him over the edge to spend more on me. So, he has now spent much more than that.
Another one of my paypigs spent $20,000 dollars on me in just over an hour, that was a lot of fun. They get quite competitive with one another too. Not long ago I announced a $100,000 race between two of my paypigs, and they both began racing to reach that marker first. The winner was so excited that he set his new goal at a quarter of a million dollars. Another paypig of mine, "Dolly Dearest," is at around $100,000 right now and when he crosses that tally line I'll be announcing it in a video to the world, which he is very excited about. My newest trophy paypig is "Paulybot" who just crossed his first "milestone" recently: spending $25,000 on me.
But my financial domination never been about sexual content and there is no sexual communication involved. It's about respect and adoration and Goddess worship. I also never meet any of my paypigs in person. As a financial dominatrix, my findom work is rooted in chivalry and courtly love; similar to knights in the past who would devote their life and energy to edifying and uplifting the woman they loved; a woman who was on a pedestal.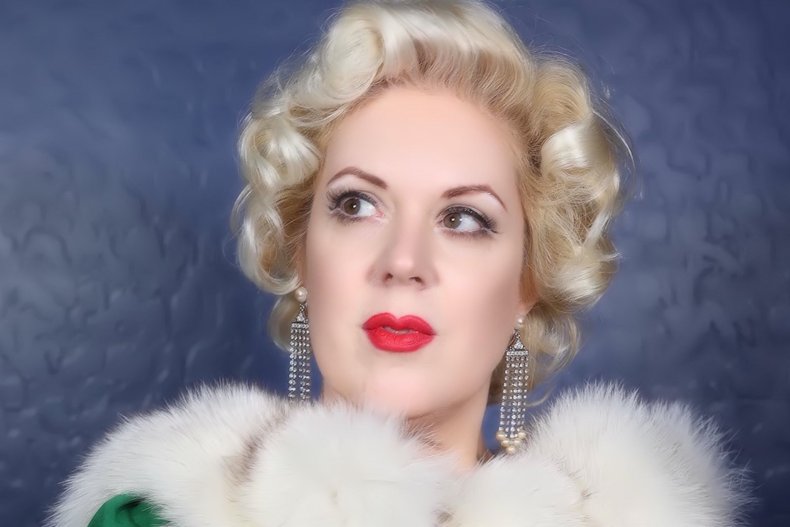 But in the mid-2000s many people caught wind of financial domination. They wanted to try their hand at it and to use the term because of the popularity of it. Of course, I don't mind what anyone else does. I'm not trying to be judgemental and I have no issue if someone does sex work, but I don't consider myself a sex worker and in my opinion, true financial domination is not sex work and does not have a sexual aspect on either side.
I am very open about what my financial domination entails. So honestly, if someone wants sexual content, or that kind of gratification, they will just go and find somebody else who does that, because there are a lot of people doing otherwise. It just means that the financial slaves that are meant to serve me are going to find me.
The type of paypig looking for sexual gratification can sometimes find me and send me an email saying something I would consider disrespectful, like: "You're hot." If I were to reply at all, I would tell them that they are clearly out of their league and that this is not the way to speak to me. I tell them that if they can't learn that, as a slave who is here to worship me, they do not speak to me in this casual tone, they will not be serving me.
Unless you can put yourself into the mindset of the paypig, it can be hard for most people to understand. A lot of people see financial domination as related to BDSM, but true financial domination, to me, is not. If you have paypigs that serve you for a while, you get to know them and you can tell what they are getting out of the dynamic. My paypigs actually tell me that serving me has a healing impact on their lives, that I purify their hearts and minds and give their lives meaning. They give to me, but in return, they say I give them something to look up to and something to aspire to.
I have many paypigs today who have served me from the beginning. They've dedicated their lives to this. They are given the opportunity to lavish me, a beautiful woman, with money and gifts and to spend their life contributing to my happiness.
The lifestyle of a financial dominatrix
My everyday life is about status, beauty and indulgence. The first thing I do each day is look to see how much money I made while I was sleeping. It's exciting to see the payment notifications that have arrived in my email inbox overnight. Then, I eat a light breakfast, unless I'm at the Beverly Hills Hotel, where I breakfast in the Fountain Coffee Room and indulge in my favorite caviar omelet with crème fraiche.
I consider financial domination a fine art, and I like to create every day. I might create a two minute video of me talking or just enjoying my old Hollywood lifestyle, and I'll allow my slaves to pay between $100 to $500 to view it. A lot of my videos talk about my love of vintage and the Golden Age of Hollywood; my slaves want to learn my likes and dislikes. They hang on to my every word. Even if old Hollywood is not their interest, it will become their interest.
Much of my interaction with my paypigs during the day is through email, but I do also allow some of my slaves to call me on the phone as they pay-per-minute to do so. Or, I might allow them to contact me for the opportunity of a wallet drain session, which they love, and I love too!
I may decide, on a whim, to go shopping, on an excursion, to lunch al fresco, or to the fur salon. Whatever it is I want to do, my paypigs pick up the tab on everything. I particularly love French restaurants, and I'm also crazy about The Polo Lounge and Musso & Frank Grill in Hollywood. I love expensive champagne and Russian caviar.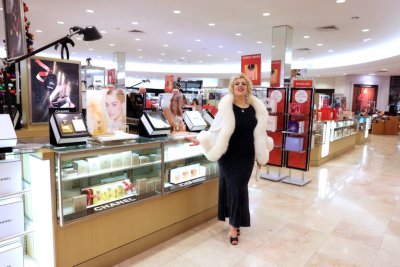 If I am shopping, I will tell my paypigs where I am going and what my intentions are, and sometimes, one is given the special reward of going to the fur salon or out shopping with me via the phone. I often update them on how much more money to send to cover the price of everything I am buying; which is something they really love. I can spend hours upon hours shopping and I am very selective, I like only the very best of everything. I typically buy clothes, shoes, jewelry, perfume, makeup, antiques, and rare collectible books. My paypigs have gifted me everything from Tiffany & Co. necklaces to Lana Turner's jewelry, a pen that belonged to Marilyn Monroe and a fur and jewelry that belonged to Mae West.
Female empowerment in financial domination
Every single thing in my life is paid for by my paypigs. From my clothes and vacations— where they pay for everything from my hotel to fine dining, poolside cocktails and tips for staff—to my custom-built, beautiful three bedroom, three bathroom house. I've made millions of dollars over the years. One slave has spent at least $300,000 on me, possibly closer to $500,000. But it's important for people to understand that paypigs come looking for me. They beg me to accept their monetary gifts, which don't go into my bank account. The paypigs use payment processors willingly. Then, after I accept their gift, they thank me for accepting it.
My paypigs don't want anything in return and they keep coming back. If they wanted something and they never received it, they would go away. In my experience, this dynamic is part of a true financial slave's personality and they won't be satisfied with gifting me a small amount of money.
I believe empowerment is about being yourself, expressing yourself and expressing your power as a woman. I'm the one in control and I'm the one with the power.
To me, a woman's power is in her femininity and my financial domination is not about sexual content, or nudity. It is about female empowerment and Goddess worship. So I always feel empowered; I love that my paypigs adore me and that my creativity brings joy into their lives. Although I say they receive nothing in return, what they actually receive is the joy that's promised.
Financial domination is a lucrative career. But beyond that, I see it as a lifestyle. I have friends and family that know that I'm a financial dominatrix and they are very supportive. This lifestyle fulfills me. I love it. I love the money, the rush of the power and I revel in the fine art of financial domination.
I love inspiring my paypigs and I enjoy the adoration and reverence of my devotees. I have the freedom to be my authentic, genuine self.
Diamond Diva Princess AKA The Capitalistic Blonde is a financial dominatrix living in the U.S. You can follow her on Twitter @IconMoneyDomme.
All views expressed in this article are the author's own.
As told to Jenny Haward.