I've Met Hundreds of Victims of Family Separations—And That's After Trump Said He Ended Them | Opinion
This Tuesday, I walked into the U.S. federal courthouse in McAllen, Texas, knowing it had been exactly a year since my team at the Texas Civil Rights Project began working with families separated from their children at the border. And after documenting 1,167 family separations in McAllen alone, one thing is clear: This horror is far from over.
In a single morning last week at the courthouse, I saw President Donald Trump's "zero tolerance" immigration policy tear seven families apart.
Under zero tolerance, the government charges all adults apprehended crossing the border illegally with the misdemeanor of illegal entry, regardless of whether they are here to seek asylum. This misguided and ineffective policy takes away prosecutors' ability to use their discretion and often leads to family separations because the adults are held in federal custody while awaiting trial, but their children, who are not criminally prosecuted, are sent to a shelter.
Trump signed an executive order on June 20, 2018, supposedly ending family separations at the border. However, according to our daily intake interviews and courthouse monitoring, 785 families have been separated since then just in McAllen.
This is only the latest nongovernmental data to shine a light on the crisis the Trump administration created.
As long as zero tolerance continues, so will stories like that of my client, a Kekchi-speaking father who fled Guatemala after the government issued a warrant for his arrest due to his activism defending his indigenous community. In hopes of finding a safe new start for his family, he fled the country with his 10-year-old child.
In a cruel twist, when they arrived at the U.S.-Mexico border in late 2018, our government detained him and used the warrant for his arrest in Guatemala to justify separating him from his child. This warrant was the basis for his claim to asylum. My team is still working to stop the government's plan to deport him—dooming him to reprisals for attempting to protect his community in Guatemala.
Despite the government's claim to have ended family separations, we continue to meet and interview hundreds of distressed parents at the courthouse who are desperately seeking those who can help reunite them with their children. Zero tolerance makes ending these separations impossible because it criminalizes asylum seekers.
But an even bigger crisis is brewing in the shadows of these separations because in asylum cases our government acknowledges only biological parents and their kids as family.
U.S. immigration laws have not caught up to the complex realities of families, including when a person who is not the biological mother or father parents a child. In the United States, about 35 percent of children have lived with a family member other than a biological parent. That comes to more than 25 million children and doesn't even include those who live with their siblings.
As a result of the government's narrow definition of "family," thousands more migrant children bear the trauma of having their guardians and loved ones taken away, for reasons they cannot comprehend. We have witnessed hundreds of siblings, uncles and aunts, cousins and grandparents go through the same suffering of losing a child as biological parents face. Often, these relatives are the only form of parents the children know.
Their trauma goes unrecognized, unreported and ignored.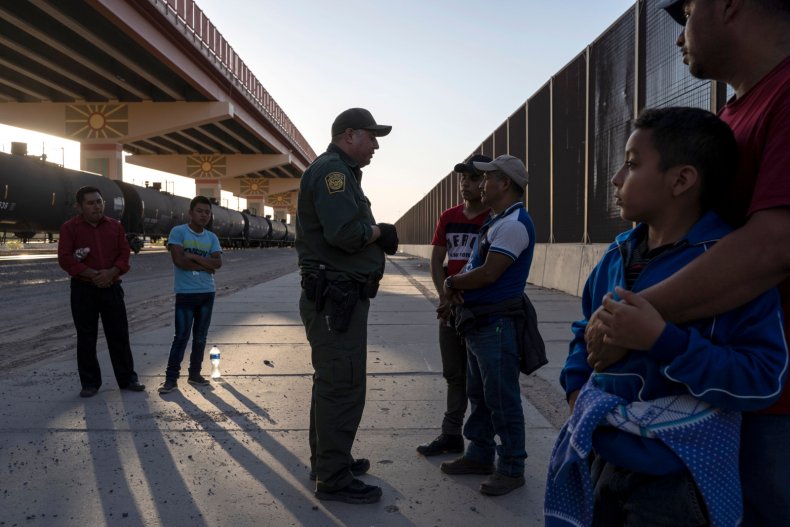 What are we supposed to tell these families as they frantically ask about their children? That family separation rates are no longer skyrocketing? That things are back to "normal"? Little consolation to people who have been separated from their children and do not know when they will see them again.
This is unacceptable.
As zero tolerance continues to strain our immigration system, this administration has showed no remorse for the families it has destroyed. As the number of separations continues to grow, administration officials are using the government's resources to seed a false narrative of danger and pandemonium at our border.
In previous years, we have seen an increase in the number of families seeking asylum during the summer months. Instead of allocating resources necessary to prepare for the expected influx of families, the administration is dead set on maximizing chaos at the border. Huge tent internment camps are being built, despite the fact detention facilities across the country are nearly empty. They are doubling down on every callous tactic that the courts have not yet barred—even taking DNA samples by force from parents and children. These resources would be better put to fixing what zero tolerance has broken and reuniting the families our immigration system has torn apart.
Until zero tolerance ends, my team and I will be in court every day to continue documenting its human toll and make sure the rest of America has a window into the cruelty this administration has committed in their name.
Efrén Olivares is the Racial Economic Justice Program director at the Texas Civil Rights Project.
The views expressed in this article are the writer's own.