'I've Never Seen Anything Like This,' Experts Say As States Introduce Hundreds of Election Bills
After one of the most contentious and litigated elections in modern history, state houses across the country have introduced hundreds of bills aimed to redesign the U.S. election cycle.
"I've never seen anything like this," David Daley, a senior fellow at the nonpartisan electoral reform group FairVote, told Newsweek. "I think both parties recognize that voting rights is the biggest issue facing this country in the near term."
State lawmakers have introduced more than 250 bills in 43 states that would work to restrict voting access, according to a report published by the Brennan Center for Justice at New York University. There have also been 704 bills carried over or introduced that contain provisions to expand voting access in a different set of 43 states.
"I can tell you that there are even more bills since then," Eliza Sweren-Becker, the lead author of the report, told Newsweek.
Sweren-Becker noted that "after general elections we typically do see a spike in the number of voting and elections bills that get introduced, but the sheer volume of bills that we are seeing this year is unique."
Many of the proposals explicitly respond to the 2020 contest, which saw nearly every state expand mail-in voting and early in-person voting access due to the coronavirus pandemic.
"I think one of the unfortunate things about 2020 was that the election system itself was a top issue," Barry Burden, the director of the Elections Research Center at the University of Wisconsin–Madison, told Newsweek. "It got debated and litigated more than just about any other issue in that election. ... And that's not how elections should be run."
Conservative lawmakers have cited public concerns about election security in their newly-drafted bills, which the Brennan Center reported was a result of the baseless allegations of voter fraud and other irregularities spread by former President Donald Trump and some of his GOP allies.
The most concerted efforts to tighten voting rules, experts said, have been in critical 2020 swing states such as Georgia and Arizona. Each state has introduced more than 20 pieces of legislation so far this year.
Republican-led bills currently being considered in the Peach State would end automatic voter registration, ban drop boxes for mail ballots and restrict early voting on the weekends. The elimination of Sunday early voting would curb "Souls to the Polls," a voter turnout initiative conducted by the state's predominantly Black churches.
"These policies, in some instances, are a direct backlash against participation by Black and brown voters in the election last year," Sweren-Becker said. "The racialized nature of these voter suppression efforts I think is critically important."
While there's a high amount of activity to tighten election rules in Republican state houses, there are also a number of states working to expand access in response to the record-high amount of voter turnout and enthusiasm that took place in 2020.
Eighteen states have proposed expansions to early voting, 15 states have introduced bills to implement same-day voter registration and 11 states have introduced bills that would permit all voters to vote by mail in all elections — according to the Brennan Center.
"Now that we've proven it works, what we ought to be doing is moving forward and expanding it even more so," said Daley, referring to policies such as mail-in voting, dropboxes and extended early voting.
He added, "I think once people have experienced the convenience and the ease of mail-in voting, of early voting, it's difficult to tell them now we have to go back to between the hours of 7 a.m. and 7 p.m. on the first Tuesday in November."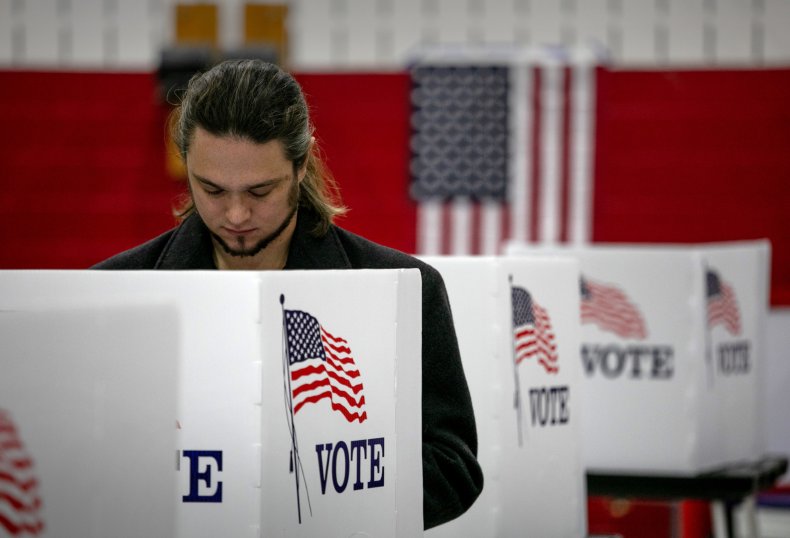 In addition to the unprecedented level of election-related legislation being considered by state lawmakers, congressional Democrats are also working to pass a sweeping election reform bill.
H.R. 1, also known as For the People Act, was passed by the House of Representatives earlier this week. The roughly 800-page bill would touch on nearly every piece of the electoral process, including voter access and campaign finance. It would also require each state to establish an independent commission to redraw district lines based on the census.
Burden said the bill will be a "massive undertaking" and the biggest change to electoral practices in the United States since the Voting Rights Act in 1965. If passed, it would counteract many of the proposals being considered at the state level.
Not a single Republican in the lower chamber signed on to support the legislation and conservative members of the Senate have dismissed the legislation as an unconstitutional "power grab."
The debate over election reform will spill over to the 2022 midterm cycle, experts say, and is likely to only get more partisan due to the issue of redistricting. Republicans are said to have the upper hand in the decennial process, during which states use fresh population data from the U.S. Census Bureau to draw new congressional and state legislative district lines.
"American democracy is going to come to a real breaking point if democracy itself becomes this extended partisan flashpoint," Daley warned. "It's a dangerous moment."