'I've Never Seen This': Entire 12-by-28-Foot Cabin Stolen
Michigan police are investigating the disappearance of an entire 12-by-28-foot cabin in Cold Springs Township after the owner reported it stolen. Authorities believe the house was pulled onto a trailer and taken away.
The resident of the cabin had lived there for two years and last saw his home in November. According to Lieutenant Derrick Carroll with the Michigan State Police, the man moved out to another residence that month but left his belongings in the cabin.
When a moving crew arrived to retrieve his items, the man's possessions had been left outside and the cabin had mysteriously vanished. Carroll suspects that emptying the structure may have "lightened the load" for the culprits. The theft occurred sometime between November 18 and December 16.
"I've got almost 26 years in the Michigan State Police," Carroll told Newsweek, "and I've never seen an entire cabin that was stolen."
The stolen cabin was located on County Road 571 in Cold Springs Township, which has a population of about 1,500 people.
The prefabricated brown house has a white door, fence and front porch. Though it is not a permanent structure, Carroll says that moving the cabin would be no easy task, especially during the harsh Michigan winter. Without the help of a skidder or other equipment to transfer the cabin onto a trailer, the act would have required several people.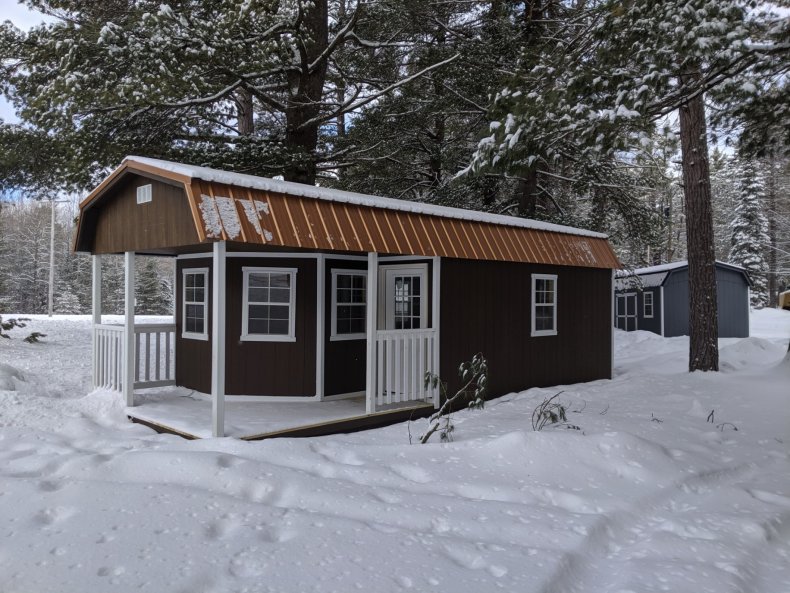 Police have not yet identified any suspects or a motive for the theft, but are following several leads. Some residents have even called in claiming to catch sightings of the cabin. However, Carroll said the model is mass-produced, making those tips less reliable. He noted that social media sites have aided investigators and that they are also combing through websites such as Craigslist and Facebook marketplace, where stolen goods often turn up, although a cabin would be rather large for that forum.
The FBI estimated in 2017 that 9,600 U.S. homeowners fell victim to house stealing or "title theft" schemes, but that crime is generally committed through fraud and identity theft, not by literally taking a house. Even then, the cybersecurity and identity theft protection company Invisus claims the statistical likelihood of title theft is microscopic.
This building is not the only oddly cumbersome item stolen in recent months. A 58-foot pedestrian bridge was stolen from Akron, Ohio, in November. Akron police discovered the bridge partially disassembled in a neighboring county and charged a suspect with felony theft in December.