'I've Rescued Hundreds of Special Needs Dogs'
I adopted my first dog, Sparky, 12 years ago. He wasn't a dog with special needs but he was from a shelter and he's the love of my life. He also changed my life because he got me into working with rescue dogs. I volunteered with another rescue center and then I decided to start my own rescue, which I intentionally kept small so we could pay more attention to individual dogs.
Within a couple of months of opening in 2015, one of our volunteers found Maverick in somebody's yard. He had been hit by a car twice—weeks apart we were eventually told—and was paralysed and couldn't move. The idea of him coming in scared me. I wondered how I was going to handle it and whether we would be able to help this dog. And then I met him and fell in love. He became such a part of our life, and we were able to see his progress and the gratitude in his eyes. It's amazing how easy it actually is to take care of a paralyzed dog.
Maverick really changed the whole trajectory of our rescue. We realized that dogs like him were the ones we needed to help and that ended up defining us as a rescue. We've rescued six paralyzed dogs and many other special needs dogs, including those who have injuries like a fractured pelvis or broken legs, or are heartworm positive. A lot of our dogs are special needs, seniors, sick or almost feral and need a lot of work to get socialized.
We're a non-profit and our adoptions cost between $200 and $500 but that never covers medical bills, so we mostly run on donations. In 2020 we spent over $100,000 in medical bills.We are mainly volunteer based with three part-time paid employees, and I personally spend around 50 hours a week working with rescue dogs.
At this point we have had more than 1,000 adoptions and our 1000th happened to be a paralyzed dog. I would guess that 30 to 40 percent of the dogs we have rescued have something going on, whether they have behavioral issues or special needs in terms of having a broken pelvis or legs, or they are heartworm positive or sick with all sorts of diseases, some of which we had never heard of. We are fully aware when we rescue them that they are going to cost a fortune!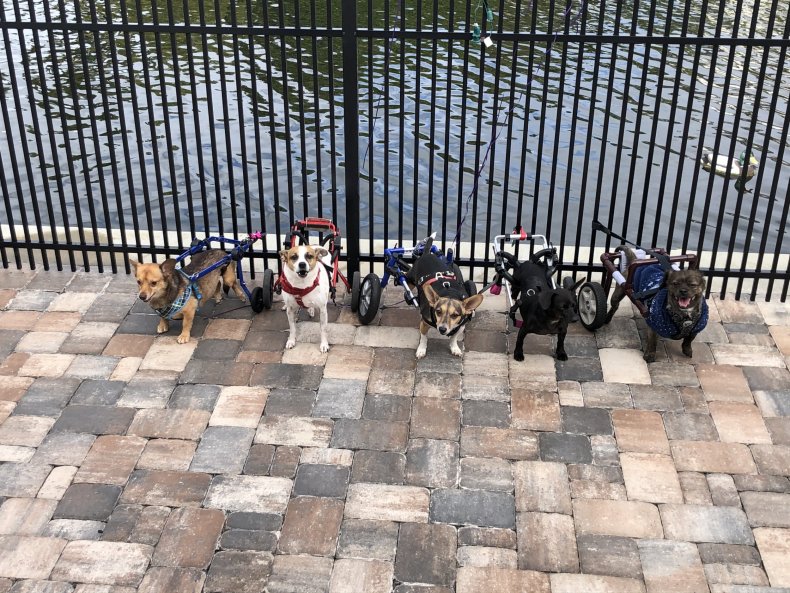 I have a dog called Wish who has just been released from a specialty hospital after a week, he has had anemia caused by his heartworm. So we're really adamant about raising awareness around heartworm, because Wish has been in an oxygen chamber and we almost lost him—his bills are more than $6,000 right now.
When Maverick came to us we had to get MRI scans and X-rays done, he went to three specialists and had acupuncture and laser treatment. His biggest issue is that he has no control over his bladder or bowels so you do have to express him. I've taken him all over the state of Florida to different vets. One even told us to euthanize Maverick because he would have to wear diapers, but five years on and he controls his bladder, is moving his legs now and standing up. He has made a miraculous recovery.
I've fostered Maverick because with special needs dogs it's easier to have one person looking after them and then train volunteers to work with them. We have a great team. We're very small but we have people who foster, a great kennel manager and operations manager and other volunteer staff. We're small, but I understand that the big county shelters have to take in all dogs. We try to keep it small so we can focus more time on each dog's recovery.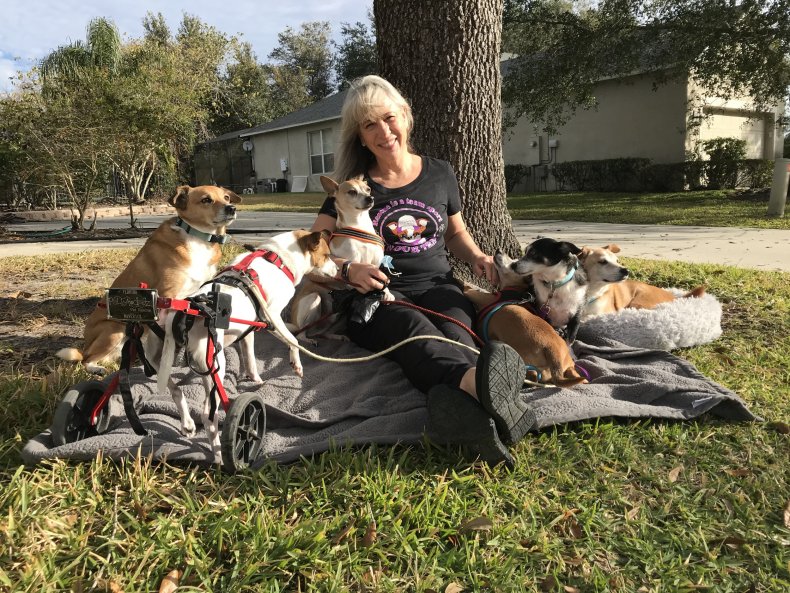 There are lots of people out there with really good hearts, and of course some of those people want the young, fluffy puppies. But a lot of really amazing people also adopt special needs dogs. They're often people who aren't just looking to get a dog for their needs, they really want to help. The last dog I officially adopted was 13-years-old, blind and diabetic.
We get seniors and special needs dogs adopted a lot, and most of our paralyzed dogs have been adopted. We stay in touch and I still babysit them. There are a lot of good people out there who want to do something good and they know they're going to get that love back, even if they only have the dog for three months and it's a senior, they'd rather have the dog with them and be loved, than die in a shelter. When you look for a dog, you don't say, "I want a dog with four legs," you say, "I want a dog that's playful and loving."
Our rescue has become more than just rescuing dogs, it's also now about educating the public and getting the word out about overcoming obstacles. We tell people that a paralyzed or special needs dog is not that different, and we also go to a lot of elementary schools and do presentations to teach the kids. We explain that this special needs dog has something on the outside that makes them a little different but we tell the kids to look at what this dog can do. If it's Maverick, they will see he runs and jumps curbs and does everything a normal dog does, he just does it in a wheelchair. He really does help teach kids.
We really want to help more dogs like Maverick, educate people on heartworm prevention and really get more people interested in rescuing. Dogs aren't going to stay puppies forever so our goal is to help the dogs that need us. That's really the biggest thing for us, and make their environment as calm and nurturing as possible while they're with us.
Heidi Hardman is president of Polka Dogz Pet Rescue based in Oakland, Florida. You can follow them on Instagram @polkadogzpetrescue.
All views expressed in this article are the author's own.
As told to Jenny Haward.