I've Witnessed Him 'Stumbling Drunk': Brett Kavanaugh's Classmate Says Supreme Court Nominee Is 'Blatantly Lying'
Brett Kavanaugh's Yale University classmate ripped into the Supreme Court nominee for "blatantly lying" during his Senate Judiciary hearing yesterday.
After Kavanaugh spoke at the hearing on Thursday, Lynne Brookes, a self-identified Republican who said she was the roommate of Deborah Ramirez, the second Kavanaugh accuser who claimed the judge once exposed his genitals to her at a dormitory party, told Chris Cuomo on CNN that she and some of her fellow Yale colleagues were "extremely disappointed in Kavanaugh's characterization of himself and the way he evaded his excessive drinking questions.
"There is no doubt in my mind that while at Yale he was a big partier, often drank to excess," she said.
"And there had to be a number of nights where he does not remember. In fact, I was witness to the night that he got tapped into that fraternity, and he was stumbling drunk in a ridiculous costume saying really dumb things. And I can almost guarantee that there's no way that he remembers that night.
"There were a lot of emails and a lot of texts flying around about how he was lying to the Senate Judiciary Committee today," Brookes continued.
Brookes also told Cuomo that she had drank to "excess many nights with Brett Kavanaugh" and spoke about a particular incident in which the Supreme Court nominee and a friend allegedly barged into a room "where a guy and girl had gone off together and embarrassed that woman."
"They thought it was funny. The girl was mortified," she said, before accusing Kavanaugh of "blatant lying."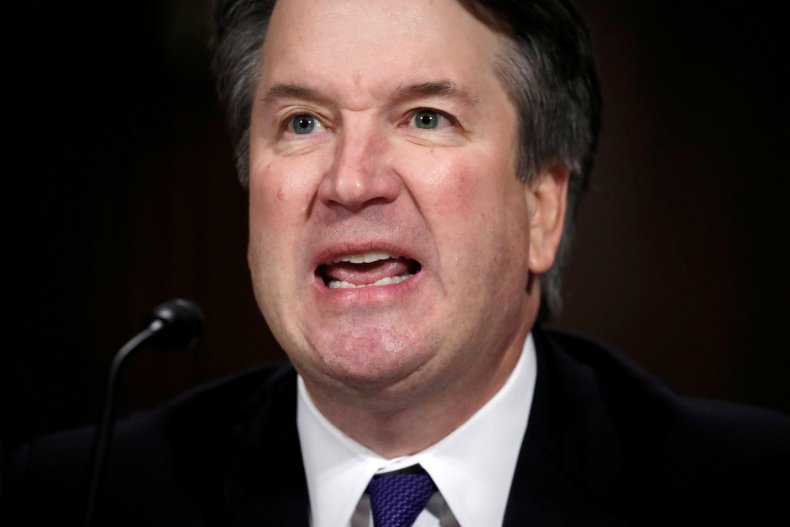 During the hearing on Thursday, Kavanaugh vehemently denied claims made by Christine Blasey Ford in her testimony before the Senate Judiciary Committee that he had sexually assaulted her when the two were high school students more than three decades ago.
"This whole two-week effort has been a calculated and orchestrated political hit, fueled with apparent pent-up anger about President Trump and the 2016 election, fear that has been unfairly stoked about judicial record, revenge on behalf of the Clintons," Kavanaugh said in his opening statement.
The judge also denounced the senators on the committee, saying they had turned the hearing into a "national disgrace." Kavanaugh then turned on the Democrats who he claimed had been "in a frenzy" since Trump nominated him for the Supreme Court in July.
Ford has taken a polygraph test, and the results showed the probability of deception was 0.02. Kavanaugh has yet to take a polygraph.
"You may defeat me in the final vote," he said during the hearing. "But you will never get me to quit, never."