I've Worked in Pediatrics for 20 Years, Here's What I've Learned From Dads on Being a Good Father | Opinion
Steve Goldsmith of Austin, Texas, had just welcomed his fourth child to the world when his wife, Kristen, suffered a rare complication—a massive heart attack. While Kristen lay in intensive care for months awaiting a heart transplant, Steve became the sole caregiver for their newborn and three school-aged kids.
His first thought: "My wife is going to be so mad at me if I screw this up."
As the family's pediatrician, I was in awe of Steve, who easily wins a spot in my Badass Dad Hall of Fame. He did all he could to keep the children's lives as routine as possible. "Family dinner every night. School lunches. Clean clothes. Two shoes for everyone. Birthday parties. Bottle-feeding, well-baby visits and shots, family and baby pictures," he told me. "I did everything I knew she would ask about when she woke up."
Fortunately, there was a happy ending—Kristen got that heart transplant and fully recovered—but not before Steve rose above enormous challenges to provide a stable, safe and loving home for his children. And I see fathers just like him at my practice giving it all for their kids every day.
Another courageous dad, Harrison Keller, told me it's just what fathers do. "I could never imagine doing any of this, but when you are a daddy, you just do it—and you can."
After being in practice for over 20 years, I've walked down the parenthood road with many moms and dads, watching the process change with the times. Sure, many of the issues are evergreen: staying up all night trying to console a fussy baby or ignore a toddler having a temper tantrum on Aisle 3 of Trader Joe's. Yet 2019 poses unique challenges, and I am continually struck by the extraordinary efforts of everyday fathers to give parenthood their all.
One of the most common concerns dads raise with me is technology. One father of two teens described to me the constant battle to set limits on digital devices, prioritizing other activities or even teaching his kids the value of money—because we cannot always "just click a button and get what we want."
Excessive screen time has been linked to language delays in young children and adverse impacts on weight and sleep, as well as exposure to unsafe and inappropriate content, so parents are right to be concerned. In April, the World Health Organization announced new guidelines recommending no more than an hour of screen time for kids under 5 and none for infants under 1.
The collective dad wisdom here is turn off the screens—and not just your kids'. Set an example by putting away your devices as well. Bravely face whatever teenage angst or toddler tantrums may come as a result, and find something else to do together, whether it's reading a book, playing a game or getting outside. Otherwise, you will miss the small, really important moments with your children.
Joseph Justiss, a father of two preschoolers, told me his family follows a simple rule. "Our phones go on our nightstands when we come home from work, so we can truly be present," he says. "Our kids are only little once."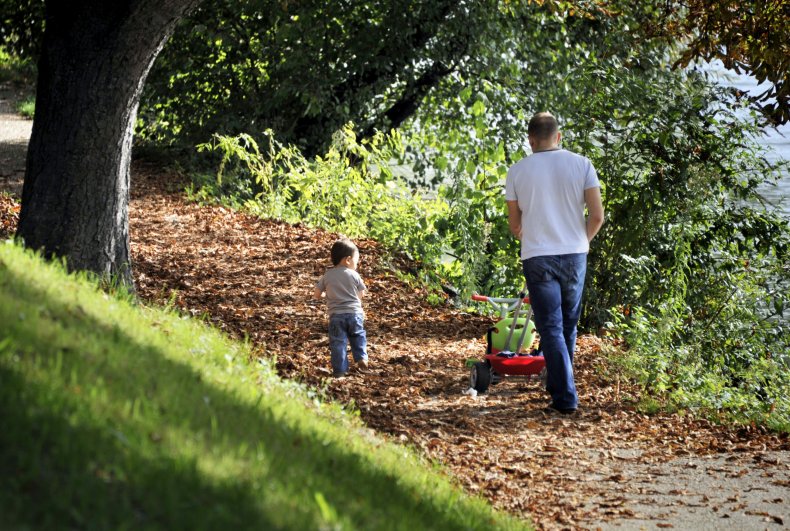 Increasing concerns about screen time are evidence of a larger effort I've witnessed among today's dads to pusher harder than ever to prioritize family time.
Dads in 2019 are expected to be all in when it comes to childrearing and domestic chores. Compared with 50 years ago, modern dads spend 50 percent more time on household chores and child care, according to a 2016 study published in the journal of the American Academy of Pediatrics (AAP). Sure, the division of household labor and family management is still far from an even split, but changing attitudes on parental leave time and more family-friendly benefits are a welcome improvement.
I've seen families come to realize that having the "ideal" work-life balance is really an unachievable goal. In all honesty, it's more like rising above chaos. But Steve said that, for him, figuring out that balance came down to a simple solution: "I don't prioritize work!"
Such an attitude might not have been accepted a decade ago, but dads are now reinventing what it means to be a father. When Nathan West decided to be a stay-at-home dad to care for his first child while his wife worked full time, his friends quipped that either he or the baby might not survive. Two more kids and a dog later, the entire West family is thriving.
And West is far from an outlier. The number of stay-at-home dads has risen over 60 percent in the past 20 years, according to the AAP study. For some, it just makes sense to have dad stay at home when families start doing the math. The Pew Research Center indicates the significant rise in stay-at-home dads began after the 2008 Great Recession—perhaps this is a silver lining.
At my practice, I see more and more dads bring their kids for sick visits and join well-child checks, and I love it. Informed parents make better parents—it is beneficial to have both parents in the room. West's advice for this Father's Day echoed those values: "Be more mindful and aware of the value of being a good father."
That seems to be a cornerstone of what modern fatherhood is today—a conscious, deliberate effort to be a better parent.
So let's all salute the Badass Dads of 2019. You may not have realized all that was going to happen to you as a dad, but your family is proud. Now, go change that diaper.
Best-selling author and pediatrician Dr. Ari Brown's latest books are Baby 411 and Toddler 411. Read more about her work at Baby411.com and DrAriBrown.com.
The views expressed in this article are the writer's own.