Ivelisse Confirms AEW Signing and Says Thunder Rosa Incident Is 'Self-Explanatory'
Professional wrestler Ivelisse recently took part in a Q&A with Pro Wrestling Junkies to talk about her time in All Elite Wrestling, confirming that she's been signed by the new promotion and that match with NWA Women's Champion Thunder Rosa...you know the one.
When asked about her ongoing stint in AEW, Ivelisse had nothing but praise for the Jacksonville-based wrestling promotion.
"So far it's been so much better than I could have ever imagined," Ivelisse answered during the Pro Wrestling Junkies Q&A h/t Wrestling Inc. "I kind of have a traumatizing experience dealing with past promotions. Anxiety was definitely there, especially taking a chance with Lucha Underground and everything. Oh my God, from the very beginning [with AEW], I'm just in complete awe of how much better and stress-free it's been in comparison to my other experiences."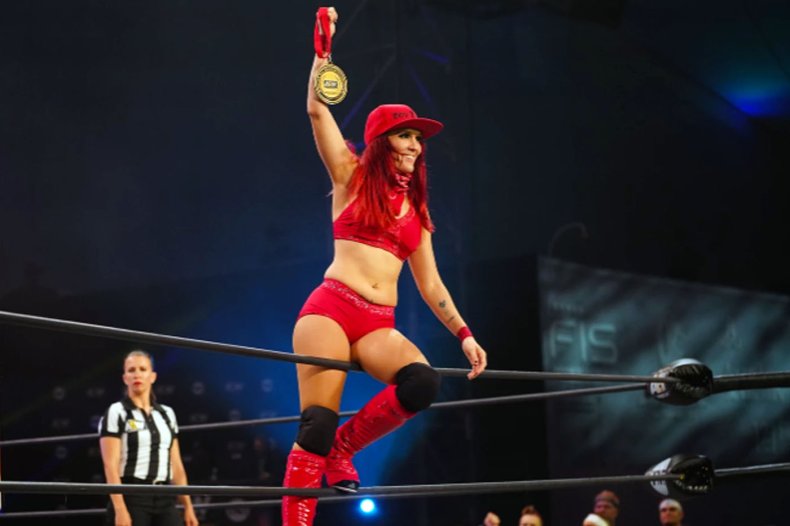 This is where Ivelisse confirms that she has officially signed a contract with AEW after getting permission to do so from management. Prior, Ivelisse was wrestling on AEW on a show-by-show basis.
Since July the red-haired wrestler from Puerto Rico has risen the ranks in the promotion's women's division. She and partner Diamante won the first-ever Women's Tag Team Cup tournament and Ivelisse even earned a shot at Thunder Rosa's NWA Women's Championship back in September.
However, that match was not without a little controversy as news broke that some strikes during the bout were a "shoot," a wrestling term for an unplanned or unscripted occurrence. So it was bound for the 33-year-old wrestler to be asked a question about the incident.
"I kind of expected this question to come up at some point," Ivelisse said. "I've made it a point to not respond to it since the whole thing came up. I won't comment much about it, but I will state obvious facts according to it. Whenever it comes to pro wrestling, I'm obviously the vet within the equation, so that pretty much should say a whole lot to anyone that knows anything about pro wrestling. They can put two and two together that me being the vet within the equation, and also with the fact that I don't take people trying to disrespect me - with those facts, it's kind of self-explanatory what happened, and anything that comes up along those lines."
Ivellise made her wrestling debut in 2011. Thunder Rosa made her wrestling debut in 2014.
Sean Ross Sapp of Fightful reported after the September 18 match that Ivelisse was no-selling some of Thunder Rosa's strikes during the match and the NWA Women's Champion took offense to it, which is when the shoot strikes came into play. According to the report, the champion didn't want her home promotion to look bad on national television.
After losing to Thunder Rosa in that match, Ivelisse teamed up with Diamante to take on Thunder Rosa and AEW Women's Champion Shida the following week in a losing effort.