Ivory Hecker, Reporter Who Accused Network of 'Muzzling,' Previously Claimed Facebook and Twitter Censorship
Ivory Hecker, a local news TV reporter who went off-script during a Monday broadcast and claimed her channel's parent company, Fox, was "muzzling" her, has a history of pointing out what she feels is censorship. In 2020, she wrote on her Instagram account about material she says was unjustly removed from social media platforms.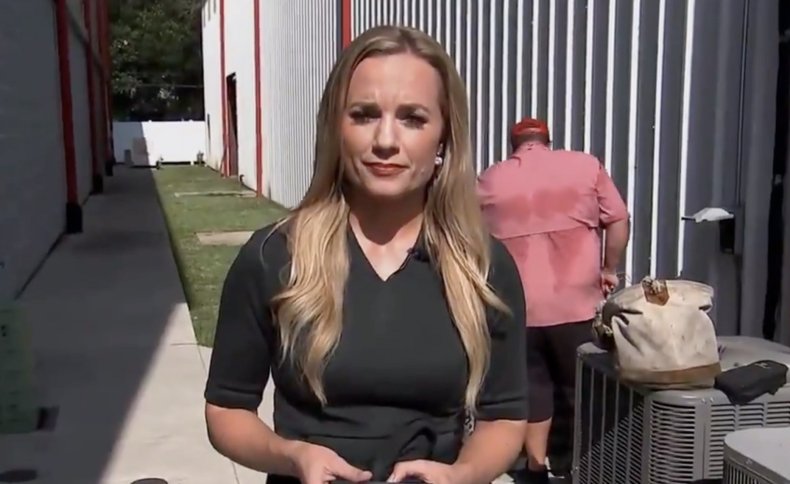 On Monday, Hecker was supposed to be reporting on a local heat wave for local Fox station KRIV in Houston. Instead, she said the network had been "muzzling" her and other reporters so they would keep quiet about unspecified "information." She then announced that a "behind the scenes" recording would be shared on Tuesday.
"I want to let you, the viewers, know that Fox Corp. has been muzzling me to keep certain information from you, the viewers," Hecker said during the live broadcast. "And from what I'm gathering, I am not the only reporter being subjected to this. I am going to be releasing some recordings about what goes on behind the scenes at Fox because it applies to you, the viewers."
Hecker has spoken out before about free speech, using Instagram. In a video from August 2020, she discussed the relevance of remarks made by Frederick Douglass—about free speech being "the dread of tyrants"—to current speech restrictions.
She has also accused Twitter and Facebook of censorship in the past. In July 2020, she complained about the two social media platforms pulling down videos of Dr. Stella Immanuel, who controversially said hydroxychloroquine can cure COVID-19.
Hecker wrote a lengthy post about that incident, which she posted on Instagram. She said, "Facebook and Twitter went on a censoring rampage in the last day. It's important to take a stand against censorship. Freedom of information is critical to the freedom of the people, as history has told time and time again. As a journalist I take a proud stand against censorship. Let's shed light on all information and let the public decide rather than hiding information from the public."
She continued, "Is this woman making false or harmful claims? Then leave the video up and allow us to expose those things. I did some digging today and went to this doctor's medical center. I spoke with her patients. I'll post my report when it's available."
At the end of the message, Hecker complained about social media platforms that restrict speech, saying, "We are free to choose one that allows us to communicate freely if we don't like what Facebook and Twitter are doing."
As for the scoop she alluded to on Monday's KRIV broadcast, she said during the show that she "found a nonprofit journalism group called Project Veritas who's going to help put that out tomorrow."
Project Veritas, a group that's been criticized in the past for secretly recording subjects, confirmed to Newsweek it would be releasing recordings from Hecker on Tuesday night, along with a one-on-one interview with founder James O'Keefe. The contents and nature of Hecker's purported recordings are not clear.
Hecker provided a statement to Newsweek for a previous story about her comments during the Monday broadcast. In it, she said Fox "decided they didn't like what the interview subject had said, and they went on to internally harass and defame me."
"True journalism can't exist in an environment of censorship," she added. "True journalism needs an environment of free speech."