Ivory Hecker Says Fox Station Censored Bitcoin, Hydroxychloroquine Stories
Houston TV reporter Ivory Hecker released Tuesday secretly recorded video she says proves that her station, Fox 26 KRIV, has been censoring her on matters of race and on stories where doctors promote the use of hydroxychloroquine to treat COVID-19.
The video was released by James O'Keefe and his Project Veritas, which oftentimes secretly records media executives saying things that O'Keefe says indicate a bias against conservatives.
"It is unspoken, but if you accidentally step outside the narrative, if you don't sense what that narrative is, and go with it, there will be great consequences for you," Hecker tells O'Keefe. "My newsroom kind of groups everyone into racial groups."
Lee Meier, an assistant news director at KRIV, is heard saying: "It's not just about the viewers; it's about what our CEO reads; it's about what our GM reads."
"I have passed on Bitcoin stories ... Bitcoin for poor African American audience at 5, it's probably not going to play. That's a choice I'm making. An editorial choice," Meier says in the video.
"That seems like sort of a racially charged statement to make," says O'Keefe. "I want out of this narrative news-telling," Hecker responds. "I want out of this corruption ... I'm so horrified at what the news business has stooped to."
In one story, Hecker says she was sent to a hospital to find out how they're treating COVID-19 and Dr. Joseph Varon, chief of critical care at United Memorial Medical Center confirms his use of hydroxychloroquine.
"We have used it. I mean, we know it's a drug that has been politicized up to the wazoo. We've used it. We use it with good success," he tells Hecker.
"You need to cease and desist posting about hydroxychloroquine," KRIV vice president and news director Susan Schiller tells Hecker in the video. "In my opinion, you failed as a reporter."
Schiller points to a New England Journal of Medicine study that disparages hydroxychloroquine, and Hecker counters that she read it, and that it caused her to deem the remarks by doctors who use it as more newsworthy, not less.
A Project Veritas reporter is also seen confronting Fox 26 photographer David Lanier, asking him, "How come you guys, like, are the all-vaccine, all-the-time channel?"
"We hire producers, which are the ones that write the show, that are right out of college," says Lanier. "They just regurgitate what they are fed."
Other KRIV employees are also shown in the video lamenting that the station pushes COVID-19 vaccine stories but doesn't allow stories about potential side effects, and that advertisers have sway over editorial content.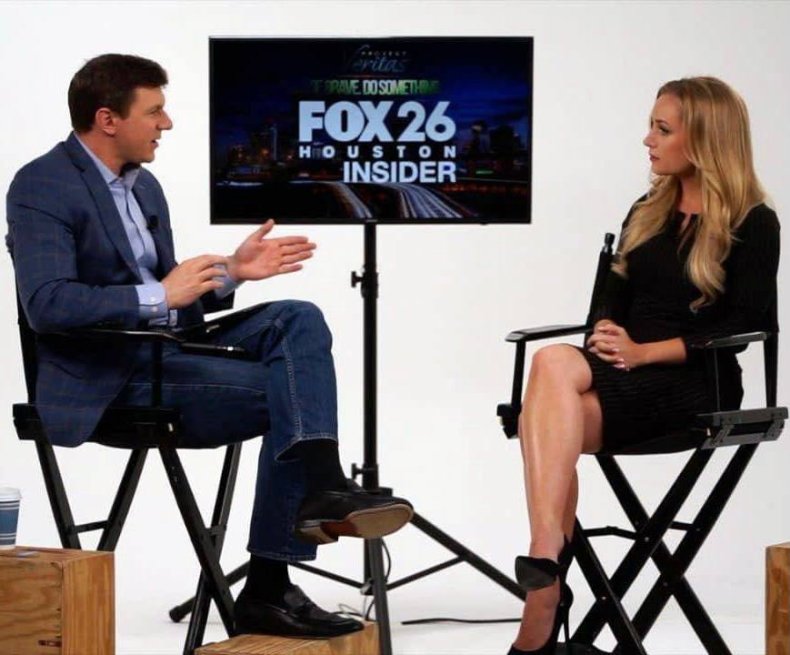 In a very unusual move, Hecker announced on-air Monday that she had the recordings and that she shared them with Project Veritas, which released them Tuesday, along with a video interview with O'Keefe.
"I want to let you, the viewers, know that Fox Corp has been muzzling me to keep certain information from you, the viewers," Hecker said Monday. "And from what I'm gathering I am not the only reporter being subjected to this. I am going to be releasing some recordings about what goes on behind the scenes at Fox because it applies to you, the viewers."
Hecker told Newsweek on Monday that her dispute with Fox "had taken a dark turn last August" after interviewing an unspecified person, and that she was told to keep silent about opposing "censorship" months later.
"They decided they didn't like what the interview subject had said, and they went on to internally harass and defame me," Hecker said. "I knew I was not working for a journalistic organization when I was called into an HR meeting in December and was told to keep my support for free speech and opposition to censorship to myself—that those were not matters to be publicly spoken about."
The Fox local news stations are separate from the Fox News Channel, though owned by the same parent company, Fox Corporation, which did not respond to a request for comment, though Hecker has reportedly been fired for her stunt as a whistle-blower, according to The Daily Beast.
"FOX 26 adheres to the highest editorial standards of accuracy and impartiality. This incident involves nothing more than a disgruntled former employee seeking publicity by promoting a false narrative produced through selective editing and misrepresentation," a KRIV spokesperson told Newsweek.
Hecker also goes after the parent company when she says in the video that "Fox came at my throat for standing up against censorship. Fox Corp. is prioritizing corporate interest above the viewers' interests and therefore operating in a deceptive way."
O'Keefe and Project Veritas are routinely criticized by activists who claim they deceptively edit and cherry-pick audio and video that suggest a liberal bias in the media, though O'Keefe often also posts hours of unedited recordings in order to blunt the criticism and let his audience judge his assertions for themselves.
In April, O'Keefe sued Twitter, which he claimed falsely accused him of creating false accounts. Also in April, O'Keefe released video of who he says was CNN employee Charlie Chester accusing the network of bias against former President Donald Trump and in favor of Black Lives Matter protesters.
The same month O'Keefe sued CNN for defamation because it reported he was banned from Twitter for spreading "misinformation" while Twitter said it banned him for violating its policy against sharing private information.
Update (6/15/2021, 6:35 p.m.): This article has been updated to include a statement from KRIV.