Ivy League Cancels Fall Sports in 2020
The Ivy League announced Wednesday that it has canceled all fall sports in 2020. League officials met Wednesday with a much-anticipated decision to either cancel its season or move it to spring 2021.
Winter sports like basketball and hockey, that typically start in the fall, can't start until after Jan. 1, reports stated. Athletes at the eight schools will still be allowed to use athletic facilities and complete their workouts.
The Ivy League, known for its high academic standards, has these member schools:
Brown University
Columbia University
Cornell University
Dartmouth College
Harvard University
University of Pennsylvania
Princeton University
Yale University
The move to cancel fall sports comes as the COVID-19 pandemic continues sweeping the country. The United States on Wednesday reported it has passed the 3 million mark for positive cases. The country passed 2 million just last month.
The Ivy League made news back in March when it decided to cancel its men's and women's conference basketball tournaments—the first of any conference to do so. Within two days, an NBA player from the Utah Jazz tested positive for coronavirus, and the NBA postponed its season and playoffs the very next day.
On March 12, Major League Baseball and the National Hockey League postponed their seasons, and all conference basketball tournaments still being played were canceled. Later that afternoon, the NCAA canceled its entire spring and winter championships, which meant no basketball tournaments, no College World Series and no other spring or winter sports.
All eyes in the college football world were looking at the Ivy League's decision on Wednesday, but it does not necessarily mean other conferences will follow suit. The Ivy League is not among the Power 5 conferences of the ACC, Big Ten, Big 12, Pac 12 and SEC.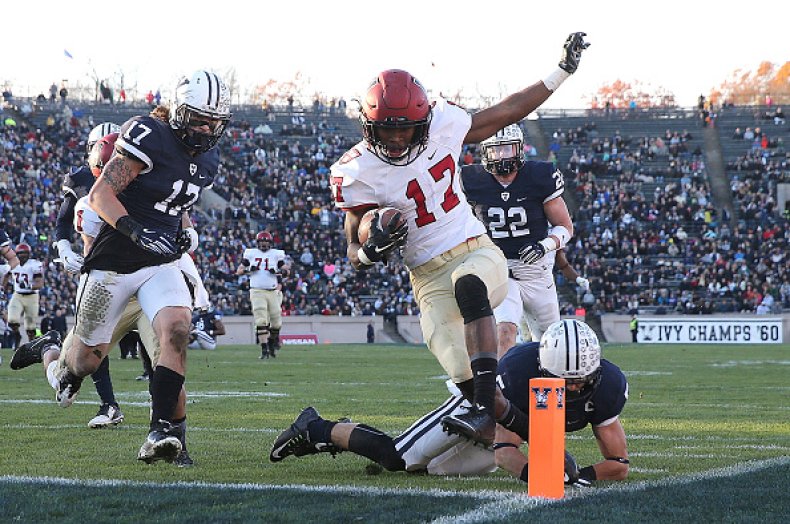 Stanford University on Wednesday announced that it will cut 11 varsity sports after the 2020-21 academic year because of projected budget shortfalls. The scholarships of players and contracts of its coaches will be honored, the university stated.
"This is heartbreaking news to share," school administrators wrote. "These 11 programs consist of more than 240 incredible student-athletes and 22 dedicated coaches. They were built by more than 4,000 alumni whose contributions led to 20 national championships, 27 Olympic medals, and an untold number of academic and professional achievements. Each of the individuals associated with these programs will forever have a place in Stanford's history."
Coaches at Stanford learned of the decision Wednesday through a Zoom meeting, ESPN reported. The sports to be cut are: men's and women's fencing, field hockey, lightweight rowing, men's rowing, co-ed and women's sailing, squash, synchronized swimming, men's volleyball and wrestling.