Why J. Cole Fans Are Upset After New Single 'Snow on Tha Bluff' Release
J. Cole is the latest celebrity to catch heat from fans on Twitter.
On the heels of nationwide protest over the killing of George Floyd—an unarmed Minnesota black man who was killed after a white police officer kneeled on his neck for more than eight minutes—the award-winning rapper released his first single of the year, "Snow on Tha Bluff," on Tuesday night touching on themes of police brutality and racism. And while fans have come to expect Cole to flow on issues surrounding inequalities suffered by Black Americans and his position in society, some were shocked to hear him speak about another rapper who seemingly called him out about his lack of activism.
"She mad at these crackers, she mad at these capitalists, mad at these murder police/ She mad at my niggas, she mad at our ignorance, she wear her heart on her sleeve/ She mad at the celebrities, low key I be thinkin she talking bout me," Cole raps on the track. "Now I ain't no dummy to think I'm above criticism/So when I see something that's valid, I listen," Cole raps before delivering some tough criticism.
"But s**t, it's something about the queen tone that's botherin' me/She strike me as somebody blessed enough to grow up in conscious environment/With parents that know 'bout the struggle for liberation and in turn they provide her with/A perspective and awareness of the system and unfairness that afflicts 'em/And the clearest understandin' of what we gotta do to get free/And the frustration that fills her words seems to come from the fact that most people don't see/Just 'cause you woke and I'm not, that shit ain't no reason to talk like you better than me/How you gon' lead, when you attackin' the very same n***as that really do need the shit that you sayin'?/Instead of conveying you holier, come help get us up to speed," he continued.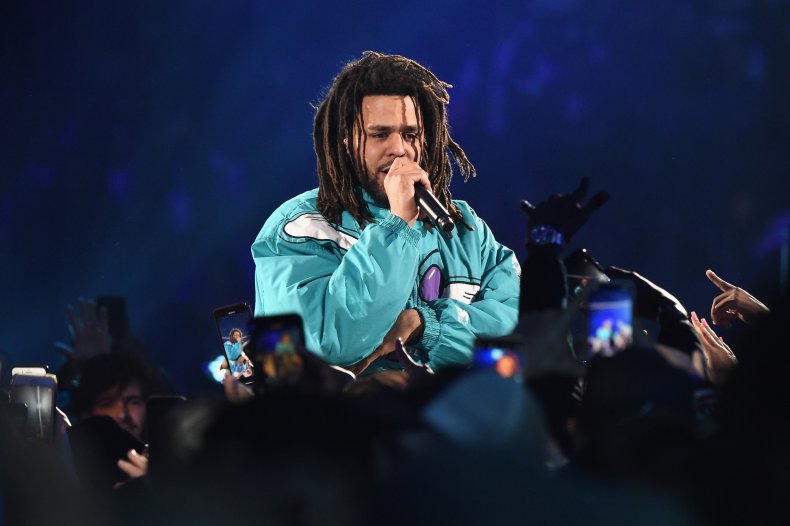 Although Cole didn't mention the name of the person he was referring to, some fans speculated he was responding to Chicago rapper and progressive activist Noname, who condemned people's "favorite rappers" for not using their massive platforms to speak up about the tragedy of Floyd's death and the racial uprisings that followed.
"Poor black folks all over the country are putting their bodies on the line in protest for our collective safety and y'all favorite top selling rappers not even willing to put a tweet up," Noname wrote on Twitter on May 29. "N***as whole discographies be about black plight and they nowhere to be found."
Noname's tweet has since been deleted, but it left a lasting impression with fans and, according to some, Cole as well. However, not everyone was pleased with Cole's alleged misogynistic tone towards the underground rapper.
"J. Cole had love & hugs for Kodak & XXXTentacion, two alleged abusers, but has heat for Noname bc she won't make him comfy w/her tone? The weakest links. Black women, self-preservation is the only option," one person wrote on Twitter.
Another wrote: "The wildest thing about Jermaine's verses is that if a white rapper had made the same song about Jermaine, people would instantly see that it's a disrespectful, tone-policing hot mess. But when y'all's fave is writing it about a Black woman........."
There were those who took to social media to defend Cole, noting that listeners were missing the point of the song.
"J Cole basically stated that if you're educated on the matter you should help spread your knowledge and understanding instead of attacking people that lack it and y'all trying to cancel him? Man stfu," one fan wrote.
Cole quickly responded to the criticism on Wednesday, noting on Twitter that he stood "behind every word of the song that dropped last night." He wouldn't confirm whether or not he was addressing Noname on the track but went on to say that he was a fan of her progressive thinking and leadership.
"Follow @nnoname. I love and honor her as a leader in these times. She has done and is doing the reading and the listening and the learning on the path that she truly believes is the correct one for our people. Meanwhile a n***a like me just be rapping," he wrote, adding, "I haven't done a lot of reading and I don't feel well equipped as a leader in these times. But I do a lot of thinking. And I appreciate her and others like her because they challenge my beliefs and I feel that in these times that's important."
Back in May, Cole was spotted speaking with organizers at the Black Lives Matter protesters in Fayetteville, North Carolina.
Newsweek was unable to receive further comment from Cole at time of post.