J6 Rally Organizer Thanks Attendees for Showing Up Despite 'Clowns' Saying Event Was a Trap
The organizer for the "Justice for J6" rally to support January 6 Capitol rioters thanked the few hundred attendees for showing up on Saturday despite warnings from prominent right-wing figures that the event was a government "trap."
Matt Braynard, the architect behind the D.C. rally on Saturday, addressed the roughly 500 people who showed up to participate and called those who were skeptical of the event "a bunch of clowns."
"Thank you to the@CapitolPolice ,@DCPoliceDept, Park Police, and other security services that kept our attendees safe today. And thank you to the 500 courageous patriots who came out today despite a bunch of clowns and dilettantes who tried to convince you it was a trap," Braynard tweeted Saturday.
Ahead of the event, several prominent far-right Facebook groups and extremist forums such as TheDonald and 4chan warned protesters to avoid going to the rally, arguing that it was a secret government plot to make arrests and put protesters under surveillance. Even former President Donald Trump on Thursday called the event a "setup."
"On Saturday, that's a setup," Trump said in an interview with the Federalist. "If people don't show up they'll say, 'Oh, it's a lack of spirit.' And if people do show up they'll be harassed."
The rally took place Saturday afternoon with tight security, as law enforcement braced for the event by installing temporary fencing and a heightened police presence. By the end of the afternoon, police announced four arrests, including one man with a knife and another who appeared to have a handgun. Two others were arrested on felony warrants from Texas, NBC News reported.
Braynard, a former Trump campaign staffer, told Newsweek ahead of the rally that the event would be "100 percent" peaceful in order to show support for Trump backers who were arrested and charged during the January 6 insurrection. So far, over 600 people have been arrested in the sixth months since the violent Capitol attack.
"We favor lawful prosecution and speedy trials for anyone who did commit violence on January 6 and condemn their actions," Braynard told Newsweek. "We are cooperating completely with multiple different police forces to ensure that everyone is safe. Anyone with the intent of committing violence has no business at our rally."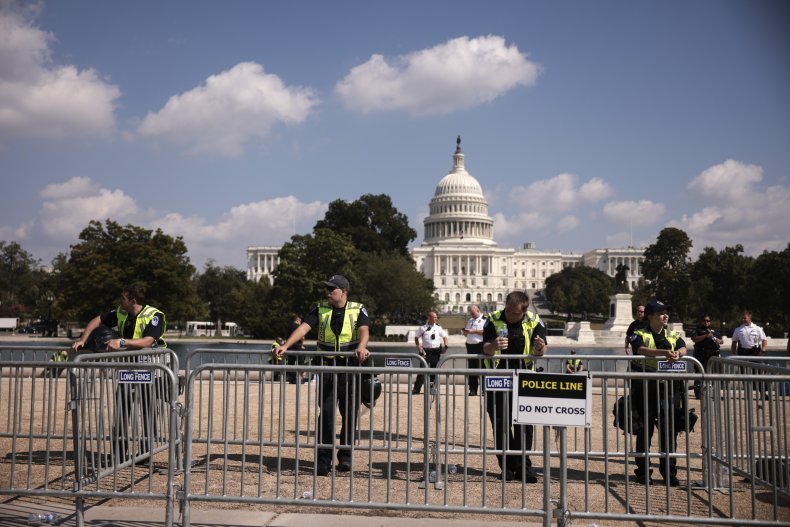 Trump did not make an appearance at the event, but said in a statement Thursday that "Our hearts and minds are with the people being persecuted so unfairly relating to the January 6th protest concerning the Rigged Presidential Election."
"In addition to everything else, it has proven conclusively that we are a two-tiered system of justice. In the end, however, JUSTICE WILL PREVAIL!," he added.
Saturday's low attendance was met with little surprise from both Capitol police and politicians. California Representative Ted Lieu, a Democrat, tweeted that the rally's low turnout shows that Trump's influence on the GOP may finally be declining.
"The very small crowd size at the #JusticeforJ6 traitorous rally shows the waning influence of the former President," he tweeted.