50 Cent Hilariously Mocks Ja Rule After Feud Reignites on Twitter Like It's 2003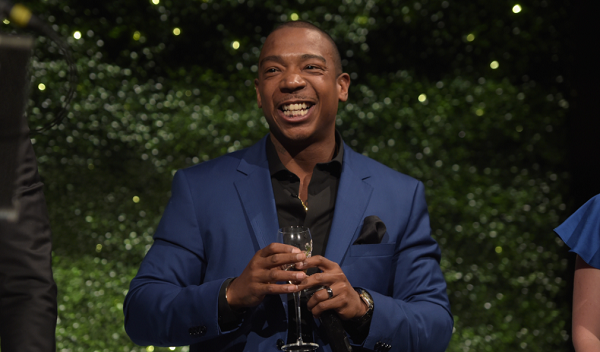 It's hard to let go of a good feud. Just ask Ja Rule and 50 Cent. The Queens rappers have been beefing on and off for more than 15 years. And on Friday, Rule turned the heat back up after calling 50 Cent a "pussy."
The bad blood between Rule (birth name Jeffrey Atkins) and 50 Cent (aka Curtis Jackson) began after 50 Cent entered the mainstream rap game with his menacing 2002 single "Wanksta." The track portrayed Rule in a way that was contrary to the hard-core, thug rapper of his albums and tracks.
Apparently, 50 Cent's opinions of Rule haven't changed since then. On Thursday, he appeared on Big Boy's 92.3 radio show and was asked what he what he would do if he encountered Rule today. 50 Cent said he had already "put [Rule] to bed," prompting Rule's name calling.
But in typical 50 Cent fashion, he offered a follow-up response via Instagram and shut Rule down once again on Friday. "When the check stops and you go back to the hood, and everybody knows your [sic] broke. It's not my fault," he wrote.
The rappers' commentary sparked an immediate Twitter frenzy, with fans and followers reminiscing about the early days of the 50 Cent-Ja Rule beef.
For anyone unfamiliar with the long-simmering feud, here are the highlights:
In 2002, Rule was hip-hop's "It" guy. He was at the top of his game with awards and multiple No. 1 singles and albums under his belt. Just about everyone in the music industry wanted a feature on the Rule 3:36 rapper's tracks, including artists like Fat Joe, Jennifer Lopez, R. Kelly, Ashanti, Jay Z, Janet Jackson and Bobby Brown.
But then 50 Cent entered the scene. Rule and 50 Cent, both from New York, were familiar with each other long before they began churning out hits. The two were involved in a brawl in Atlanta in early 2000, and later that same year, 50 Cent got into another altercation with Black Child, a member of Rule's Murder Inc. label. Their fight resulted in 50 being stabbed, requiring three stitches.
He recovered from the injury, but not the feud. 50 Cent used his music to unleash his fury, releasing his first single, "Wanksta," on November 6, 2002. It became an instant hit. Perfect timing: it dropped just a few days before Rule's fourth studio album,The Last Temptation.
The fan response to the song and 50 Cent's debut album, Get Rich or Die Tryin', released in February 2003, seemed to kill Rule's rap career overnight. (It didn't help that Rule's record label, headed by music exec Irv Gotti, was engaged in a huge legal battle with the federal government at the time.)
During an MTV special in 2003, Louis Farrakhan asked Rule to explain what caused his first fight with 50 Cent. "I let him know I wasn't feeling it, his whole style," Rule said. "So he punched me, he snuffed me, and—boom! I caught him back. Then a whole fight broke out.
"Once that ensued, that's when the real beef started," he added. "Because now it's a physical thing."
In 2018, the beef is still real—even if it's just on social media.