Why Did Ja Rule Make a Random Commercial For a Greek Deli?
Ja Rule is back promoting things again—well, sort of.
The rapper made quite the splash online with his new commercial for Papa Cristo's Greek Deli—a Los Angeles-based greek restaurant with the "best motherf**kering gyros you ever f**king ate in your life," according to Rule.
Dressed in a backward cap, an "I heart Greece" t-shirt, skinny joggers and socks (with no shoes, we must add) Rule gave Papa Cristo's the ultimate co-sign in an incredibly bizarre and terribly low-budget commercial.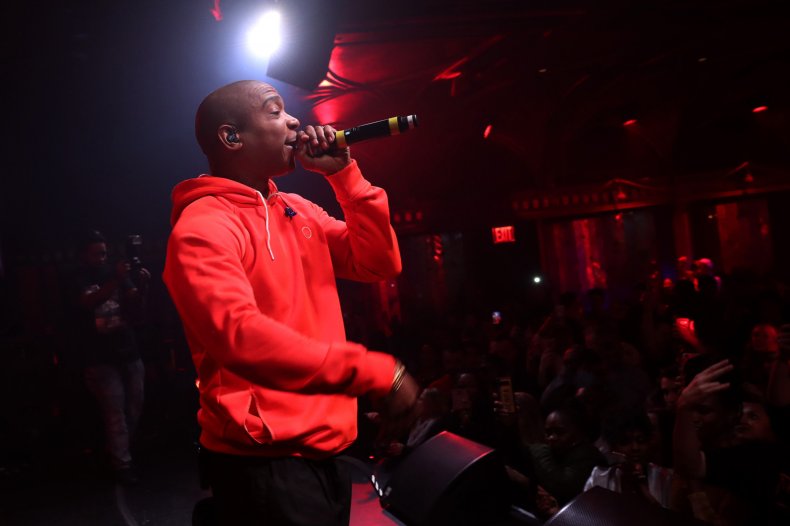 "You got to have pitas! Pitas! Papa Cristo Pitas! They got everything. I'm [going to] just give you a rundown of some of my favorites," he shouts before struggling to pronounce said favorites like tzatziki, oktapodakia, avgolemono soup, kreatopita.
"And they got wine too," he adds. "I'm telling you, come on down to Papa Cristo's! You can't even pronounce the food it's so God d**n good!"
It didn't take long for social media to explode with commentary from fans poking fun at the advertisement, leading Rule and his new commercial to go viral on Monday.
"Ja Rule got paid a ziplock bag of lamb meat for this commercial," one Twitter user wrote.
Another tweeted: "Ja Rule a fool for this!!"
Hilarity aside, unlike his Footlocker commercial sighting and the debauchery of the Fyre Festival—of which he was one of the co-founders—Rule's latest ad was for a good cause. He produced it himself for TBS' new reality TV show, Celebrity Show-Off. The show, set to premiere on Tuesday, will feature a variety of stars across sports, music, comedy and film, as they face off to see who can create the most exciting content from home to attract YouTube viewers.
In a clip of Rule's upcoming episode on the show, the "Livin' It Up" rapper explained he wanted to make the one-minute ad to help one of his favorite small businesses during the coronavirus pandemic.
"We all know we're going through a tough time right now, especially mom and pop shops. My heart goes out to all of these businesses. So today, I'm helping out Papa Cristo's. This spot's been around for 70 years. It is a staple in the community in Los Angeles, but like most mom and pop shops this year, he's had a tough year. So I'm going to use my notoriety, my fame, to help him out and to show that I created called Pitch Perfect," Rule says.
Back in 2016, Rule tickled fans when he appeared in a Footlocker ad. Appearing to make a joke out of his many hip-hop beefs and dwindling music career, Rule portrayed an Uber driver who encourages two guys shopping the sneaker store's annual "Week of Greatness" sale to hold one to their greatness while they have it. The commercial ends with Rule and the driver reaching the destination and requesting his customers to give him a five-star rating.
The internet also lost it in 2017 when they learned Rule was one of the orchestrators of the failed Fyre Festival along with Billy McFarland, who is currently serving a prison sentence for fraud.