Maryland Police Officer Jacai Colson Killed by Friendly Fire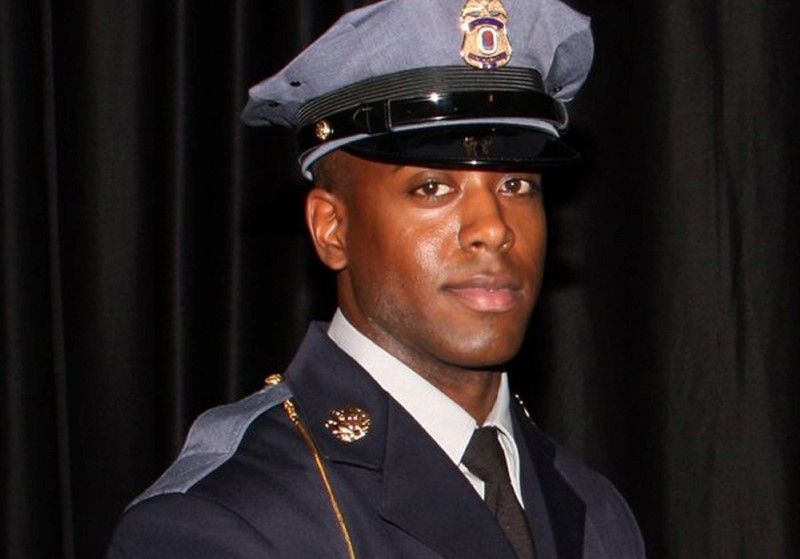 The Maryland cop who died on Sunday morning during a shootout outside a district station was killed by friendly fire from fellow police as the brothers of a shooting suspect filmed the mêleé, law enforcement officials said on Monday.
Officer Jacai Colson, a 28-year-old undercover narcotics officer in the Prince George's County Police Department, died in an "unprovoked" attack outside a district police station in Palmer Park, located 10 miles east of central Washington, D.C., officials said. However, during the shootout between the suspect and police, Colson was shot and killed by friendly fire.
"An autopsy today revealed that POFC Colson was inadvertently shot by a fellow responding officer during the gun battle," Prince George's Police Department said in a statement on Monday.
Around 4:30 p.m. on Sunday, a man identified by police as Michael Ford, 22, began shooting outside the Palmer Park station. Police said Ford shot at responding officers, the building, a passing ambulance and vehicles outside the station, and that he had a death wish. The incident was captured on cellphone and surveillance video.
Arriving in the middle of the attack, Colson leaped out of an unmarked car and was wearing civilian clothes without body armor, Prince George's County Police Chief Hank Stawinski said in a press conference on Monday.
As Colson was an undercover narcotics officer, "he doesn't want to look like a police officer. He arrived in a vehicle we use for those purposes," said Stawinski.
Six police officers responded to the shooting, and four officers, including Colson, fired their weapons. Prince George's County Police Chief Hank Stawinski said on Monday he would not name the officer who shot Colson.
"Preliminarily, detectives with our Criminal Investigation Division believe the gunman intended to die at the hand of a police officer on Sunday," Prince George's County Police said in a statement. "We have cell phone video which captured the gunman dictating his last will and testament. That video was recorded just minutes before his two brothers drove him to our District III station."
"It's my sad duty to have to share with you that, circumstantially, we believe the fired round that led to Detective Colson's death was fired by one of his fellow Prince George's County officers reacting to this," the chief said.
Michael Ford and his two brothers, Elijah Ford, 18, and Malik Ford, 21, were taken into custody in connection with the shooting on Sunday. Michael Ford remains hospitalized with non-life-threatening injuries, police said. Malik Ford and Elijah Ford fled the scene after the gun battle, but Malik Ford turned himself in to police at a nearby fast-food restaurant, police said. Police took Elijah Ford into custody soon after at his home in Landover, Maryland.
Police said charges against the Ford brothers will include second-degree murder, six counts of attempted first-degree murder and nine counts of using a handgun in the commission of a felony.
Colson is survived by his parents, James and Sheila Colson, and Jurea, his younger brother.