Jacinda Ardern: 'Speak the Names of Those Who Were Lost Rather Than the Name of the Man Who Took Them. He Will…Be Nameless'
New Zealand Prime Minister Jacinda Ardern vowed she would never mention the name of the man accused of killing at least 50 people in the Christchurch attack on two mosques on March 15.
Her message to the New Zealand people was intended as assurance that she would do everything she could to ensure that the alleged gunman did not lift his profile and trade on the notoriety of the attack.
Australian Brenton Tarrant, 28, a self-described white supremacist, has been charged with murder. The New Zealand Herald reported that he had fired his lawyer and intended to represent himself in court.
That and the online publication of a manifesto of his ideology, posted just before the shootings, has fueled concern that he intended to use the court as a platform to promote his extremist views, which was what far-right shooter Anders Behring Breivik tried to do during his trial for the Norwegian attacks in 2011.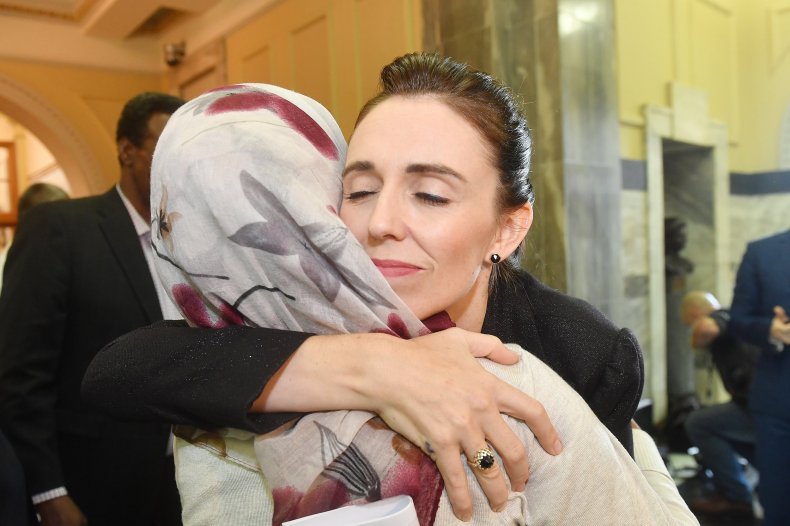 Ardern, who has won praise at home and abroad for her response following New Zealand's worst mass shooting in its history, told the media from the country's parliament that she would do what she could to stifle his desire for publicity.
She said the gunman "obviously had a range of reasons" for his acts and that "lifting his profile was one of them.
"He sought many things from his act of terror, but one was notoriety—that is why you will never hear me mention his name. That's something that we can absolutely deny him."
She called on the media to play a role in denying the accused man a platform, raising speculation of a closed trial, although that would not be for her to decide.
"I think we really will be looking to the media around its kind of coverage. That's why, as I say, this is a conversation I think really the media can play a strong role in.
"But the one thing I can assure you—you won't hear me speak his name. I implore you, speak the names of those who were lost rather than the name of the man who took them. He is a terrorist. He is a criminal. He is an extremist. But he will, when I speak, be nameless," said Ardern.
Legal experts have said that if Tarrant is charged with 50 counts of murder, rather than under the Terrorism Act, he would be less likely to be able to use the trial as a forum to promote his views.
Otago University legal issues center director, Bridgette Toy-Cronin, told Radio New Zealand that this would limit the chances for political material to be entered as evidence.
"If it's murder charges, then what the Crown has to prove is that people died, that he intended to kill him, and so there's just less scope for all the other ideological stuff.
"The terrorism offenses go further and talk about proving that it was ideologically motivated, so once you're into that territory you've got to bring in more evidence about whether it was ideologically motivated and that sort of opens the door to that bigger discussion. The fewer issues that are on the table, the less things you've got to talk about basically," Toy-Cronin said.