Jack in the Box Manager Stabbed By Customer Refusing to Wear Mask
Texas police are searching for a man who they allege stabbed a Jack in the Box manager multiple times after he was asked to wear a face mask or leave the restaurant.
League City Police Department (LCPD) officials said the attack happened shortly after James Schulz, 53, entered the W. League City Parkway fast food restaurant on Wednesday at around 8 p.m.
According to police, Schulz walked in without a face mask and was soon told he needed to put one on if he wanted to be served.
During a press briefing on Thursday afternoon, LCPD Chief Gary Ratliff said: "Schulz belligerently refused and said they did not want to serve him because he was homeless and began yelling that he would be contacting his attorney as he was filming with his cell phone."
Alarming security footage released by the police department showed the manager holding the restaurant's written policy, as he told Schulz to leave and then escorted him out of the entrance.
But in the seconds that the manager turned his back, Schulz re-entered the restaurant and ran towards him armed with what appeared to be a pocket knife.
During the brutal attack, the manager was stabbed three times in his arm and upper body. He was later taken to hospital where he was treated for his injuries.
The manager has since been released, according to ABC13.
Officers have released two images of Schulz that were captured on the surveillance camera. In them, Schulz can be seen wearing a camouflage hat, a black and red flannel long-sleeved shirt and blue jeans. Schulz could also be seen carrying a green backpack.
In their appeal, police said they believed Schulz fled the restaurant on a bicycle with a yellow flag. Officers later found the bicycle had been abandoned and have since issued a warrant for Schulz's arrest.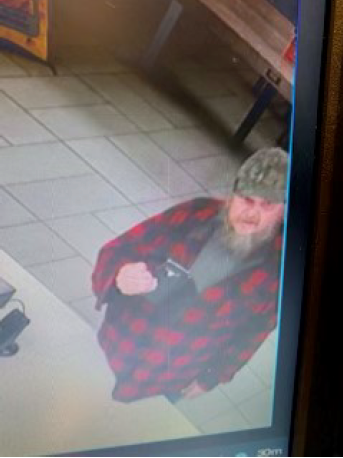 A Jack in the Box spokesperson issued a statement to ABC13 on Thursday night, which read: "Due to privacy issues and the current police investigation we are unable to discuss details at this time.
"We have a temporary brand standard that requires our franchises to require their employees and guests to wear masks."
Anyone with information has been urged to contact the LCPD at 281-332-2566.
Newsweek has contacted the LCPD for comment.
Across the U.S. workers have been attacked by those against wearing masks. Recently, an incident of a woman coughing on an Uber driver in San Francisco was caught on footage that would later go viral.
Arna Kimiai, 24, has since turned herself in to authorities and was booked into the San Francisco County Jail on Sunday, March 14.
Uber driver Subhakar Khadka, 32, had picked up three passengers at around 12.45 p.m. on March 7 and stopped a few minutes into the journey after he noticed one was not wearing a mask.
An altercation then ensued and was captured on a security camera, which showed Kimiai using racial slurs directed at the driver and taking her mask off to purposefully cough on him.
Uber's policy is that both the driver and riders must wear masks in compliance with state and local public health orders for COVID-19.