As speculation swirls over the possibility that Twitter is set to ban cryptocurrency ads on the website, its CEO has lauded bitcoin as the future of digital cash.
Jack Dorsey, the 41-year-old co-founder of the U.S.-based social network, said on Tuesday that bitcoin—his personal favorite cryptocurrency—would soon outgrow the internet and have real-world applications. He addressed the topic during a business event at the British Library centered on his payments firm, Square.
"Personally, I believe that the internet wants and deserves its own currency that is global, that is free, that is electronic, that is convenient, that is decentralized as the internet is," he said. "And I believe that it will be bitcoin.
"There are others who believe it will be other cryptocurrencies, but I think bitcoin has a very small surface area which makes it potentially a lot more secure," Dorsey continued. "It's been through a lot, it's been tested a lot and it has a brand name. I believe in its power as actual currency for the world and for the internet."
He described bitcoin's original white paper as "one of the most seminal works of computer science in the past 20 years" and noted that while investors are currently buying it as a digital asset he doesn't think is how it will always be used.
"The blockchain and digital currency is something I am really optimistic about, something I am excited about," the Twitter chief elaborated.
"I think blockchain has application for so many different types of technologies and services. I imagine every company can utilize it to make themselves better," he said. "That is Square. That is Twitter. That's any company you can imagine."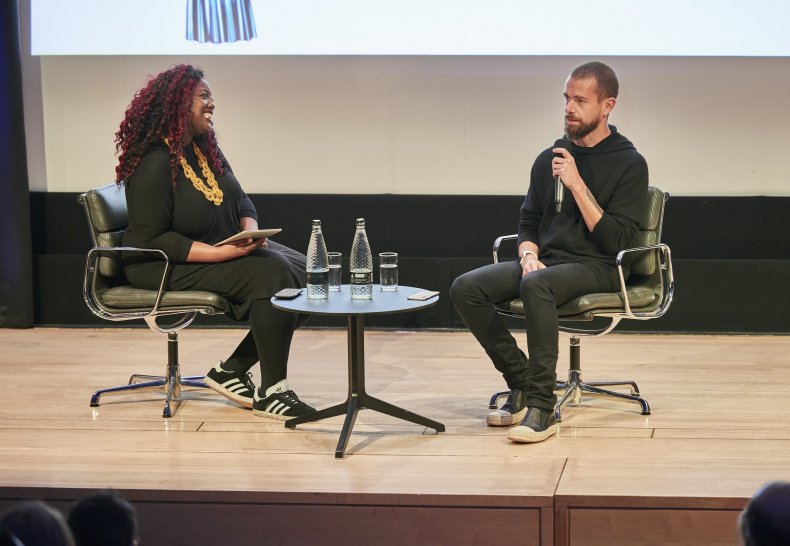 Rival Silicon Valley technology firms including Facebook and Google both recently revealed that cryptocurrency advertising is to be outlawed on their platforms. They indicated it was too volatile and too susceptible to "scams and deception."
Twitter itself has been targeted by scammers posing as celebrities and tech CEOs to steal digital coins. During the London event, attended by Newsweek, Dorsey acknowledged the risk but said that he remains optimistic about the technology.
"It will change the current system and evolve the current system in positive ways," he said. "I don't want our company to wait for things to happen.
"I want to help make them happen. Bitcoin could be disastrous if we don't focus on making it something that adds to society and enables helpful movements in society. That's my mindset. There's going to be more positives than negatives."
During the event, chaired by Dr. Anne-Marie Imafidon MBE, the founder of social enterprise Stemettes, Square announced the launch of a new Instant Deposit service for U.K. businesses that facilitates almost-instant cash transactions. Earlier this month, it emerged Dorsey had become an investor in a blockchain payment venture called Lightning Labs, which has raised $2.5 million in seed funding to date.
Twitter declined to comment when asked about a potential cryptocurrency ban.