A Comprehensive Guide to Jack White's Feud With the Black Keys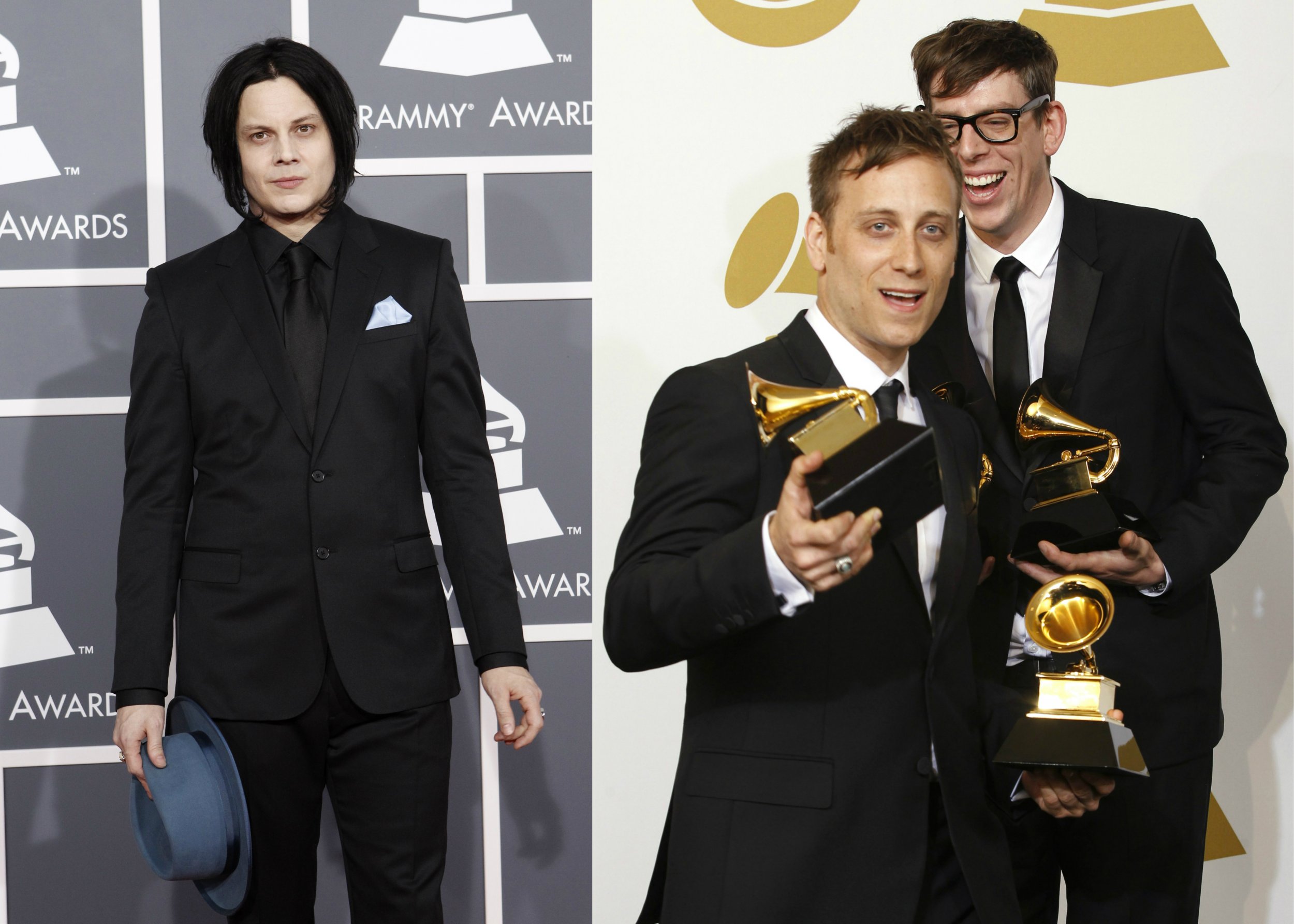 Early Monday morning, Black Keys drummer Patrick Carney fired off a series of tweets detailing an interaction with Jack White that occurred on Sunday night. Carney claimed the blues rocker tried to fight him in a Manhattan bar before ending his multi-tweet missive by calling White "billy corgan's dumb ass zero t-shirt in human form."
"Nobody tried to fight you, Patrick," White responded hours later in a statement. "Nobody touched you or 'bullied' you. You were asked a question you couldn't answer so you walked away. So quit whining to the Internet and speak face to face like a human being. End of story."
Soon thereafter, Carney tweeted, "Talked to Jack for an hour he's cool. All good," and deleted everything else he wrote about the incident, except for this:
Carney had likened White, who allegedly visited a bar Carney and his friends frequent to confront him, to the "bully assholes." White subsequently issued a situation-diffusing tweet of his own:
Sunday night's almost-fight wasn't an isolated incident, of course. White and the Black Keys, the two pre-eminent forces that have sustained mainstream blues rock over the past 15 years, have a rich and often petulant history of feuding. Maybe it's because they both play the same type of music. Maybe it's because they both live in Nashville. Maybe it's jealousy. Whatever the reason, they kinda sorta hate each other, regardless of however many times they assure their fans that all is well. How did we get here? Let's take a look.
April 2003: After their third album White Blood Cells cracked the Billboard 200 chart in 2001, the White Stripes release their follow-up, Elephant, which will catapult the duo to international superstardom. The album will reach No. 6 on the Billboard 200 and earn the band a Grammy. Blues rock is officially part of the mainstream.
April 2003: The Black Keys release their second album, Thickfreakness. While the White Stripes toured Elephant through large-scale venues around the world, the Black Keys quietly start to gain an international following of their own, playing several major festivals and appearing on Late Night With Conan O'Brien. Because Elephant and Thickfreakness were released at the same time, many compared the latter drums-and-guitar duo to the former, who were considered the driving force behind the rekindled interest in blues rock.
2005: Jack White moves to Nashville.
June 2007: The White Stripes release their sixth and final album, Icky Thump, which wins a Grammy for Best Alternative Album.
May 2010: The Black Keys release their sixth album, Brothers, which peaks at No. 3 on the Billboard 200 and nets the band its first three Grammys, including Best Alternative Album.
2010: White tells journalist Brian Hiatt that he's "a lot more to do with Jay Z than the Black Keys."
2010: The Black Keys move to Nashville, where White has already established himself as the city's blues-rock kingpin.
January 2012: The Black Keys appear on the cover of Rolling Stone. The story mentions that White "prevented [Keys frontman Dan Auerbach] from entering his Nashville studio not long ago."
February 2013: The Black Keys win Grammys for Best Rock Song ("Lonely Boy") and Best Rock Album (El Camino), besting White's song "Freedom at 21" and album Blunderbuss. The Black Keys also win the Grammy for Best Rock Performance, for which White was not nominated.
August 2013: In the midst of a divorce, White's soon-to-be-ex-wife Karen Elson accuses the guitarist of pulling their kids out of school because he didn't want them in the same class as the child of another musician whom he is not particularly fond of. Leaked emails reveal that musician to be Auerbach:
My concern with Auerbach is because I don't want the kids involved in any of that crap. You aren't thinking ahead. That's a possible twelve fucking years I'm going to be sitting in kids chairs next to that asshole with other people trying to lump us in together. He gets another free reign to follow me around and copy me and push himself into my world.
May 2014: Carney tells Rolling Stone that White "sounds like an asshole," while Auerbach expresses confusion at White not wanting their kids in school together. "I don't know him, so it's extra-unexpected," he said.
May 2014: White appears on the cover of Rolling Stone and unloads on the Black Keys. "There are kids at school who dress like everybody else, because they don't know what to do, and there are musicians like that too. I'll hear TV commercials where the music's ripping off sounds of mine, to the point I think it's me. Half the time, it's The Black Keys," said White. "The other half, it's a sound-alike song because they couldn't license one of mine. There's a whole world that's totally fine with the watered-down version of the original."
May 2014: White issues a statement apologizing for his comments about the Black Keys. "I wish the band the Black Keys all the success that they can get," he wrote. "I hope the best for their record label Nonesuch who has such a proud history in music, and in their efforts to bring the Black Keys songs to the world. I hope for massive success also for their producer and songwriter Danger Mouse and for the other musicians that their band employs. Lord knows that I can tell you myself how hard it is to get people to pay attention to a two piece band with a plastic guitar, so any attention that the Black Keys can get in this world I wish it for them, and I hope their record stays in the top ten for many months and they have many more successful albums in their career."
September 2015: Carney accuses White of trying to fight him in a Manhattan bar. Echoing Auerbach's 2014 comment that he "didn't even know" White, Carney tweets that the altercation was the first time he's met White. The idea that White and the Black Keys have never met is hard to believe. They've run in the same circles as popular rock musicians for the better part of 15 years, and have lived in the same relatively small city for the past five. But then again, if you really hate someone, it's probably best to avoid him.