Jackery Solar Generator 1500 Review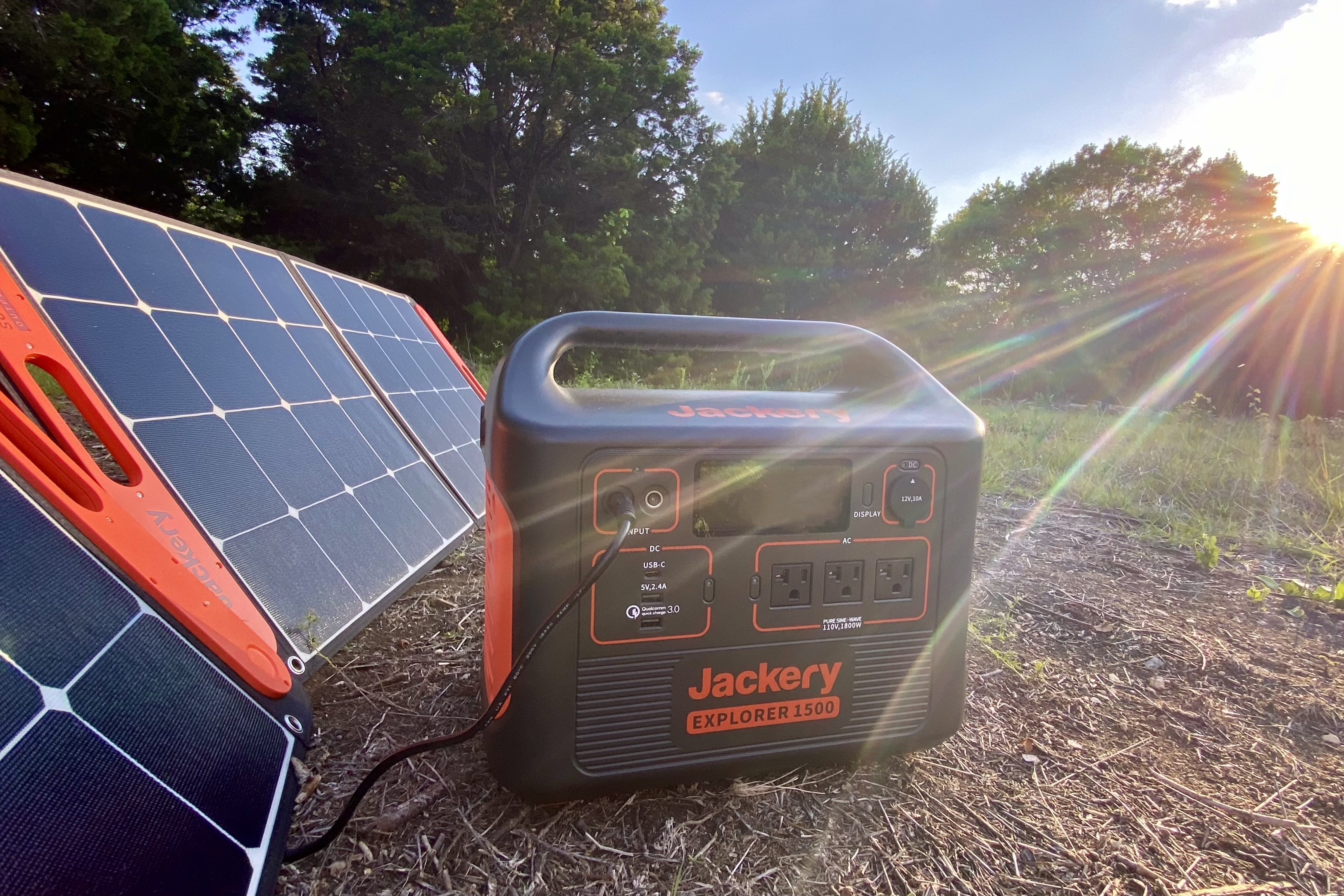 Solar generators are a great way to power your electronics on the go, whether you're in a remote location or out in the wilderness. But which one is the right one for you? Jackery's Solar Generator 1500 is one of the best out there, with its powerful solar panels and ample battery capacity. Here's my experience with it—and why you need to consider this generator for your next adventure or backup energy needs.
Solar generators are especially useful for camping, hiking, boating, off-grid living and emergency preparedness. Until an unexpected winter storm hit Texas a few months ago, I had never considered the need for a generator. After three days of no electricity, freezing temperatures and a dying cell phone battery, I decided a backup generator would be a wise investment.
When Jackery sent over their newest Jackery Solar Generator 1500 to review, I was thrilled. I had never used a solar generator before but found it easy to learn and get started right away. The Jackery Solar Generator 1500 includes the Jackery Explorer 1500 and four SolarSaga 100W solar panels.
A solar generator consists of two main parts: solar panels and a battery. The solar panels collect energy from the sun and convert it into electricity, which is stored in the battery. This generator is unlike a gas generator in that it creates no fumes or excessive noise. It can be used safely indoors and requires almost no maintenance.
The Jackery Solar Generator 1500 stands out from others in the solar category of generators because it has three unique recharging options: a solar input, an AC outlet and a car outlet. While the three recharging options are available, using solar panels is the greenest way of recapturing energy. With a 4-hour recharge time that's faster than 6 hours of AC-outlet recharging, solar panels are also the most desirable option. Using the car outlet to recharge takes up to 13 hours.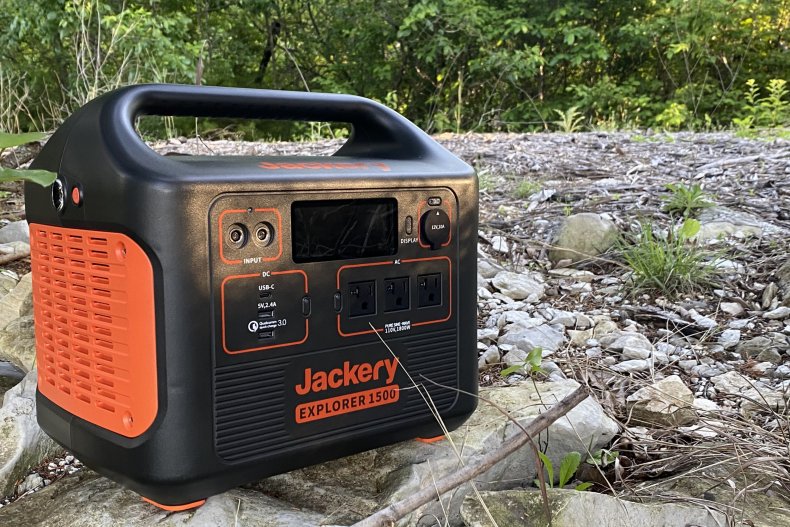 Once charged, this Jackery unit can charge practically anything you could need to power. It offers a USB-C and a USB-A port and three AC outlets to charge up to seven items at once.
Features and Specs
Jackery Explorer 1500
Capacity: 1488 watt-hour (36 volt, 41.3Ah)
Cell chemistry: Panasonic 18650 Li-ion Batteries
Lifecycle: 500 cycles to 80 percent-plus capacity
Weight: 33.1 pounds
Dimensions: 14 inches by 10.4 inches by 12.7 inches
Solar charging: 4 foldable 100-watt solar panels
Non-solar charging: AC adapter and car adapter options
Interface: LCD screen display with charging data and battery life status
SolarSaga 100W Solar Panels
Power voltage: 18 volts
Power current: 5.55A
Weight: 9.1 pounds
Dimensions folded: 24 inches by 21 inches by 1.4 inches
Dimensions unfolded: 48 inches by 21 inches by 0.2 inches
Warranty: 24 months
In the event of a home emergency, the Jackery Solar Generator 1500 can power up to 85 percent of your appliances, including lights, power tools, microwaves, refrigerators and other more considerable demands. Because it was unlikely that I'd be able to re-create the conditions of the winter storm that made me decide to look into alternative power sources, I decided to test out the Jackery Solar Generator 1500 in a way that I'd be using it more often: camping.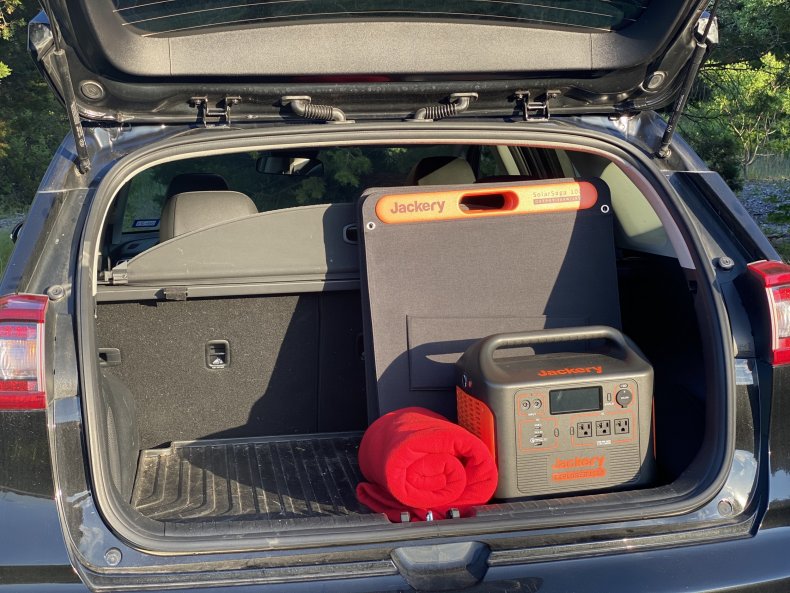 The generator and four solar panels fit compactly into my vehicle, and the sturdy built-in handles make loading and unloading easy. For this test run, I also brought along my coffee pot and laptop computer to charge.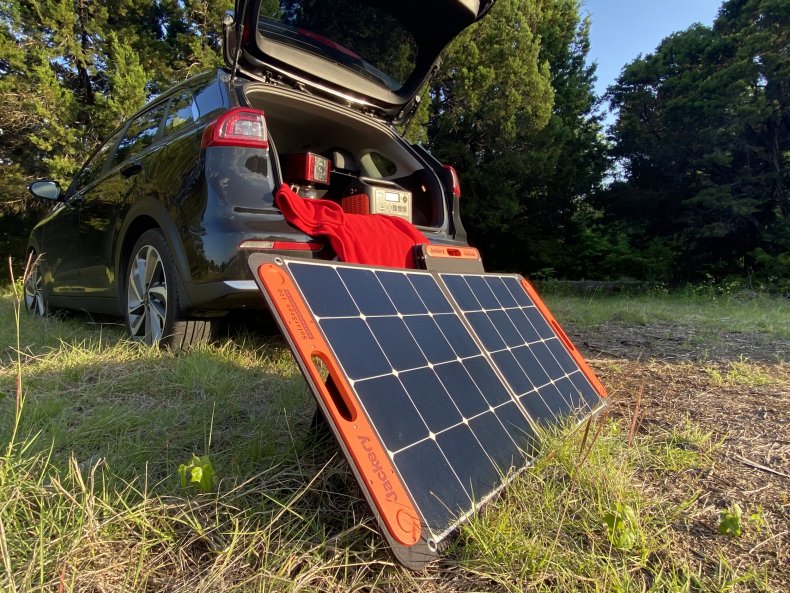 This makes it very possible to turn your typical camping trip into a much more comfortable experience. I have a feeling I could tempt even my noncamping friends into a camping trip that provided the assurance of powering a few more personal comforts.

Easy Setup
In less than 5 minutes, I set up the Jackery Explorer 1500 and the four SolarSaga 100W panels needed to transform sunlight into electricity. It was an incredibly straightforward setup. The first step was to connect the first panel by finding the DC interface on the back of the SolarSaga 100W and plugging in the solar power cable. After joining the other solar panels and the solar power cable with the Solar Generator 1500's DC input, I was all set.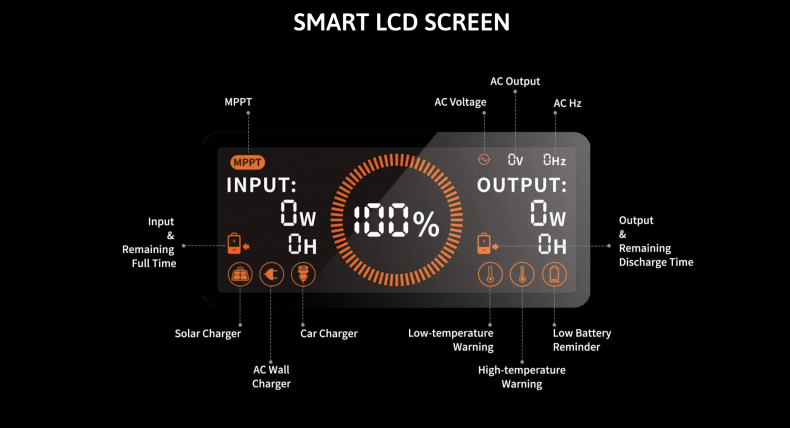 A small LCD screen gives the current state of the battery charge. Output wattage is also displayed, as well as input wattage and time to full charge. As expected, the Jackery Solar Generator 1500 delivered excellent results. I was able to make a pot of coffee and charge my laptop with zero issues.
Should You Buy the Jackery Solar Generator 1500?
If I were going on a weekend or whole week of camping, I would have no question this generator would be able to meet my power needs, even if I were camping with several friends. I also feel a lot more secure having it on hand in case of home emergency needs.
The Jackery Solar Generator 1500 with four SolarSaga 100W panels costs $2,294. Additional panels can be purchased separately at a cost of $254.99 each. If you're looking for a solar generator and panels that provide serious power, you should consider the Jackery Solar Generator 1500.
Newsweek may earn a commission from links on this page, but we only recommend products we back. We participate in various affiliate marketing programs, which means we may get paid commissions on editorially chosen products purchased through our links to retailer sites.