Jacksonville Jaguars and Baltimore Ravens Players Kneel During Anthem, With Protests Expected to Sweep NFL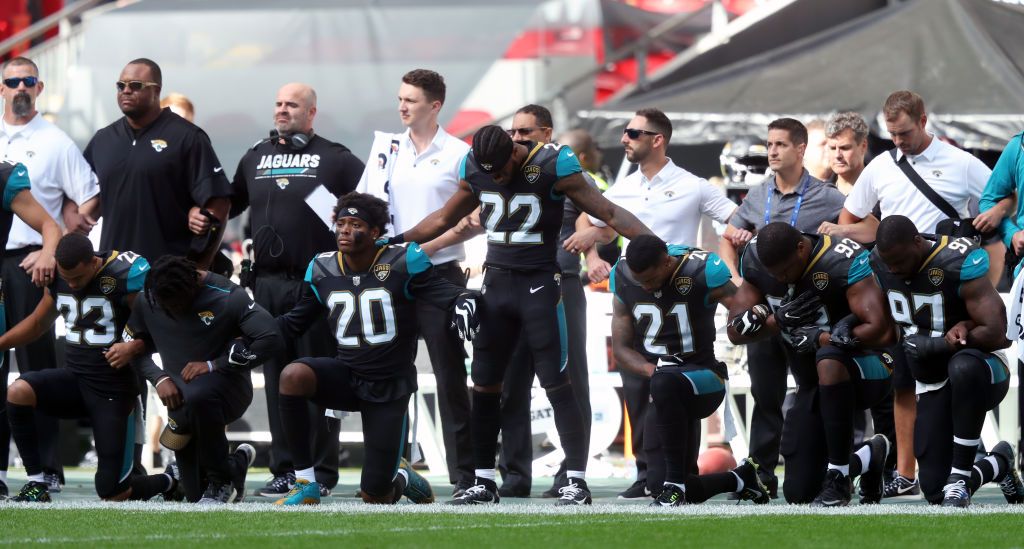 Players from the Jacksonville Jaguars and Baltimore Ravens joined a wave of protests and knelt during the national anthem before Sunday's game in Wembley Stadium, London.
In the first NFL game since Trump called for players who took part in the protests to be sacked and games boycotted, around 20 players and staff knelt.
Jacksonville Jaguars' owner Shahid Khan - who donated $1m to the Trump campaign – joined his players on the pitch in an unusual move and locked arms with those protesting in a seeming show of solidarity.
At a rally in Alabama Friday, Trump launched an attack on players who have taken part in a wave of protests against the police brutality towards African Americans and against social injustice.
Trump has doubled down on the attacks, tweeting Sunday morning that players who take part in the protests are "disrespecting our Flag & Country" and renewing calls for a boycott.
More protests by players at NFL games across the country are expected Sunday.
"From the people I've spoken with — GMs, coaches, players — it will be an unprecedented day in @NFL. From protests to team displays of unity," tweeted NFL Network pundit Ian Rapoport.
The entire offensive line of the Oakland Raiders, which is the only unit in the league composed entirely of African-American players, plans to protest during the national anthem prior to Sunday night's game against the Washington Redskins, according to reports.
Trump's claims have been widely criticized, with NFL commissioner Roger Goodell saying in a statement Saturday that "divisive comments like these demonstrate an unfortunate lack of respect".
The NFL Players' Association said the president had crossed a line by effectively telling players to just "shut up and play".