Jacksonville Jaguars Owner Wants to Buy London's Iconic Wembley Stadium—Will He Move Team Next?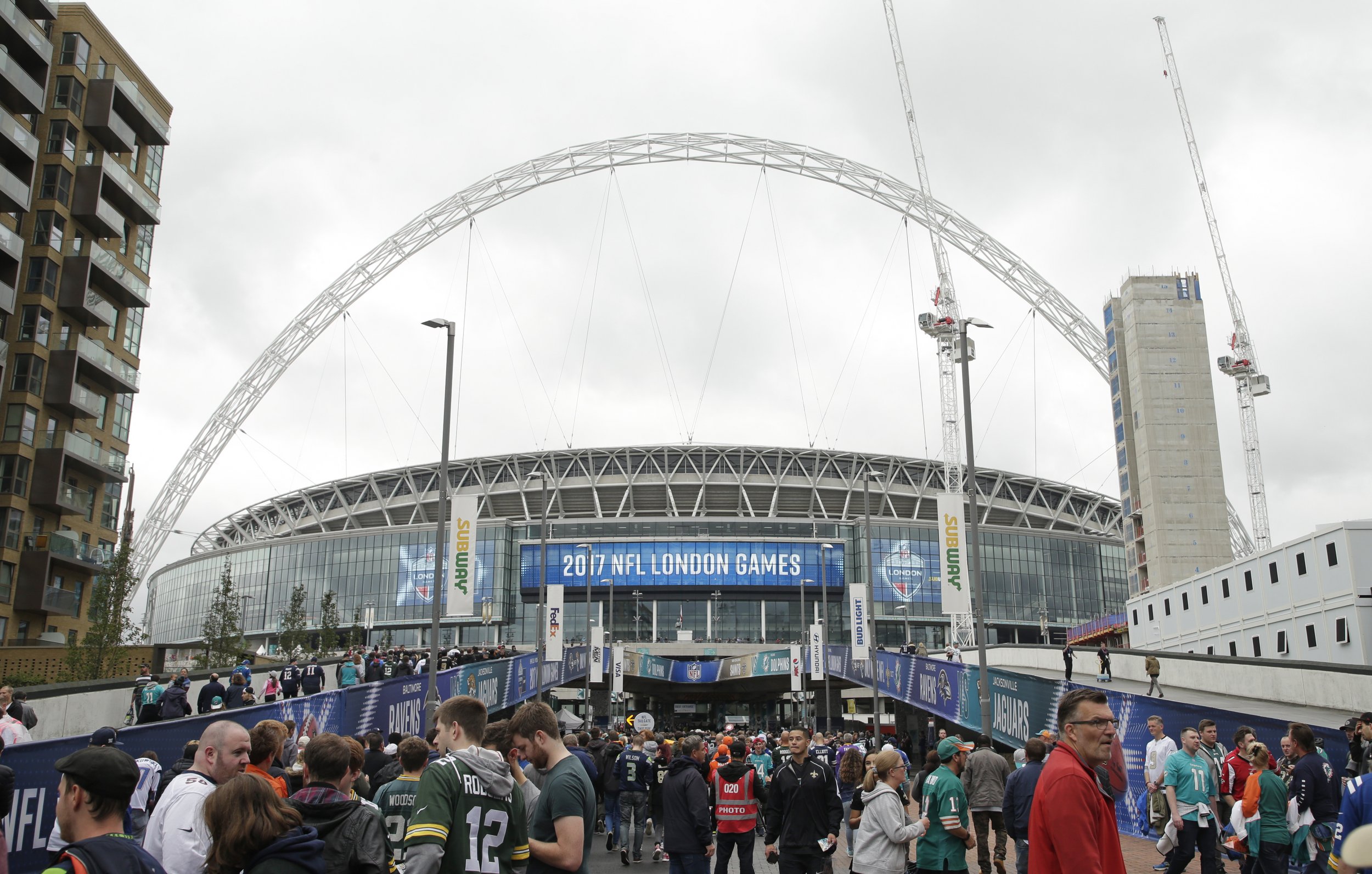 Jacksonville Jaguars owner Shahid Khan has launched an audacious bid thought to be worth almost $700 million to purchase London's Wembley Stadium.
According to The Sun and the Evening Standard, Khan is understood to have reached an agreement with Martin Glenn, the chief executive of the Football Association—English soccer's governing body.
Business tycoon Khan is estimated to be worth around $8.7 billion and also owns English soccer club Fulham, who are currently competing in the second tier of English soccer.
Glenn and Khan reportedly first discussed the opportunity of selling Wembley when they met in Houston in February last year for Super Bowl LI.
The reports suggest that the FA could receive an up-front sum of $700 million, plus an additional $420 million in matchday revenue.
"We can confirm that The FA has received an offer to buy Wembley Stadium," a spokeswoman for the FA was quoted as saying by the Evening Standard.
In an official statement, the NFL added: "We are very happy for Shad Khan and the Jacksonville Jaguars. The potential purchase of Wembley Stadium is a further powerful sign of their commitment to the U.K. and their vision to help us grow the sport."
The deal would be a milestone for English soccer, given the FA has always held ownership of the national stadium but could also have major repercussions for the NFL. The north London venue has hosted at least one NFL game a year since 2007—and as many as three in 2014 and 2015—and a takeover could see an increase in the number of games staged at the venue.
Should the takeover be completed, the prospect of a London-based NFL franchise would become a real possibility.
A potential sale is understood to be seen as a "once in a generation" opportunity to revive facilities for grassroots soccer in Britain.
Known as the "home of English football," Wembley was built on the site of the original Wembley Stadium—which was demolished in 2003—at a cost of $1.2 billion and opened in its current configuration in 2007.
As well as every England home game, every season the venue hosts the semifinals and the final of the FA Cup, as well as the final of the League Cup. The stadium, which was also used during the 2015 Rugby World Cup, has also hosted the Champions League final in 2011 and 2013 and has been used by Tottenham Hotspur this season (the club will move to its new ground at the beginning of the next campaign.)