Jacksonville 'Madden' Tournament Shooting: Fire Department Conducting Training Across the Street Saved Lives
On Sunday, when a mass shooting broke out at the GLHF Game Bar in Jacksonville, Florida, first responders had been conducting training across the street, and their immediate response to the attack saved lives. Three people, including the gunman, were killed during the shooting, while nine others were wounded in the gunfire and three more were injured during the ensuing chaos.
Jacksonville Fire and Rescue Department Captain Jeremy Cooke explained to reporters on Monday that at the time of the shooting, members of Ladder One were training in the parking garage across the street from Jacksonville Landing.
They heard screaming, and when they looked over they saw a man lift up his shirt to reveal a bullet wound. The first responders administered first aid to the injured man and called for reinforcements and an ambulance. As other people with injuries came out, they continued administering first aid before they knew went inside.
Cooke told reporters that protocol dictated they should wait to go inside until the area was secured, but from the beginning of the shooting, they were already "in the middle of the scene" so they entered the building ahead of staging. Upon entering, a number of trauma alerts were identified and first responders worked to help victims despite being at risk themselves.
"I was allowing my guys to go into a situation that was very unsecured, and so I was more worried for my guys than anything else, but we had to get in there, and we had to do what we could to help," Cooke explained.
Along with not knowing the status and whereabouts of the shooter, Cooke said that the protective gear his team usually wore in these situations, including vests and helmets, was about a block away. While one man went to get the gear, the others tended to the wounded.
First, they worked to evacuate the "walking wounded," those who were injured but could make it out on their own. Then they focused their attention on those who couldn't evacuate the building by themselves, calling in trauma alerts and remaining by their side until ambulances arrived.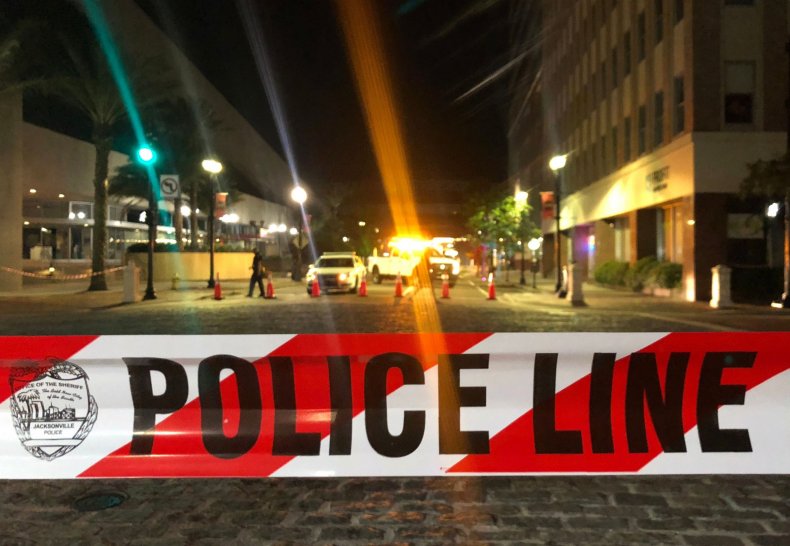 "You do what you have to do and you block out all the interference," Cooke said with regard to how they managed to effectively work during the tragedy. "You don't think about it, you just do what you can to help."
Despite the dangers posed by a situation that defied protocol, Cooke explained that not following protocol might have made the difference between lives lost and lives saved.
"I believe one or two of the patients might not have made it…if we had to wait for [Jacksonville Sheriff's Office] to clear the scene because clearing the Jacksonville Landing would have taken some time, and I believe probably a couple of those people would have bled out by then," Cooke said.
He further explained that being able to apply pressure and stop the bleeding practically seconds after the shooting was a big part of why some people survived. Cooke called his team lucky and blessed that they were there when the shooting took place.
Cooke told reporters he had never experienced anything like this specific tragedy but added that they knew that such an attack was coming at some point, given past events, such as the shootings at Pulse nightclub and Marjory Stoneman Douglas High School. Although Cooke and his team were praised as heroes, the fire and rescue captain explained it wasn't anything "special," and any other firefighter in the same position would have done the same thing.
Jacksonville 'Madden' Tournament Shooting: Fire Department Conducting Training Across the Street Saved Lives | U.S.