Who Is Ronald Casey? 'Madden' Pro Used Body During Jacksonville Shooting to Shield Gamers
Amid the chaos that erupted during Sunday's shooting at a Madden video game tournament in Jacksonville, Florida, professional gamer Ronald "SirusTheVirus" Casey used his own body to shield others from the gunfire.
Casey told WRGT that he was standing behind the competition's cameras when the gunfire broke out. A bullet came so close to him that he could smell it, but instead of running out of the building, he stayed to help protect the younger players.
"This was the worst thing I've seen in my life. I'm sitting there, and I see these people getting shot," Casey explained. "That's when I was like, man, I just made the decision to jump on top of the guys."
During an interview with the New York Daily News, the 30-year-old compared himself to the players he was with, 18-year-old Joel Crooms-Porter and 25-year-old Matt Clark. More than 6 feet tall and weighing about 360 pounds, Casey reasoned that he could use his large stature to shield the younger gamers.
"I remember jumping on top of Joel and making sure his head was down," Casey told the New York Daily News. "I couldn't close my eyes. I just couldn't."
On Twitter, Crooms-Porter's mother, Lisa Crooms-Robison, thanked Casey for covering her child.
Three people, including the suspected gunman, were killed on Sunday, and Casey told the New York Daily News that it seemed as if people were being targeted, and he criticized the lack of security at the event.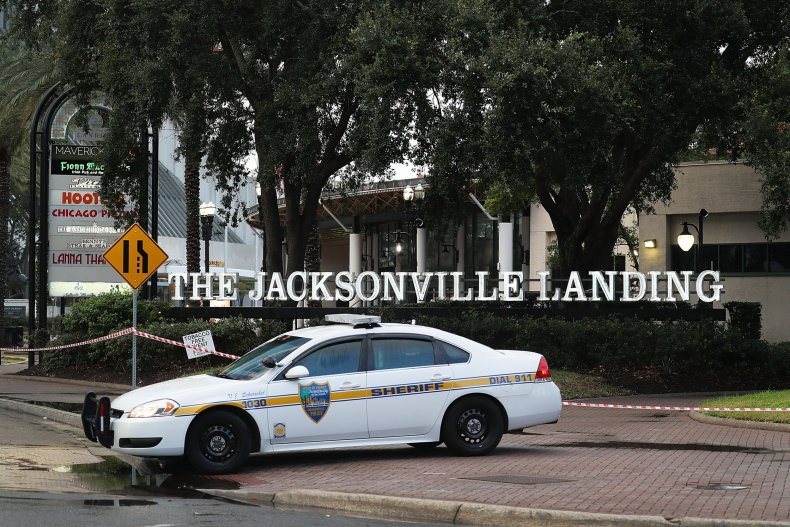 "Thankfully it wasn't an automatic weapon," he told WRGT. "If it was an automatic weapon like some of these other school's shootings and stuff, we all would have been done. We were trapped."
On Sunday, the Jacksonville Fire and Rescue Department was conducting training directly across the street from the GLHF Game Bar, where the tournament was being held. Protocol dictated that the area should be secured before first responders entered, but since they were already in the middle of the trauma scene, they immediately went inside and began helping the wounded. Captain Jeremy Cooke didn't consider what they did to be extraordinary in any way but told reporters that the quick response likely saved several lives.
Following the shooting, in which 11 people were wounded, the FBI raided the suspected shooter's home in Baltimore, and video game maker Electronic Arts canceled three future tournaments.
"We've all been deeply affected by what took place in Jacksonville. This is the first time we've had to confront something like this as an organization, and I believe the first time our gaming community has dealt with a tragedy of this nature," Electronic Arts CEO Andrew Wilson said in a statement.
On Tuesday, Casey wrote on Twitter that the past two days had "felt like an eternity" and said the memories of what happened were eating away at him. He thanked everyone who had reached out and said that he really needed to "pray harder."