Jacksonville Mayor Announces Plans to Remove City's Confederate Monuments, Rename Memorial Sites
All Confederate monuments currently located in Jacksonville, Florida, will be taken down, the city's mayor said on Tuesday.
The announcement from Mayor Lenny Curry came hours after local news outlets reported that crews were seen removing one Confederate statue, which previously stood between Jacksonville's City Hall and federal courthouse buildings, overnight.
Speaking to a crowd that gathered in the city's municipal center before a demonstration on Tuesday morning, Curry referenced the initial monument's removal and told attendees it was the first of more to come.
"Yesterday, there was a Confederate monument in this park. It's gone, and the others in this city will be removed as well," he said. "We hear your voices we have heard your voices."
Jacksonville residents and public officials have advocated for removal of the city's Confederate monuments and memorials since at least 2017. Calls to do so amplified recently, amid protests against racism and police violence that continue to take place following the death of George Floyd, and others, while in police custody. Curry acknowledged additional issues brought to his office's attention by activists on Tuesday, including requests for release of body camera footage from local law enforcement authorities. He also shared plans to form an intergovernmental coalition that includes members of the public to better address civilian concerns.
"I'm going to introduce legislation that formally brings together the Sheriff's Office, the State Attorneys Office, the Public Defender, the City Council [and] my office with independent voices that form the community," Curry said, citing a need for community involvement to "help guide" policy decisions.
There are two remaining Confederate monuments, as well as eight designated historical sites, in Jacksonville, according to the city's inventory list of memorials related to the Civil War. Following Curry's announcement on Tuesday, a spokesperson from the mayor's office told Newsweek that other statues would be removed "soon," though a specific timeline has not yet been set. The spokesperson also confirmed that Confederate memorial sites, like parks and markers recognizing wartime events, would be renamed.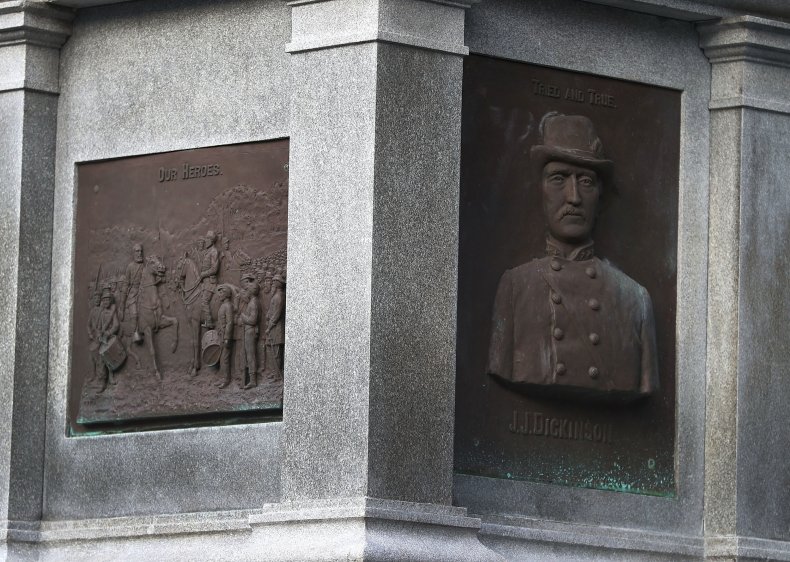 "If our history prevents us from reaching the full potential of our future, then we need to take action," said Curry in an additional statement sent to Newsweek. "Last night, I ordered the confederate statue in Hemming Park to be taken down as the start of a commitment to everyone in our City that we will find a way to respect each other and thrive."
Local officials in other states, including Virginia and Alabama, have also recently ordered the removal of Confederate monuments previously located in their jurisdictions. After Birmingham began to remove one last week, Alabama's Attorney General filed a lawsuit against the city, AL.com reported. The suit claimed Birmingham violated an Alabama law that requires local governments to obtain permission from the state before removing or altering sites deemed historically significant.
On Tuesday, the spokesperson from Mayor Curry's office said no such law exists in Florida, and Jacksonville maintains full autonomy over decisions to rename or remove Confederate monuments and similar sites located in the city. Altering property located in a state park would require state permission.