Jacksonville Mayor Says Republican Convention Won't Generate Expected $100M
The Republican mayor of Jacksonville has said the economic boost from next month's Republican National Convention [RNC] in his city will fall short of expectations and warned that security plans needed to be improved.
The convention had been scheduled for Charlotte, but was shifted after North Carolina Gov. Roy Cooper, a Democrat, imposed a shelter-in-place order which would have impacted the crowds President Donald Trump wanted to mark his official acceptance of the GOP nomination.
At least a half-dozen prominent GOP lawmakers will skip the RNC and officials are grappling with how to attend a gathering of thousands in a coronavirus pandemic hotspot.
Jacksonville Mayor Lenny Curry has admitted that the coronavirus would hurt the profitability that the city had hoped for from the event, having initially boasted in a video that it would be a $100 million boost to its economy.
The Jacksonville 2020 Host Committee website still describes the event as a "$100 million economic opportunity" for the city.
However Curry said in a news conference on Tuesday that the pandemic meant "it's clear it will not be that kind of economic activity with a scale back," CBS 47 reported.
Victor Matheson, an economist, described the news as a "disaster" telling the network that "a scaled-down convention leaves you with a fraction of the economic impact but still all the costs and hassle associated with this."
Newsweek has contacted the Jacksonville 2020 Host Committee for comment.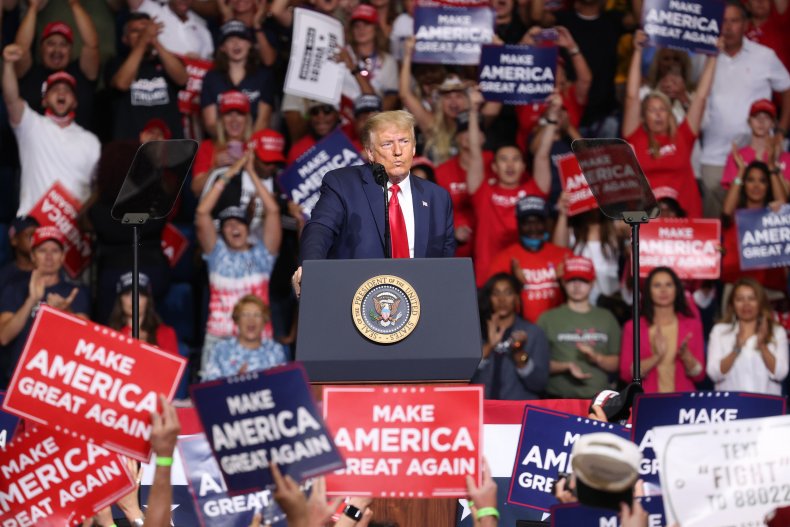 Also during Tuesday's news conference, Curry referred to an earlier warning by his city's sheriff, Mike Williams, that there was a lack of preparedness less than a month out from the four-day event which runs from August 24 to August 27.
Williams is concerned about the resources needed to police both the actual convention space and events and the expected protesters outside the venues.
Williams had told journalists on Monday he only had a quarter of the funding for security, and that he "cannot say with good conscience that we are ready" to keep the community safe. "We should be fine-tuning this and I really don't have a solid plan," he said, according to USA Today.
Curry agreed with Williams, saying that he "knows what he's talking about, clearly."
"However, he also has communicated that he's continuing to work with the planners to configure this in a way that's safe and to get the resources that he needs," Curry added, the Orlando Sentinel reported.
The publication reported that the city is in discussions with the U.S. Department of Justice over the approval of a federal security grant of up to $35 million.
When contacted by Newsweek, the Trump campaign referred to the RNC for comment. In a statement to media on Monday, RNC spokesperson Mandi Merritt said it was continuing to "work closely with local leadership in Jacksonville on planning for the convention, including on health and security measures."