Jacksonville Residents Reject Trump, RNC Amid COVID Fears, Poll Shows
A plurality of people who call Jacksonville, Florida, home don't want President Donald Trump and Republicans holding their national convention in their town this summer.
That's according to a new poll commissioned by an anti-Trump group composed of GOP figures: Republican Voters Against Trump, which is tied to Republicans for the Rule of Law that consistently advocates for the president's removal from office.
Nearly half of voters surveyed—49 percent—said they do not support the Republican National Convention being held in Jacksonville, while 39 percent said they do. And 12 percent had no opinion. The survey also found that Trump trails presumptive Democratic nominee Joe Biden in a head-to-head match-up: 51 percent to 43 percent.
The results from the poll, conducted by bipartisan RABA Research, come in Jacksonville's Duval County, where Trump narrowly eked out a victory over Democratic candidate Hillary Clinton in 2016.
They also come after the president's first campaign rally over the weekend in Tulsa since the coronavirus pandemic swept across the United States. Even in the red state of Oklahoma, Trump was met Saturday with a sea of empty blue seats in the unfilled arena, despite expectations by Trump and the campaign that they may experience an overflow crowd. Many young, anti-Trump people shared online that they registered for the rally with no intention of appearing.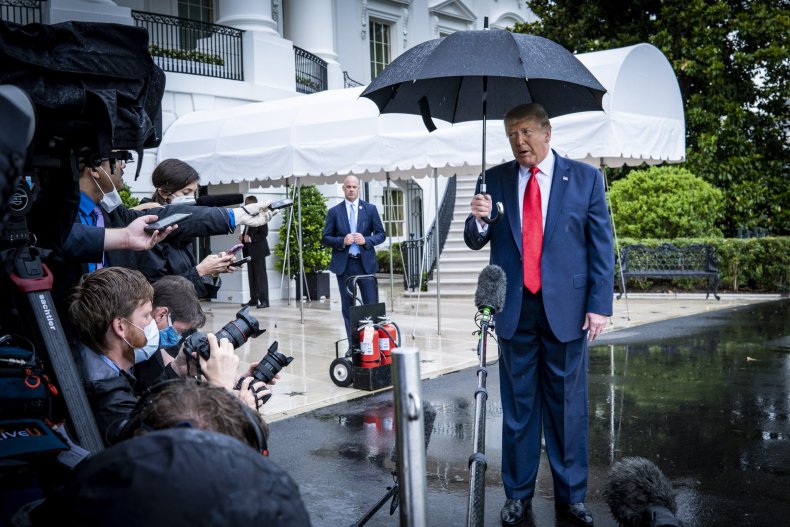 "President Trump may be jonesing for adoring crowds, but as we saw this weekend in Tulsa, actual voters are not nearly as excited about attending risky, mass-gatherings as Trump is," Sarah Longwell, strategic director of Republican Voters Against Trump, said in a statement. "These results demonstrate that even in a critical county that Trump won in 2016, voters would rather he stay away."
The idea of shifting the RNC's August event from Charlotte, North Carolina, to the Sunshine State was "a loser among all demographics in Duval County," noted John Davis, a partner at RABA Research. He added in a statement that Biden's 8-point lead is an "ominous sign for his ability to hold a successful convention and rebuild his winning 2016 coalition in the state."
Fears over the ongoing pandemic appear to be front and center for Jacksonville residents' opposition to hosting the RNC, as Florida is emerging as the nation's new hotspot with the number of new daily cases at their highest rates since the start of the pandemic.
Most of the surveyed voters—61 percent—indicated they are "concerned" that the convention could create a new virus outbreak in the local community. Thirty-nine percent said they were not concerned.
The RNC was originally planned for Charlotte. And while delegates will still meet there to conduct the official nominating process, Trump and thousands of Republicans will pack into an arena in a state crucial for the president's re-election hopes as he officially accepts the GOP nomination. But most importantly, unlike Trump's newly adopted home state of Florida, North Carolina Governor Roy Cooper, a Democrat, refused to forgo social distancing guidelines for the event.
The poll conducted by RABA occurred from June 17-18 among 600 voters in Duval County. Of the voters, 42 percent said they identified as a Democrat, 36 percent as Republican and 22 percent as "something else." Fifty-seven percent were women and 43 percent male. The majority—55 percent—were white, while 30 percent were Black, 7 percent Hispanic, 2 percent Asian and 6 percent were "other."