Jacob Blake, Black Man Shot By Wisconsin Police, Paralyzed From the Waist Down, Father Says
Jacob Blake, a 29-year-old man who was shot by Kenosha, Wisconsin, police officers remains hospitalized and is paralyzed from the waist down.
Blake's father confirmed the prognosis during an interview with the Chicago Sun-Times on Tuesday. Doctors are unsure if the paralysis is permanent.
On Sunday, officers responded to a report of a domestic incident that bystanders say Blake was attempting to mitigate. Video footage shows Blake walking to his car as officers pointed their firearms at him and opening the driver's side door. As Blake leans into the car, an officer grabs his shirt and then fires his weapon at Blake's back.
Benjamin Crump, the family's attorney, said Blake's sons were in the car when their father was shot and had to witness him "collapse after being riddled with bullets." Crump called it a "miracle" Blake is still alive, as the "irresponsible, reckless and inhumane actions" of officers "nearly cost the life of a man" trying to "do the right thing."
Blake's father, who was driving from North Carolina to Wisconsin to be with his son, told the Chicago Sun-Times the officers "shot my son like a dog in the street" and they bear responsibility for the protests that erupted after it.
"What justified all those shots?" he said. "What justified doing that in front of my grandsons? What are we doing?"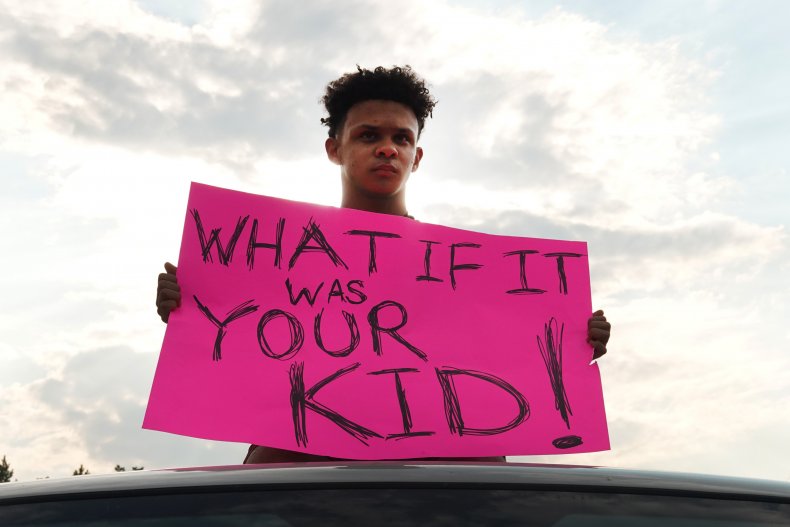 Officials face pressure to charge the officers involved but it could be more than a month before action, if any, is taken, according to the Wisconsin Department of Justice. The Division of Criminal Investigation will complete a "complete and thorough investigation" and turn over a report to a prosecutor, hopefully, within 30 days. The task of determining if charges should be brought will fall on the prosecutor.
Governor Tony Evers criticized the "broad daylight" shooting of Blake and noted he's not the first person to be "shot or injured or mercilessly killed" at the hands of law enforcement. He said he stands with those who are demanding "justice, equity and accountability for Black lives in our country" and opposes "excessive use of force and immediate escalation" when officers engage with Black Wisconsinites.
"I have said all along that although we must offer our empathy, equally important is our action. In the coming days, we will demand just that of elected officials in our state who have failed to recognize the racism in our state and our country for far too long," Evers concluded the statement.
Pete Deates, president of the Kenosha Professional Police Association, called Evers' statement "wholly irresponsible" and "not reflective" of the law enforcement community. He said the video doesn't capture the "intricacies of a highly dynamic incident" and asked that the public withhold judgment until an investigation is completed.