Mark Ruffalo Joins Jacob Blake Community Celebration Via Live Stream
The family of Jacob Blake—who was paralyzed by Kenosha police after a white officer shot him seven times in the back—hosted a "Justice for Jacob Blake Community Celebration" on Tuesday, and were joined virtually by actor Mark Ruffalo, a Kenosha, Wisconsin, native.
A combination block party and community clean-up, the celebration—which included a bounce house and DJ, as well as free haircuts, food and COVID testing—was held at the site where Blake was shot. It was intended, in part, as a counter to President Donald Trump's Tuesday visit to the city. Trump's stop in Kenosha is expected to include a meeting with police and a tour of damage attributed to rioting, but not a meeting with Blake's family.
"What you're doing is very different from what the news is telling us, isn't it?" Ruffalo asked while speaking with the planners behind the event, including organizers from groups like Black Lives Activists of Kenosha. "So today is really about celebrating what's beautiful about Kenosha, Wisconsin. Not all the ugly imagery we're seeing bubbling up from the news."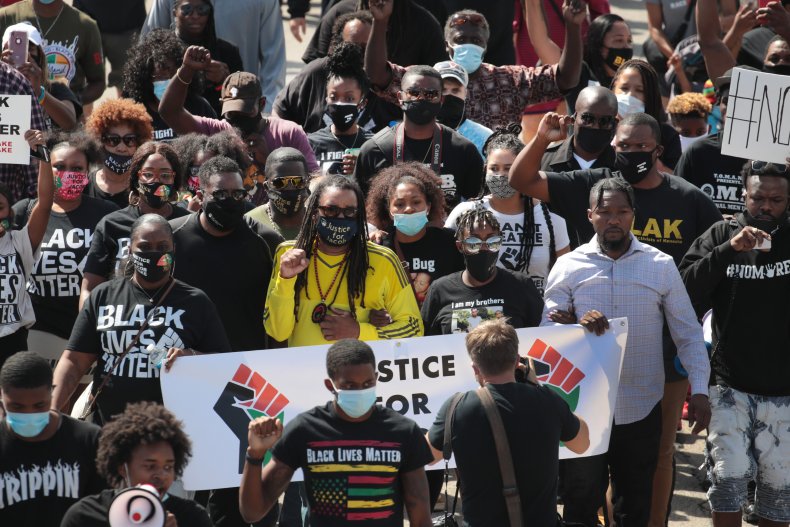 After rising above some technical difficulties with some help from the event's organizers ("Just think of me as your grandpa using Instagram Live," Ruffalo said), Ruffalo managed to connect with the celebration and hear from activists what they're most concerned with.
"The main thing is justice for Jacob," Portia, a local activist who joined Ruffalo on the stream, said.
"These officers need to be held accountable, so they start holding each other accountable," another activist told Ruffalo.
But many also emphasized how an end to police brutality can only come as part of a comprehensive approach that addresses the root causes of poverty and crime. In Ruffalo's multiple conversations with local activists, the latter discussed the material needs of the poor and communities of color in the fourth-largest city in Wisconsin, including better access to grocery stores, home ownership and local jobs.
"We need to be a part of this economy, point blank, period," one local activist told The Avengers actor.
In a message posted to his Instagram in advance of the live stream, Ruffalo talked about how Trump and segments of the media will use instances of violence or property destruction as a way to avoid listening to the reasons behind the protests. He shared some of what he learned participating in civil disobedience during the Standing Rock Sioux tribe's protests against the building of the Dakota Access Pipeline.
"I just wanted to reach out to my family and brothers and sisters in Kenosha, Wisconsin, and just talk a little bit about what's happening today and what my experience has been of how these demagogues play this, and how we can keep from playing into their game," Ruffalo said in the Tuesday Instagram video. "The one thing that happened in Standing Rock that was so important is that most of the people who were there on the front line did training to make sure that they never acted out in any violent way. And if and when that ever happened, there were people, moderators, who would come and grab those people and pull them back, so that nothing that came out of our movement was in any way connected to violence."
During those protests, local police, the National Guard and private security forces used water cannons, attack dogs, mace, mass arrests, concussion grenades and teargas against activists. Despite worldwide condemnation, the pipeline was completed and put into operation in 2017.
Nevertheless, in his Instagram video, Ruffalo stressed the need for a similarly rigorous approach to non-violent activism in ongoing protests against police brutality, particularly in light of Trump's visit. Ruffalo described Trump's heading to Kenosha as an effort to "incite violence so he can show his followers and the people who follow him on television and Fox News and all of that, that what the movement that we're doing is about violence, when in fact it's about peace and its about equality and its about public safety for all Americans."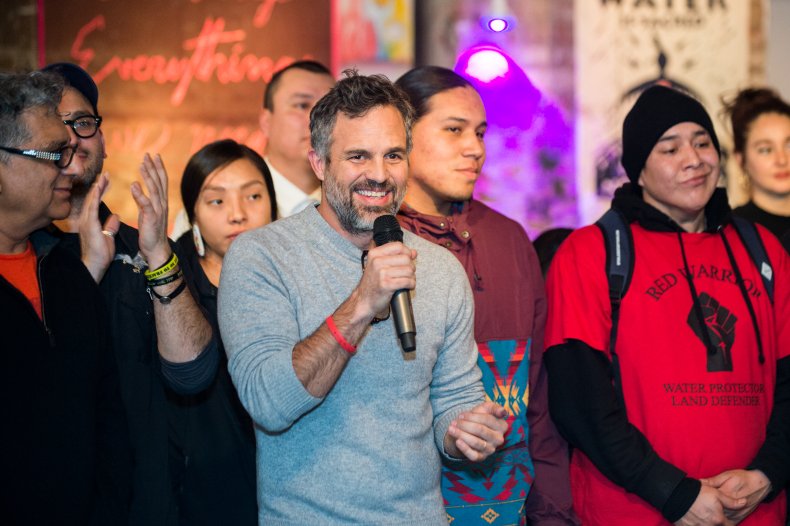 The 52-year-old actor also noted the broad popularity of police reform, citing, among other things, polling indicating strong support for police reforms. A July Gallup poll found that 88 percent of Black Americans favor "major changes" to policing in the United States, a position also supported by large majorities of Asian and Hispanic Americans, plus 51 percent of white Americans.
"We are a peaceful movement. This is about love, this is about equality. This is about police brutality in our country and safety for all of us," Ruffalo said in the video released ahead of the live stream. "The more they attack you, the more peaceful you remain, and you will win the day. This is a perception battle, okay? Don't take the bait."
It was a message that activists in Kenosha, including people close to Blake, also echoed.
"My father marched with Martin Luther King three times," Blake's uncle, Justin Blake, said on the stream. "I don't want anybody tearing anything up under my nephew's name."
"There is so much beauty and culture and art that comes out of Kenosha and we want people to know that this is a place that fosters that," a local theater program student told Ruffalo.
"You hear that, America? This is not about destruction. Don't let the president frame this as about destruction," Ruffalo said.
The Dark Waters actor went on to criticize a local news headline that emphasized violence in its coverage of a peaceful march and rally. The headline to the Kenosha News article (which Ruffalo mistakenly called the Times) was judged so misleading by the paper's only full-time Black staff member, digital editor Daniel J. Thompson, that he quit in protest.
"That's what Kenosha is about. None of this stuff, like the Kenosha Times skewing these protests," Ruffalo said. "When you have hours of people talking about peace and love and unity and they run these headlines that it's about violence—it's just wrong."