Jacob Blake Protesters Clash With National Guard Outside Kenosha Courthouse
Protesters clashed with law enforcement stationed outside a Kenosha, Wisconsin courthouse on Tuesday, including members of the Wisconsin National Guard, during a third straight night of fiery demonstrations against the shooting of Jacob Blake.
Protesters reportedly shook a fence surrounding the Kenosha County Courthouse and threw bottles, rocks and fireworks while facing off against law enforcement officers who aimed tear gas and pepper balls at them. Wisconsin Governor Tony Evers had called in the National Guard to support local law enforcement at the protests on Monday.
Blake, a 29-year-old unarmed Black man, was shot in the back by members of the Kenosha Police Department multiple times as he attempted in enter his vehicle on a residential street as his young children sat inside on Sunday. He survived the shooting, but his father announced Tuesday that the injuries he suffered resulted in him becoming paralyzed from the waist down.
Viral video of the incident almost immediately reignited and further inflamed mass protests against racial injustice and police brutality across the country, which have been widespread in recent months and were initially sparked by the May 25 death of George Floyd.
Videos posted to social media on Tuesday show protesters gathering outside the Kenosha courthouse at night, despite a curfew intended to prevent them from doing so. Protesters can be seen throwing bottles and other objects in some of the videos, while plumes of smoke or gas appear to waft through the area.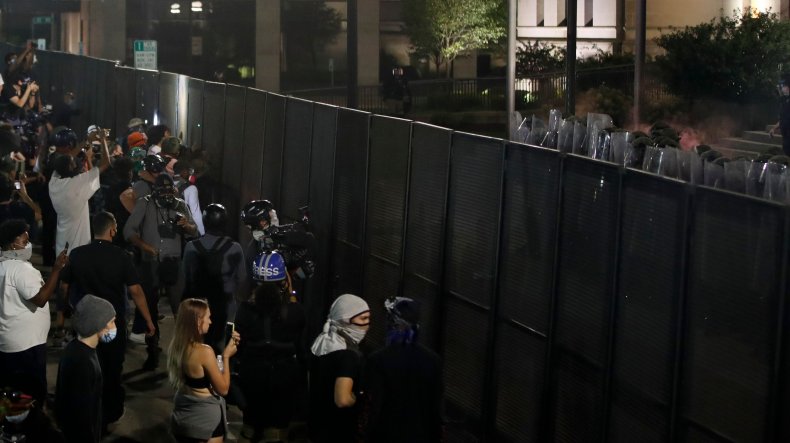 A group of armed counterprotesters was also present during the demonstration, apparently attempting to prevent property damage while evoking comments from President Donald Trump by shouting the warning "you loot, we shoot," according to The Chicago Sun-Times.
"If you have more complaints go ahead and voice them with your governor," a voice in one of the videos, presumably that of an officer, can be heard saying over a loudspeaker while urging protesters to back off. "Contact him directly via email, that is your best choice of action, contact your local politician."
Evers declared a state of emergency on Tuesday as the situation continued to escalate, vowing to counter any violence at protests with an increased National Guard presence while urging those who protest to do so "peacefully and safely."
"The ability to exercise First Amendment rights is a critically important part of our democracy and the pursuit of justice," Evers said in a statement. "But there remains a line between peaceful assembly and what we saw last night that put individuals, families, and businesses in danger."
"We are assessing the damage to state property and will be increasing the presence of the Wisconsin National Guard to ensure individuals can exercise their right safely, protect state buildings and critical infrastructure, and support first responders and firefighters," added Evers.
A spokesman for the Wisconsin National Guard sent the following statement to Newsweek in response to an inquiry about the group's involvement at the protests:
"To protect operational security and as a matter of policy, we cannot discuss specific troop numbers, movements, procedures, timelines, or mission sets. Citizen Soldiers from the Wisconsin National Guard are serving in a support role to local civil authorities, and the Guard is not the lead agency in this response."
"Wisconsin National Guard troops are assisting civil authorities in efforts to preserve public safety and the ability of individuals to exercise their First Amendment rights to peacefully demonstrate."
Update 8/26, 4:56 p.m.: This article has been updated to include a statement from the Wisconsin National Guard.