Jacob Blake Released From Hospital Restraints After Warrants Vacated in Court Hearing, Lawyer Says
Jacob Blake is no longer restrained to his hospital bed following the felony warrants against the 29-year-old being vacated, his attorney announced Friday.
Patrick Cafferty, Blake's local lawyer, told Reuters that the restraints were removed after a court hearing on the warrants, where they were vacated. Additionally, police officers who had been guarding Blake's hospital room have now left, he said.
Cafferty told the Milwaukee Journal-Sentinel Friday that the warrants were vacated after $500 bail was posted. The criminal case against Blake remains open, however.
"The charges are still pending and we will be dealing with those," Cafferty told the Journal-Sentinel.
Newsweek contacted Cafferty for further comment, but did not hear back in time for publication.
Blake, who was shot in the back seven times during an altercation with police officers in Kenosha, Wisconsin, had been restrained to his bed since his arrival at a local hospital on Sunday. Blake's family told media members that he was "handcuffed" to the bed, but the Kenosha Police Department told CBS News that he was "secured with restraints" as required by the department.
"Mr. Blake is in custody for previous felony warrants. Our policy indicates that all people in custody outside of our jail facility shall be secured with restraints," Lieutenant Eric Klinkhammer told CBS News.
Wisconsin Circuit Court records indicate that charges of third-degree sexual assault, misdemeanor criminal trespassing, and misdemeanor disorderly conduct were filed against Blake on July 6.
The Milwaukee County Sheriff's Office (MCSO) released a statement Friday confirming that Blake is no longer handcuffed to his hospital bed and that deputies had left his room.
"MCSO worked very closely with the hospital and Mr. Blake's legal team to ensure a safe and dignified environment for Mr. Blake, consistent with best law enforcement and hospital practices for security and visitation," according a statement obtained by Newsweek.
Blake had posted the bond underlying his arrest warrant Friday, enabling his release from custody. The hospital watch discontinued immediately after this, the statement read.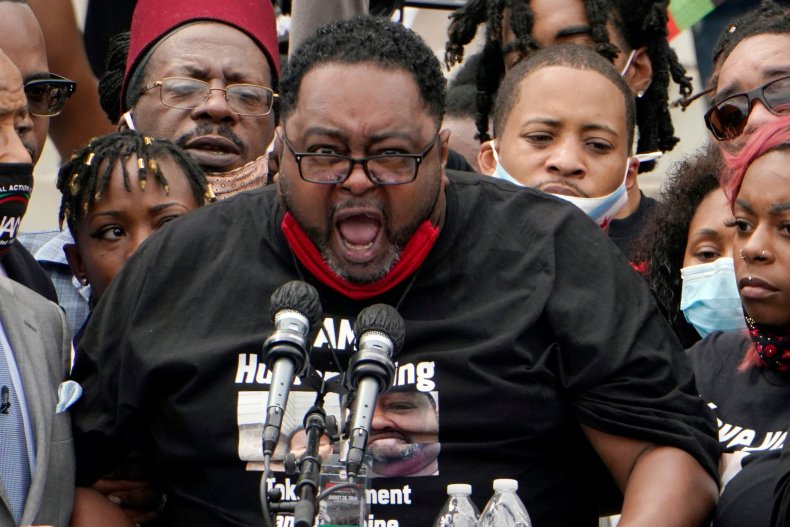 Blake, who was paralyzed as a result of the shooting, continues to recover from his injuries, including a damaged spinal cord, stomach, kidneys and liver. Blake's father, Jacob Blake Sr., described a recent hospital visit with his son earlier this week.
"There was the cold steel on his ankle. He is shackled to the bed, but he cannot get up, he could not get up, he is paralyzed," the father told CNN.
Blake Sr. did not know why his son was handcuffed, telling CNN he supposed it was because his son "is in custody." The restraints were reportedly because of an outstanding warrant for Blake's arrest on three domestic-abuse related charges, The Guardian reported.
The injury to Blake, a Black man shot by a white police officer, spurred protests against police brutality and systemic racism in Kenosha and other cities around the U.S., following the police-involved deaths of George Floyd and Rayshard Brooks.
Thousands of protesters gathered in Washington, D.C., Friday to commemorate civil rights leader Dr. Martin Luther King Jr.'s famous "I Have a Dream" speech in 1963. Blake's shooting was a key piece of the event, during which Blake Sr. addressed the crowd.
Speaking to reporters during the event, Blake Sr. spoke about how some of the protests in Kenosha had turned violent, with buildings being burnt down.
"Violence begets violence. We can't get anything done within our own society with violence," he said. "The only thing that violence gives you is oppression, and that's what they rule us with."
Update (08/28/20, 5:11 p.m. ET): This article has been updated to include additional information and comments.
Update (08/28/20, 9:38 p.m. ET): This article has been updated to include a comment from the Milwaukee County Sheriff's Office.