Prominent civil rights attorney Ben Crump has been retained by the family of Jacob Blake, a Black man who is fighting for his life in hospital after he was shot in the back by police in Wisconsin on Sunday.
Blake, 29, was helping to de-escalate a domestic incident when police in Kenosha, Wisconsin drew their weapons and tasered him, Crump's office said in a news release.
"As he was walking away to check on his children, police fired their weapons several times into his back at point blank range," the release added. "Blake's three sons were only a few feet away and witnessed police shoot their father."
The shooting, which happened at around 5 p.m. on Sunday, was captured on camera from across the street and circulated widely on social media.
The footage shows Blake walking around the front of a vehicle parked on the street as three officers point their weapons at him and follow.
As Blake opens the driver-side door and leans in, an officer is seen grabbing the back of Blake's white shirt and apparently opens fire at Blake's back at close range.
Seven shots can be heard, but it is not clear if they all hit Blake or if they were all fired by the same officer.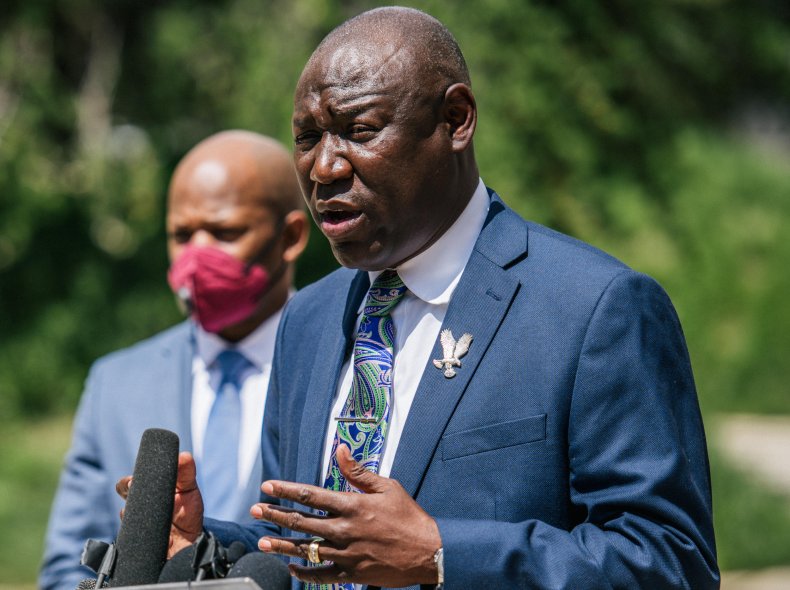 Blake's partner Laquisha Booker told WTMJ-TV that her and Blake's three children were in the back seat of the SUV when police shot him.
"That man just literally grabbed him by his shirt and looked the other way and was just shooting him. With the kids in the back screaming. Screaming," Booker said.
In a statement on Monday, Crump said it was a "miracle" that Blake was still alive.
"We all watched the horrific video of Jacob Blake being shot in the back several times by Kenosha police," Crump said.
"Even worse, his three sons witnessed their father collapse after being riddled with bullets. Their irresponsible, reckless, and inhumane actions nearly cost the life of a man who was simply trying to do the right thing by intervening in a domestic incident. It's a miracle he's still alive."
He added: "We will seek justice for Jacob Blake and for his family as we demand answers from the Kenosha Police Department. How many more of these tragic 'while Black' tragedies will it take until the racial profiling and undervaluing of Black lives by the police finally stops?"
Crump has become the go-to attorney for families whose loved ones have been killed or harmed by police. He has helped the families of Michael Brown and Trayvon Martin receive settlements and is currently also representing the families of Breonna Taylor and George Floyd. Both Floyd and Taylor's deaths prompted widespread protests against police brutality and racism.
On Sunday night, violent protests broke out in Kenosha as people set cars on fire, smashed windows and clashed with officers in riot gear.
The unrest prompted Kenosha County to declare a state of emergency and enact a curfew until 7 a.m. on Monday.
Meanwhile, the Kenosha Police Department have released few details about what led up to the shooting, but said officers had responded to a "domestic incident" in the 2800 block of 40th Street at around 5.10 p.m. on Sunday.
In a news release, police said officers provided immediate medical aid to the person who was shot. They did not identify Blake, but said he was transported to Froedtert Hospital in Milwaukee and is in a serious condition.
The Wisconsin Department of Justice's Division of Criminal Investigation (DCI) said in a news release that it is investigating the shooting with the assistance of the Wisconsin State Patrol and Kenosha County Sheriff's Office.
The department did not identify the officers involved in the shooting, but said they have all been placed on administrative leave.
The DCI will turn over its investigate reports to a prosecutor following a "complete and thorough" investigation, the release added. The prosecutor will then review the report and determine whether or not charges should be filed.
The Wisconsin Department of Justice has been contacted for additional comment.
This story has been updated with additional information.