Jacob Blake's Uncle Condemns Bill Barr's 'Gaslighting' Over Kenosha Police Shooting
Jacob Blake's uncle has criticized Attorney General Bill Barr's comments surrounding the shooting of his nephew, saying that Blake was unarmed when he was shot by Kenosha police.
Speaking to CNN presenter Don Lemon on Wednesday evening, Justin Blake criticised Barr for attempting to "try our nephew in public media" and continued to say that "we as Blakes aren't gonna accept innuendos or gaslighting or outright lies about our nephew".
Asked about the differences between the death of George Floyd and Jacob Blake's shooting, the attorney general said that while Floyd was "subdued, incapacitated, in handcuffs and was not armed, in the Jacob case, he was in the midst of committing a felony and he was armed. So, that's a big difference."
Justin Blake responded to Barr's comments saying that his family were not going to accept "outright lies" about his nephew.
"His father, my brother Jacob Blake, his mother Julia and (Benjamin) Crump, their attorney, have no equivocation that there was no weapon on little Jake when he was shot seven times in his back. And you can't make up stories that will facilitate that being a proper way to police in 2020 in any city in this nation".
On the handling of the investigation around Jacob Blake's shooting, the attorney general said that in a case it is possible or there is concern over excessive force, there is a process to make that determination.
"And it involves initially the state looking at it and also the federal government and we are investigating it and that should follow due process and be fair to everybody including the police officer. Violence is not appropriate, our justice system has to respond to analysis, reasoned analysis, not mob violence," Barr said.
Presidential candidate Joe Biden is due to meet with the Blake family on Thursday. Speaking on what he would like to be discussed at that meeting, Blake's uncle said: "Reparations need to be on the table, it needs to be discussed in a real fashion. (...) We want bills, laws and legislation passed that protect African Americans that look like little Jake all over this country."
"They keep talking about 'it's just one bad cop'. If it was just one bad cop, why is every African American family so concerned about their little son, brother or father every time they walk out the door. It's not just one person, it's systemic and we need to address it in 2020 before we go any further," Justin Blake added.
On Tuesday, while President Trump was visiting Kenosha, the Blake family opted to do a community event instead, which featured coronavirus tests, free hair cuts and voter registration.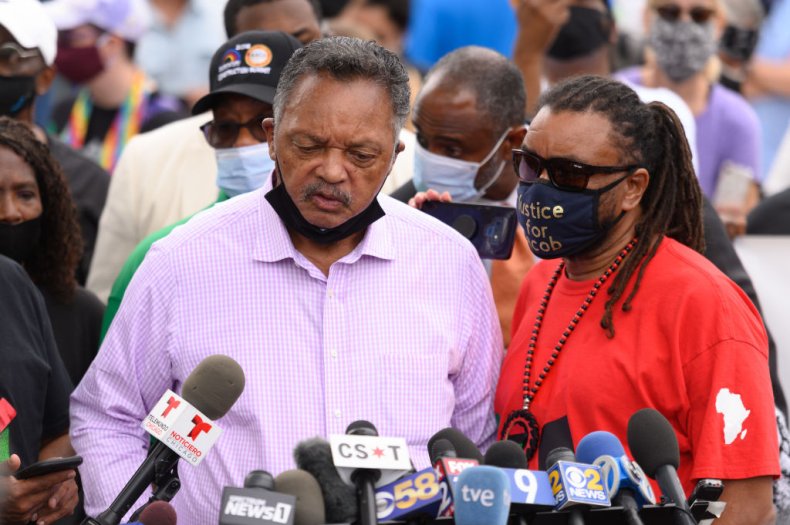 The shooting of Blake on August 23 has left him paralyzed and has triggered more anger and protests all over the country about police violence against Black Americans.